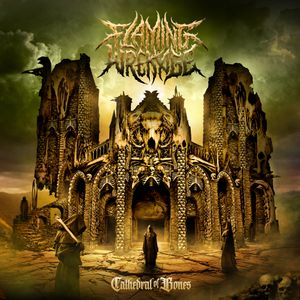 Us metalheads can't get enough of aggressive and energetic music, and the new release from Sydney's Flaming Wrekage 'Cathedral of Bones' delivers us just that! 
This is an intense assault of no-nonsense heavy modern thrash with a good dose of death and groove in for good measure. Just check out the latest video for 'The Voiceless' and you'll get the idea! 
The first thing that smacks you in the face is the killer guitar tone, which manages to be filthy and dirty whilst still being super clear to showcase the quality of their riffs. Some slick dual-harmony solos in there too! And no clean vocals here, this is straight up heavy aggressive stuff. 
The production is top notch, excellent performances all round and a great sound overall. And that album cover, damn that's some badass artwork! 
Flaming Wrekage have been going from strength to strength since their incarnation in 2010. An extremely hard working act that has toured relentlessly within Australia and overseas. Their fanbase and reputation has grown rapidly, which will undoubtably skyrocket with their awesome third album, 'Cathedral of Bones'. 
Out February 2021, grab your copy at flamingwrekage.com 
Review Score 8/10 
Vincent Van Goat - Hornography