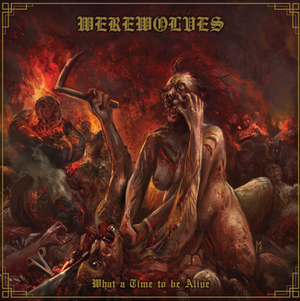 There are some metal bands that meticulously craft their songs. Spending months or even years perfecting the music, the lyrics, the multiple layers of instruments & tracks & making sure each single note on the album has a purpose. There are some that that like to create a certain atmosphere or mood, captivating the listener with melodies, harmonies & soundscapes that resonate within. 
And then there are bands like WEREWOLVES. A pack of heathens hell bent on sputtering out a barrage of ridiculously fast, furious, spiteful riffs, with little thought or tact & with perhaps the soul goal of rupturing some part of your anatomy. 
This is about as straight up and callous as death metal gets. No frills, no journeys, no extra fat & no fucking about. They get in, do the job & fuck right off.  
What A Time To Be Alive is a 35 minute slab of ultra barbarity and hate. The production suits, raw but audible. The playing is ruthless, but precise & very well executed.  
There are a few moments of respite from the aural abuse, but for the most part, it's rowdy & hostile. If cavemen or neanderthals could've written death metal, this would have been the result. 
Review score 8/10 
Gary Goat - Hornography