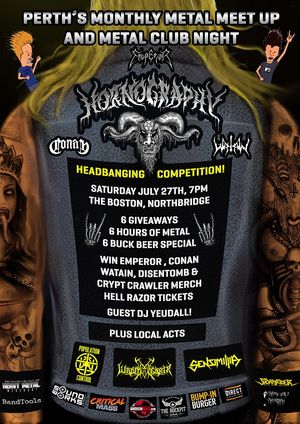 HORNOGRAPHY, PERTH MONTHLY METAL MEET UP 
SATURDAY 27TH JULY - 7PM TIL 1AM 
6 GIVEAWAYS / 6 HOURS OF METAL / 6 BUCK BEERS 
WRATH OF FENRIR / POPULATION CONTROL / SENSIMILLIA 
+ DJ YEUDALL, HEADBANGING COMPETITION, CHRYSTAL'S DARK ART STALL 
Note!!! HORNOGRAPHY is trying out a new earlier time slot for this event, starting at 7PM and wrapping up an hour earlier at 1AM. Still 6 hours of metal! 
It's been a bust few months in the Hornography Camp with quiz nights, CD launches and interstate touring acts. In July we are back to our usual proceedings with a killer all-local metal lineup oozing with talent and guaranteed great times. Regular Hornhubbers will love this event, and for those who are yet to make it to one of these monthly shows, this is one that will scratch you right where you itch! 
Wrath of Fenrir 
Local warrior horde WRATH OF FENRIR have recently made a triumphant return to the stage, most recently supporting Eluveitie in Perth! Combining death metal styled riffing with catchy singalong wartunes, we are guaranteed to be treated a mammoth ending to the night! 
Population Control 
Grind, death, black, thrash, call it what you will, POPULATION CONTROL bring energy and extreme noise! Perth has been desperate for music of this style for years, and it shows by the much deserved popularity these guys have been enjoying of late. 
SenSiMiLLia
For fans of classic metal and modern sounds alike, the Nepalese-born SenSiMiLLia have been treating Perth punters to melodies and aggression sung in both English and Nepalese. Get down early for a taste of what these guys have to offer! 
DJ YEUDALL! 
One of Hornography's regular punters is taking the reigns this month, playing his favourite heavy tracks between bands and into the evening. Oliver Yeudall has become one of Hornography's favourite faces for his efforts with metal karaoke, battle jacket comp and raising money for ferrets. Strap yourselves in! 
HEADBANGING COMPETITION 
There are so many unique ways to headbang, it's time that we embrace all the different styles and celebrate Perth's talented neck crunching enthusiasts! Have your chance to jump on stage and rock out to metal tunes, with the crowd being the judges and a worthy winner chosen! 
Chrystal's Dark Art Stall 
Another one of Hornography's regular punters and super talented artist, Chrystal will be showcasing and selling some of her dark fantasy abstract paintings. Have a squiz and grab something for the loungeroom wall! 
GIVEAWAYS 
ALL PAYERS RECEIVE A TICKET ON ENTRY TO GO INTO THE DRAWS! 
Conan Hoodie 
WATAIN Flag 
Emperor official Pin 
DISENTOMBOMB CDs 
Crypt Crawler Shirt, CD, Patch 
Double pass to Hell Razor For Daisy all ages show at Vision Studios 
Plus issues of HEAVY Magazine will be available for FREE to all punters! 
Remember HORNOGRAPHY is YOUR club, artists and local bands are welcome to get involved to promote their stuff. 
Bring your Hornography loyalty card for another night of celebrating the genre that we all live and breathe. See ya there! 
WWW.FACEBOOK.COM/HORNOGRAPHYMETALCLUB 
WWW.HORNOGRAPHY-PERTH.COM