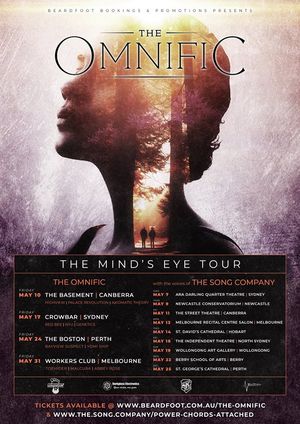 FRIDAY 24TH MAY - 8PM TIL 2AM 
SPECIAL EVENT – 'THE OMNIFIC' WA TOUR + BAYVIEW SUSPECT SINGLE LAUNCH! 
$12 PRE SALE TICKETS @ HORNOGRAPHY-PERTH.COM 
OR $15 TICKETS @ THE DOOR 
Perth's home of metal HORNOGRAPHY is all locked in for May, this time featuring our first ever interstate touring act, THE OMNIFIC! Us local metal fans love an excuse to celebrate new music releases, so we're stoked to also have BAYVIEW SUSPECT on board to launch their new single! 
The punters and bands alike all agree the vibe at HORNOGRAPHY has been the coolest in decades! Be a part of the flourishing community and keep supporting Aussie heavy music! 
BAYVIEW SUSPECT ('STAY AWAY' SINGLE & TOUR LAUNCH) 
Recently dropping 2018's 'Survival Or Ruin' EP and gearing up for a national tour in support of the new single 'Stay Away', Perth groove metallers BAYVIEW SUSPECT will treat us to a massive show in Perth to kick off their tour! 
THE OMNIFIC (VIC) 
The prog tunes from THE OMNIFIC have been making waves across the globe due to the insane sounds consisting of purely two bass players and a drummer! Their second EP 'Kismet' walks a solid line between an attention-commanding virtuosic release and a masterful soundscape of epic proportions. 
YOMI SHIP 
Opening the night with experimental instrumental art rock straight outta Perth, YOMI SHIP will fill us with their unorthodox structures and rhythms, anchoring bass and reverb drenched guitar. 
GUEST DJ & GIVEAWAYS TO BE ANNOUNCED SOON!
Remember HORNOGRAPHY is YOUR club, artists and local bands are welcome to get involved to promote their stuff 
Bring your Hornography loyalty card for another night of celebrating the genre that we all live and breathe. See ya there!