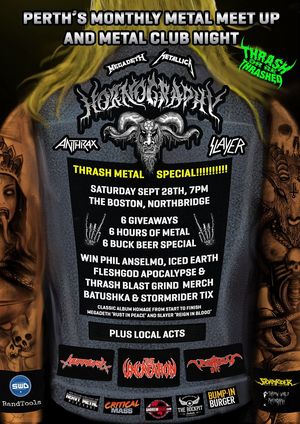 HORNOGRAPHY, PERTH MONTHLY METAL MEET UP 
SATURDAY 28TH SEPTEMBER - 7PM TIL 1AM 
6 GIVEAWAYS / 6 HOURS OF METAL / 6 BUCK BEERS 
THRASH METAL SPECIAL! 
THE UNCREATION / VANADIUM BC / BLOODLUST 
+ JV PHOTO & FILM EXHIBITION 
Another month, another Saturday night of killer local metal! In September we bring you a special THRASH METAL EDITION of Hornography, paying homage to the thrash metal genre new and old. Bands will be cranking out some thrash covers and there will be thrash tunes between acts! 
THRASH ALBUM PLAYTHROUGHS! 
Megadeth's RUST IN PEACE from start to finish at 7.15pm! 
Slayer's REIGN IN BLOOD start to finish from 12.30! 
The Uncreation 
This blackened death metal horde has been evolving in Perth for over a decade and are currently gearing up to release their 2nd full length. With a full lineup ready to destruct, we can expect THE UNCREATION to be in top form and end our night in an evil ritual! 
Vanadium B.C. 
With their second Hornography appearance and their final live show for 2019, VANADIUM BC have been treating Perth punters to a much anticipated comeback of this classic metal band! Playing their first original tune since 1996 and a revamped old tune not played since 1996, this will absolutely be a monstrous set from a local powerhouse! 
Bloodlust 
Did someone say thrash? No local acts do it better than BLOODLUST! Featuring some of Perth's most badass metal muso's, this is dirty black metal played fast and relentless. Strap on your bullet belt, get your battle jacket, and bang your neck! 
JV Photo & Film 
Fresh from a big debut exhibition, local metal photographer Jessica Vaini (JV Photo & Film) will be selling some of her favourite live photography works, including thrash goodies like an A2 framed print of Tom Araya from this years Download Fest, Anthrax, Judas Priest and more! 
GIVEAWAYS 
ALL PAYERS RECEIVE A TICKET ON ENTRY TO GO INTO THE DRAWS! 
Double pass to see Batushka live in Perth 
Double pass to the next Stormrider Touring event 
Iced Earth laptop bag 
THRASH BLAST GRIND flag 
Philip H. Anselmo & the Illegals the log sleeve shirt 
FLESHGOD APOCALYPSE band pin 
Plus issues of HEAVY Magazine will be available for FREE to all punters! 
Remember HORNOGRAPHY is YOUR club, artists and local bands are welcome to get involved to promote their stuff. 
Bring your Hornography loyalty card for another night of celebrating the genre that we all live and breathe. See ya there! 
WWW.FACEBOOK.COM/HORNOGRAPHYMETALCLUB 
WWW.HORNOGRAPHY-PERTH.COM