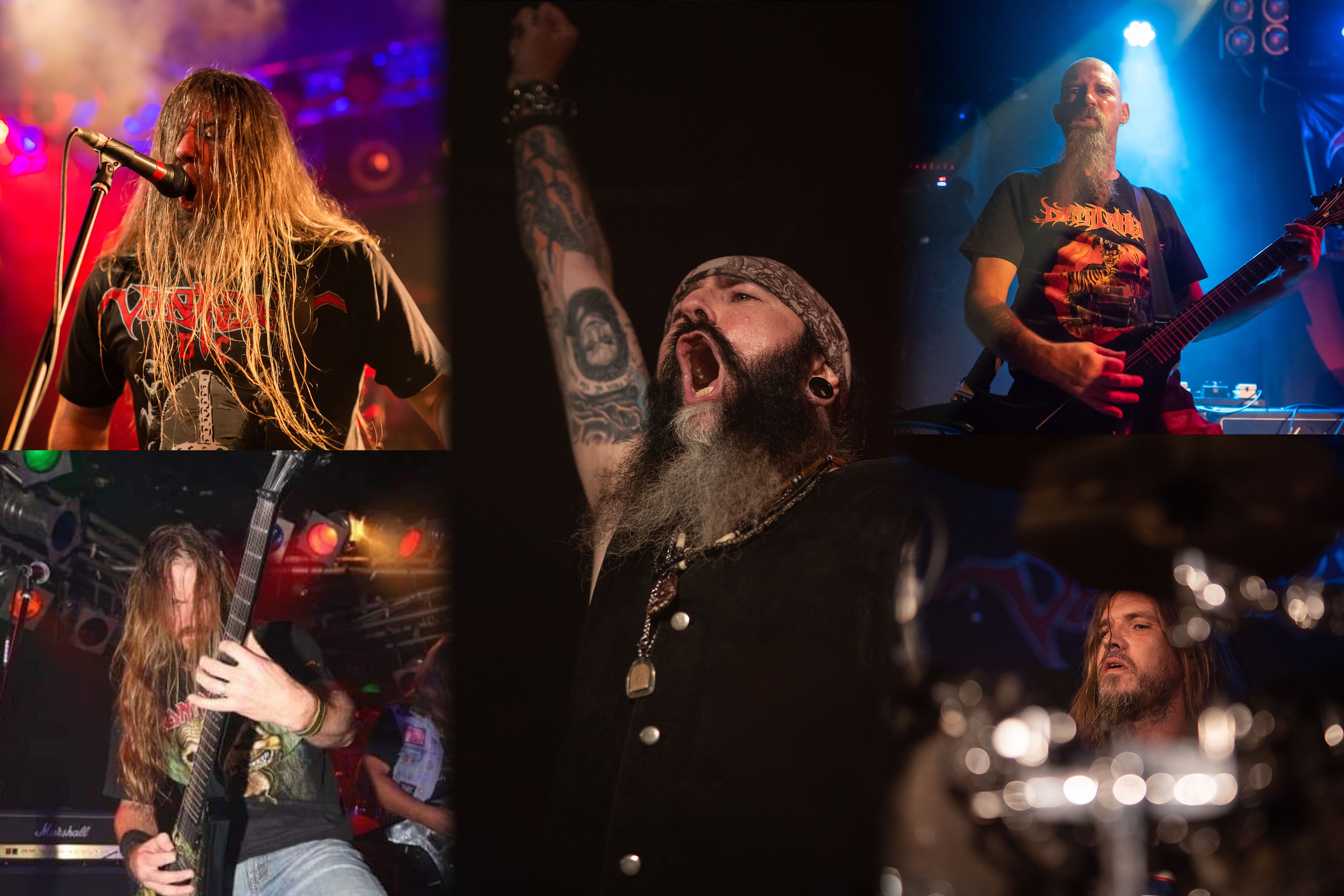 Vanadium BC's vinyl launch is coming up on 20th March in Perth. Tell us about the plans for the show and what can us punters expect on the night? 
G'day Hornography crew and thanks for the interview. The night is going to be a great fun night of West Australian Music and we have some great bands on board. Joining us will be Anthemic Heavy Metaller's Diamond Sky, Thrash Veterans Enforce and from Bunbury the Brutal Death Metal of Suffer in Rot. Spinning classic fist pumping tracks between will be DJ Daz from Western Front. There will be some giveaways on the night from us, Hornography, Heavy Metal Merchant and also a tattoo voucher from Wade Barry Tattoos who is now based at Against The Grain in Warwick. Just a really cool fun night. We will also have for sale 3 different coloured Vinyl's, some new tee shirts and stubbie holders. 
We are also doing an All Ages show on Easter Saturday April 3 at Vision Studios in East Vic Park from 3PM until 8PM for Mosh In A Sanatorium #7. 
Joining us for that one is The Furor, Suffer In Rot and Our Demise. 
Give us a brief insight into the background of Vanadium, and how it came to be Vanadium BC. 
So we disbanded in 1996. In December 2017 the Promoters of Slayfest contacted us for us to play in March 2018 for their returning event. At this point Petar and myself from Vanadium had some other old mates lined up for a jam for fun, as it was only Petar and myself from the band who were interested in doing it. We had not even had a jam yet so we chatted about and accepted the show and threw ourselves in the deep end. So we had a few jams on some 90's tunes of ours and it came together quite quickly. We went on early at Slayfest and had a 30 minute set but The Capitol was packed. We really were not expecting such a huge response after not playing for almost 22 years. 
Because of the line-up change and a few other bands around the world called Vanadium we decided to change our name to Vanadium B.C. We felt the name needed a revamp for this second time around. 
What are the band members that make up Vanadium BC now, and what other bands have they played in previously or currently. 
We have myself K-bone W Rokker (Lead Vocals) and Petar Farcic (Bass & Back Up Vocals) from the 1990's band. Eric Karu (Rhythm Guitar) and Dave Carey (Drums) from Dethlahem joined us from our reformation. They still play in Dethlahem as well and we have all been mates since the 90's. When we reformed we had Mick Lawson (ex 90's band Moth) on Lead Guitar. Mick has recently relocated over East for work and had to leave the band. We now have Original Enforce Lead Guitarist Rob Hartley on Lead Guitar. Rob had been retired from the live scene for some years so we were stoked he has now come out of retirement to join us. We have recently had some jams with Rob and the band is sounding great. Saturday March 20 will be Rob's first show with us so we really welcome Rob and are looking forward to smashing the stage with him.. 
Labels and webzines like to write at the end of a bio or review with the term "for fans of" such & such bands. But really the band itself should be telling us this. So enlighten us, Vanadium BC sounds like what, and is for fans of who? 
We are influenced by a wide variety Metal and Rock. As to what we sound like there is the definite old school thrash and speed Metal sound but I think there is also that suburban Oz Rock attitude of say Rose Tattoo and AC/DC in there in small bits. 
I think fans of Heavy, Thrash, Speed & Classic Metal would get where we are coming from. 
What is the motivation behind Vanadium BC and what are you trying to achieve with it? 
We are doing this for fun, passion and for our old followers and to keep the flame burning (for a while) of that classic 1990's era we were a part of and to bring it now to this new generation. We have no ambition to be the next big thing or to make music our full time career. We are just a bunch of (now aging!) dudes from the suburbs who want to play some select shows and our music from a classic era. I suppose we are a bit of a "retro act" now but that is fine. The classic 90's Moshpit vibe where everyone used to catch each other (well most of the time, ha ha) and just have a cool friendly mosh in the pit. 
How are Vanadium tracks written, is there a process for putting songs together, musically and lyrically? 
So how it started in the 1990's was Brad Spinks (Original Lead Guitarist) gave me home recorded riffs on cassettes. From there I would write the lyrics.. Sometimes Brad already had some lyric ideas. We would then take these idea's to the jam room and tweak the layouts as a band. Also sometimes Brad or Petar would bring ideas to the jam room and we would go from there. 
Now we will sort of go with this same formula. Someone will give me their idea or a bunch of riffs and I will compose them into a tentative layout and write the lyrics. This will then be tweaked as a whole band jamming so everyone is happy and everyone can add their ideas to it. 
We did write a couple of new tunes recently and after these next shows we will work on some brand new ones. 
We have a fairly relaxed schedule now so I wouldn't expect a new album soon but we definitely want to record some new tunes so a new tune at least not too far away is the plan. 
Favourite Australian bands and/or releases? 
Overall, some of my personal favourite Australian bands and releases are  from Rose Tattoo, Allegiance, Rawkus, Nebula, AC/DC, Painters & Dockers, Ammonia, Dethlahem, Moth… 
More recently bands which I am digging or have seen recently are Suffer In Rot, Jupiter Zeus, All This Filth, The Creptter Children, Diamond Sky, Enforce, As Light Decays, JamArt, The Furor, Bloodlust, Bluddypop, Innasanatorium, Plague, Sanzu, Death Dependent, Psychonaut, Tempest Rising, Ultra Sound, The Harvest Trail… 
As for newer releases the new album by The Amenta is a ripper, I have heard that a few times, fantastic album. I am waiting for the new Hidden Intent album to arrive so I am looking forward to hear that. 
I could go on but these are the ones that just came to mind. 
Given the plague is here to stay for a while and we're gonna need shit to check out, recommend us some stupendedly good; 
Movie: Highlander. 
Series: Resurrection:Ertugrul. 
Podcast: The Rocker Diaries. 
Band: W.A.S.P. 
Album: Fabulous Disaster (Exodus). 
Apart from Jon Schaffer, if you could pick 5 musicians to storm our capitol's parliament house with, who would they be? 
Chris Holmes (W.A.S.P.), Angry Anderson (Rose Tattoo), John Lydon (Sex Pistols), Angus Young (AC/DC) & Paul Stewart (Painters & Dockers). 
That was a difficult question ha ha. I came up with these 5 musicians because they are now getting on in age so I thought it's now or never for this random group to get together. 
What is the best way for people to check out Vanadium BC? 
Website : https://vanadiumbc.com/ 
Spotify : https://open.spotify.com/artist/31kOoU88WeO65opF1UWgCl 
Facebook : https://www.facebook.com/vanadiumbc/ 
Youtube : https://www.youtube.com/channel/UCYsOG4P0meOfNjI5YXQgAeQ 
Instagram : https://www.instagram.com/vanadiumbcofficial/?hl=en 
Promo short: https://www.youtube.com/watch?v=JzRDZoQOZmc 
Thank you very much Hornography and crew for the interview and support. It is much appreciated.