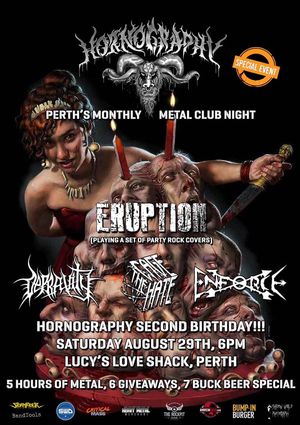 HORNOGRAPHY'S SECOND BIRTHDAY BASH! 
SATURDAY 29TH AUGUST 2020 - LUCY'S LOVE SHACK, PERTH 
5 HOURS OF METAL / 6 GIVEAWAYS / $7 DRINKS 
ERUPTION / DEPRAVITY / ENFORCE / CAGE THE HATE 
Time to blow out the metal candles, HORNOGRAPHY is turning 2! You've all taken care of this child so well, you deserve a celebration! Born in August 2018, the Perth metal scene embraced a monthly metal club night known as HORNOGRAPHY! Since then we have witnessed a reboosted thirst for live local heavy music thriving at it's hardest in years. 
If the rest of the world wasn't already jealous of us Perth metalheads having a monthly gig night all of our own, they certainly are now with the second HORNOGRAPHY event back from COVID restrictions! You all embraced the return night last month and soaked up the vibe with gratitude and respect, let's do it again and party the only way Perth metalheads know how! 
With the introduction of live music back into Perth, we need to be flexible with how it's all gonna work. So please note this event is at LUCY'S LOVE SHACK. Things will gradually return to normal as we move forward. 
ERUPTION 
What better way for metalheads to party than by closing the night with a set of party rock covers! ERUPTION are an explosive band out of Perth paying tribute to the classics of Hard Rock! Ripping out the big hits from the likes of Bon Jovi, Skid Row, Van Halen, Alice Cooper, Whitesnake & more, there will be no shortage of singalongs, air guitars and headbanging! 
DEPRAVITY 
Bringing the extreme assault is Perth's most crushing death metal machine DEPRAVITY! These legends have just announced the upcoming release of a new album Grand Malevolence, and if the title track is anything to go by, we're in for a big destructive treat. 
ENFORCE 
Yes you read right, and we haven't travelled back in time, but local metal veterans ENFORCE will be making their HORNOGRAPHY debut! Arriving on the first fleet into Perth back in 1829 in a room next door to Dysie, these guys have pumped out tons of memorable thrash and death tunes that us metalheads have all shared a great live moment with. With a newly refreshed lineup ENFORCE will tear us a new one! 
CAGE THE HATE 
Heavy, unadulterated, brutal music right outta Perth, upcomers CAGE THE HATE will be opening the night to get our ears and necks warmed up. This crew have been winning fans over by smashing the local metal circuit and growing into a promising act ready to destroy! 
SHADOW WORLD PHOTOGRAPHY 
Resident hero MISTY SHADOW will be snapping killer photos of the bands and the crowd, so get your ugly mug captured in local metal history. 
GIVEAWAYS 
Double pass to Slayfest 2020 
Double pass to a mystery show TBA 
Slayer & Carcass LED Lights courtesy of Custom Entertainment Systems 
Obituary Hoodie 
CD pack including Nile, Alarum, Psycroptic, Ruins, The Omnific 
Plus every prize comes with a CD courtesy of local death metallers Kalvath. 
OTHER KEWL SHIT 
Prime Cuts Music and Huffing Asbestos Records merch stands 
Loyalty Cards still accepted! 
Beer Specials - $7 cans of Emu Export 
WWW.FACEBOOK.COM/HORNOGRAPHYMETALCLUB 
WWW.HORNOGRAPHY-PERTH.COM