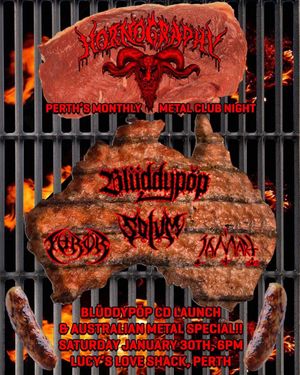 Perth's monthly metal event HORNOGRAPHY is here again for it's first show of 2021! 
Only a few days after Australia Day, what a great excuse to celebrate Aussie metal in all it's heavy forms! Our great land has produced killer metal bands for decades old and new, from power metal to death metal, the bands are unique, talented and give us no shortage of classic Aussie tunes to blast between the bands all night! 
WA has been spoilt with local metal events during this pandemic and HORNOGRAPHY is no exception, with all of the return shows being absolute rippers. So get down early and don't miss this chance to rock out with Perth punters and muso's for another killer night out.