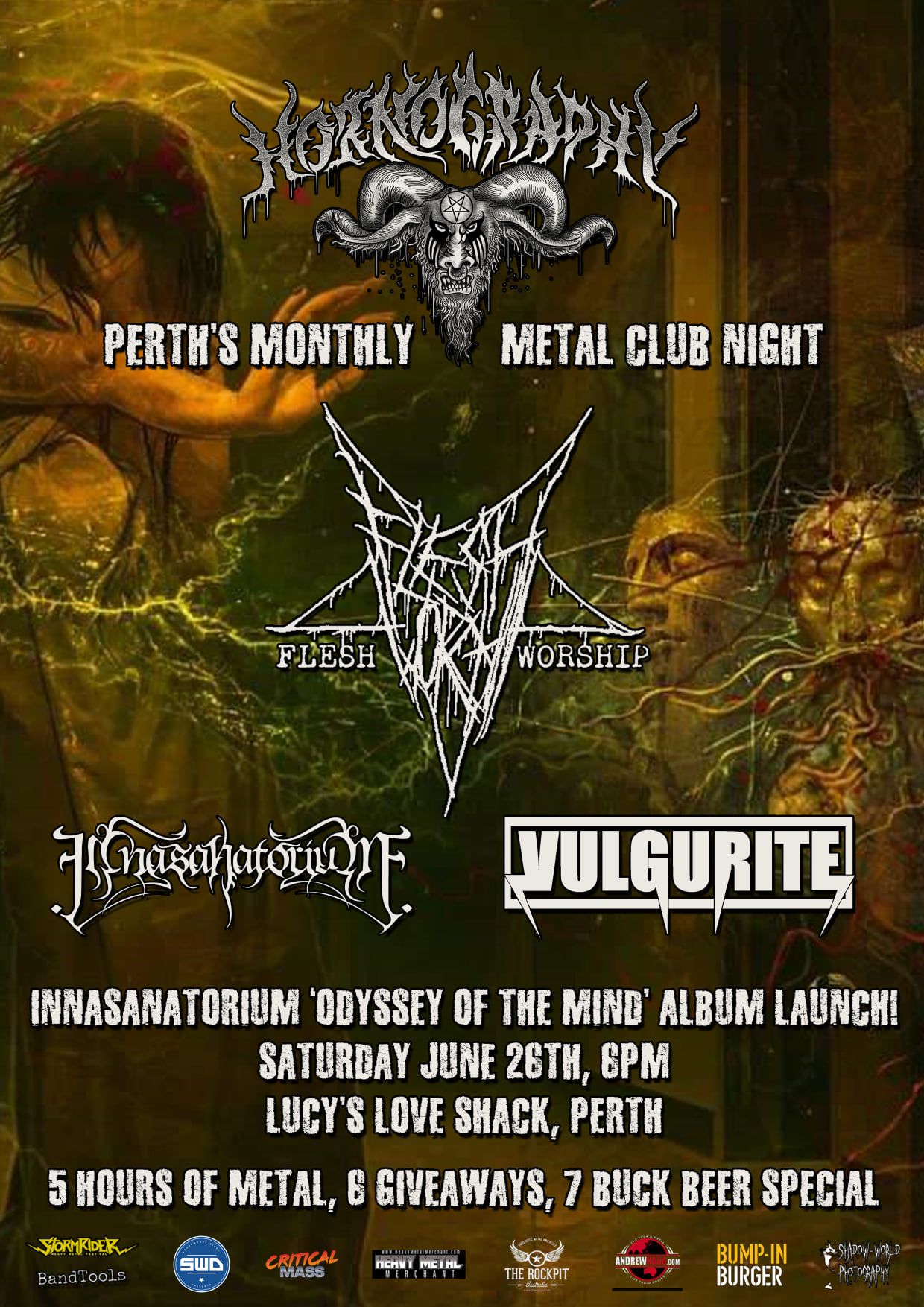 INNASANATORIUM ALBUM LAUNCH!! 
SATURDAY 26TH JUNE – LUCY'S LOVE SHACK, PERTH 
5 HOUSE OF METAL / 6 GIVEAWAYS / $7 BEER SPECIAL 
FLESH WORSHIP / INNASANATORIUM / VULGURITE 
$10 ENTRY – 6PM TIL 11PM 
With lockdowns & restrictions coming and going, we have no idea when we have the opportunity to rock out to live metal, but this one is stamped into the Hornography calendar and ready to go! WA local heavy music continues to thrive through the pandemic, and this June we have three killer up and coming acts treating us to a heavy night out! Get down early and don't miss out on mingling with Perth punters and making this one a ripper! 
FLESH WORSHIP 
Still a fairly new act but already one turning heads, FLESH WORSHIP have been making waves in the local metal scene with their take on black metal oozing with groove. Recently releasing their debut 'Masked Caranlity', FLESH WORSHIP play crusty black n roll that goes down a treat in the live environment. 
INNASANATORIUM – ALBUM LAUNCH! 
Playing plenty of shows in their short existence and pumping out a music video, Bunbury's INNASANATORIUM are a busy act who are ready to debut their first album! Modern energetic metal with a heap of thrash, groove and aggression, these guys are tons of fun and perfect for a good old fashioned windmill. 
VULGURITE – DEBUT SHOW! 
Latest heavy act on the scene is VULGURITE, so let's check em out nice n early and welcome them on to the live circuit. Featuring members of Tempest Rising and Spudgun we know what we're in for, and this new band won't stay quiet for long. 
SHADOW WORLD PHOTOGRAPHY 
Resident hero MISTY SHADOW will be snapping killer photos of the bands and the crowd, so get your ugly mug captured in local metal history. 
GIVEAWAYS 
Carcass 'Despicable' Vinyl 
Kimura Tshirt 
Alarum CD 
Idle Ruin CD 
The Harvest Trail CD 
Double pass TBC 
OTHER STUFF 
Loyalty Cards still accepted! 
Beer Specials - $7 beer special 
WWW.FACEBOOK.COM/HORNOGRAPHYMETALCLUB 
WWW.HORNOGRAPHY-PERTH.COM