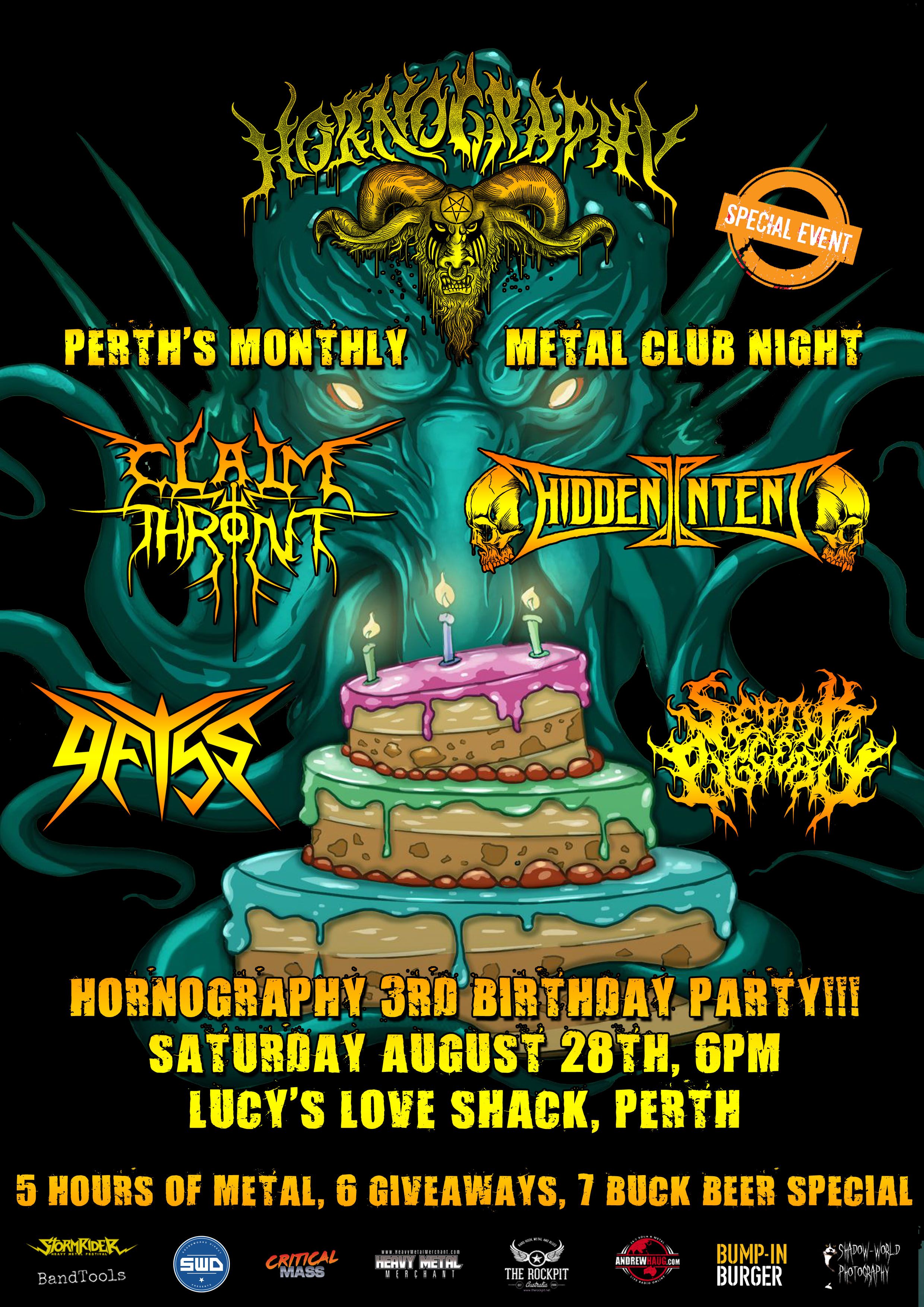 Time flies when you're having fun - Perth's monthly metal event HORNOGRAPHY celebrates it's 3rd birthday this August! What better way to mark the occasion with a massive lineup featuring a veteran WA act headline show and a killer interstate band trekking over to party! 
Starting at The Boston back in 2018, HORNOGRAPHY was a monthly metal Club night aimed at providing a home for metal bands to play quality live shows, and for punters to meet likeminded metalheads amidst a safe, positive & fun community. HORNOGRAPHY has battled through the Covid pandemic and now lives at Lucy's Love Shack, with the local community being strong and supportive, leading to a very healthy current metal scene right here in Perth! 
CLAIM THE THRONE 
Ripping apart folk metal with a merciless assault, CLAIM THE THRONE are back to deliver their extreme take on melodies for fans of epic and brutal alike. 15 years ago CLAIM THE THRONE made their entrance to the Perth metal scene and went on to release highly acclaimed albums, regular worldwide touring and festival appearances. Returning to the stage at this year's SLAYFEST, CLAIM THE THRONE have shown they still deliver a relentless live show that will be massive on the stage at Lucys! 
HIDDEN INTENT (SA) 
One of Australia's prime thrash metal acts HIDDEN INTENT are heading west! Fresh from releasing their third album DEAD END DESTINY, this 80's influenced thrash attack brings an Aussie party vibe to their sound, evident in their live show and the music videos they have been pumping out. A super hard working band that knows how to bring the metal and are not to be missed while in Perth! 
9 FOOT SUPER SOLDIER 
Armed with a blistering bombast of banter laden party violence, 9 FOOT SUPER SOLDIER are here to shock, amuse & entertain. Not out of place amongst thrash or grind lineups, these guys have some seriously sick energy to their tunes and impress on stage each and every time. With a new release imminent, 9 FOOT are in top form and raring to go! 
SEPTIK PIGGERY 
Slamming death/grind act SEPTIK PIGGERY sure know how to turn a metal lineup into a brutal one. Despite only 2 band members, these guys have a huge sound that doesn't compromise on heaviness. Always brutal but always fun, SEPTIK PIGGERY are the perfect reason to rock up early and slam out! 
SHADOW WORLD PHOTOGRAPHY 
Resident hero MISTY SHADOW will be snapping killer photos of the bands and the crowd, so get your ugly mug captured in local metal history. 
GIVEAWAYS! 
Cannibal Corpse Violence Unimagined CD 
At The Gates Nightmare of Being CD 
Alestorm signed tour poster 
Hornography Hoodie 
King Parrot Holed Up In The Lair 7 inch vinyl 
Double pass TBC 
OTHER STUFF 
Loyalty Cards still accepted! 
$7 Beer Special