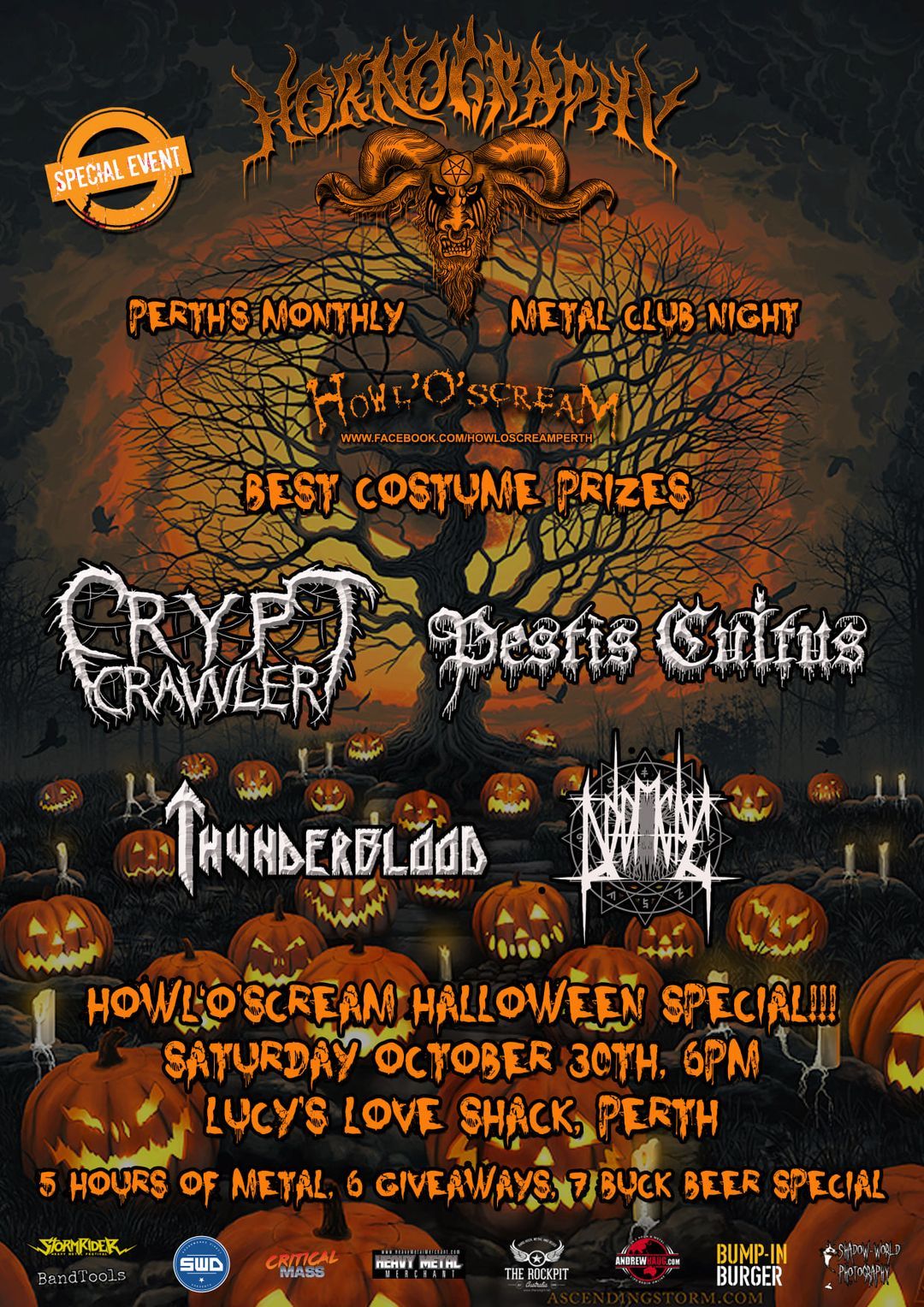 HORNOGRAPHY HOWL'O'SCREAM HALLOWEEN – OCTOBER 2021! 
SATURDAY 30TH OCTOBER – LUCY'S LOVE SHACK, PERTH 
CRYPT CRAWLER / PESTIS CULTUS / DOOMCAVE / THUNDERBLOOD 
$15 ENTRY – 6PM TIL 11PM 
5 HOURS OF METAL / 6 GIVEAWAYS / $7 BEER SPECIAL 
Another month, another dose of top class local metal talent at HORNOGRAPHY! An absolute ripper of a lineup, plus heaps of quality metal giveaways and no shortage of sick party times, 30th October is set to be another essential date in the local metalhead's calendar! 
WA has been spoilt with local metal events during the pandemic and HORNOGRAPHY is no exception, with all of the shows being absolute rippers. So get down early and don't miss this chance to rock out with Perth punters and muso's for another killer night out. 
CRYPT CRAWLER 
Those who are long time HORNOGRAPHY punters will have seen the mighty CRYPT CRAWLER before, and will have enjoyed the privilege of watching them go from raw up and comers to one of the country's sickest death metal acts today! Their latest album FUTURE USURPER is an absolute balltearer with a great sound of dark and heavy old school death. 
PESTIS CULTUS 
Black Metal fans take heed, PESTIS CULTUS bring a filthy assault of intense black metal that is rare to come by in Perth. Their new self-titled album is a terrifying listen, and their live show is equally full on! 
DOOMCAVE 
This once solo-project has quickly transformed into a full live lineup and is a huge deal in the Perth metal scene. DOOMCAVE have a the visual's to go with the killer tunes, making their live show a must see. Their latest album GENESIS has proved they are a force to be reckoned with, for fans of death, black and prog who also enjoy a bit of melody thrown in for good measure. 
THUNDERBLOOD 
Newcomers THUNDERBLOOD have been threatening an appearance at HORNOGRAPHY for a while now, and we're stoked to have them on board. A lethal combination of thrash, groove and rock make for a great metal sound and a fun live performance. 
JV PHOTO & FILM EXPO 
Local music photo and video guru JESSICA VAINI will have a stall featuring some of her work, with plenty of great visuals of live metal performance shots to check out. If something takes your fancy there will be various killer live music photo prints for sale! 
SHADOW WORLD PHOTOGRAPHY 
Resident hero MISTY SHADOW will be snapping killer photos of the bands and the crowd, so get your ugly mug captured in local metal history. 
GIVEAWAYS 
Signed Obituary Tour Poster 
Emperor Tshirt 
Ashen 'Godless Oath' vinyl 
Psycroptic Flag 
Heavy Metal Merchant & Werewolves Patches 
Double pass TBC 
OTHER STUFF 
Loyalty Cards still accepted! 
Beer Specials - $7 cans 
WWW.FACEBOOK.COM/HORNOGRAPHYMETALCLUB 
WWW.HORNOGRAPHY-PERTH.COM 
A huge thanks to all the sponsors who have come on board to support this beast! 
Soundworks Touring 
Direct Touring 
Stormrider Touring 
Critical Mass 
AndrewHaugRadio 
The Rockpit 
Bump In Burger 
Heavy Metal Merchant 
BandTools Musician Podcast 
Shadow-World Photography