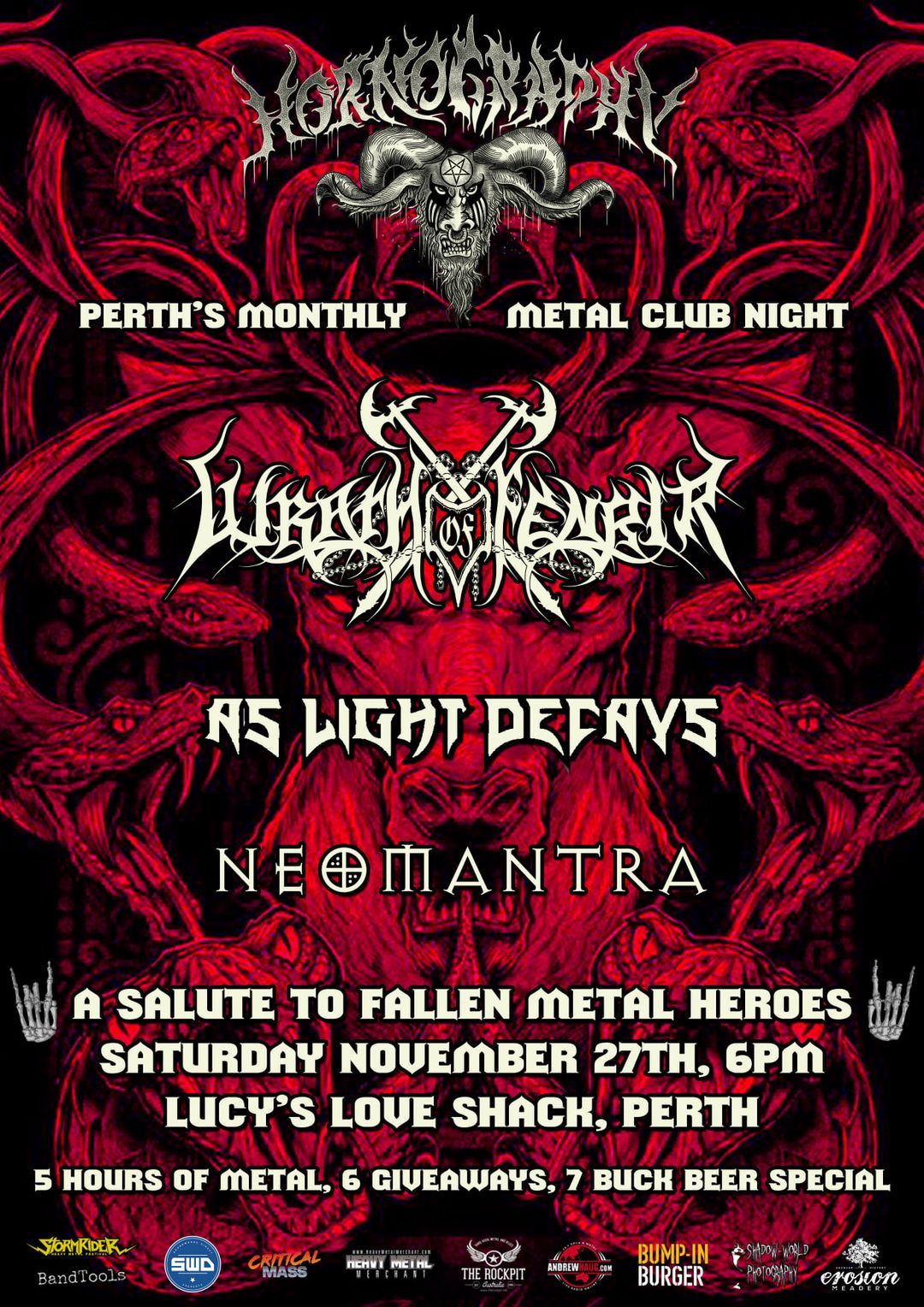 HORNOGRAPHY – NOVEMBER 2021! A SALUTE TO FALLEN METAL HERO'S! 
SATURDAY 27TH NOVEMBER – LUCY'S LOVE SHACK, PERTH 
WRATH OF FENRIR / AS LIGHT DECAYS / NEOMANTRA 
$10 ENTRY – 6PM TIL 11PM 
5 HOURS OF METAL / 6 GIVEAWAYS / $7 DRINKS 
This month we salute to fallen metal hero's, paying tribute to metal legends that have passed. With tunes cranking from olden metal lords throughout the night and of course another top class all local lineup to keep the metal flowing throughout the evening! 
WRATH OF FENRIR 
Smell the burning villages from over yonder, Perth Battle Metal destructors WRATH OF FENRIR will be ending the evening in thunderous fashion. Join the hordes of warriors in the pit to celebrate victory and drink the night away! 
AS LIGHT DECAYS 
The hardworking and ever-improving AS LIGHT DECAYS have been tearing up the circuit with their brand of high intensity thrash and groove metal. Now just in time for their debut album to be released, these guys will be treating us to show filled with a heap of their killer new tunes! 
NEOMANTRA 
Here at Hornography we love a debut show, so this month we are stoked to have NEOMANTRA's first live performance. This might be a new name to the circuit, but astute local metalheads will recognize the band members from other acclaimed acts. Post-Metal played tight and heavy. 
SHADOW WORLD PHOTOGRAPHY 
Resident hero MISTY SHADOW will be snapping killer photos of the bands and the crowd, so get your ugly mug captured in local metal history. 
GIVEAWAYS 
Pantera 'Far Beyond Driven' vinyl 
Aborted 'Maniacult' CD 
Revocation Tshirt 
Kimura 'Circle The Prey' CD 
As Light Decays merch pack 
Double Pass to Allegiance Resurrection 
OTHER STUFF 
Loyalty Cards still accepted! 
Beer Specials - $7 cans 
WWW.FACEBOOK.COM/HORNOGRAPHYMETALCLUB 
WWW.HORNOGRAPHY-PERTH.COM