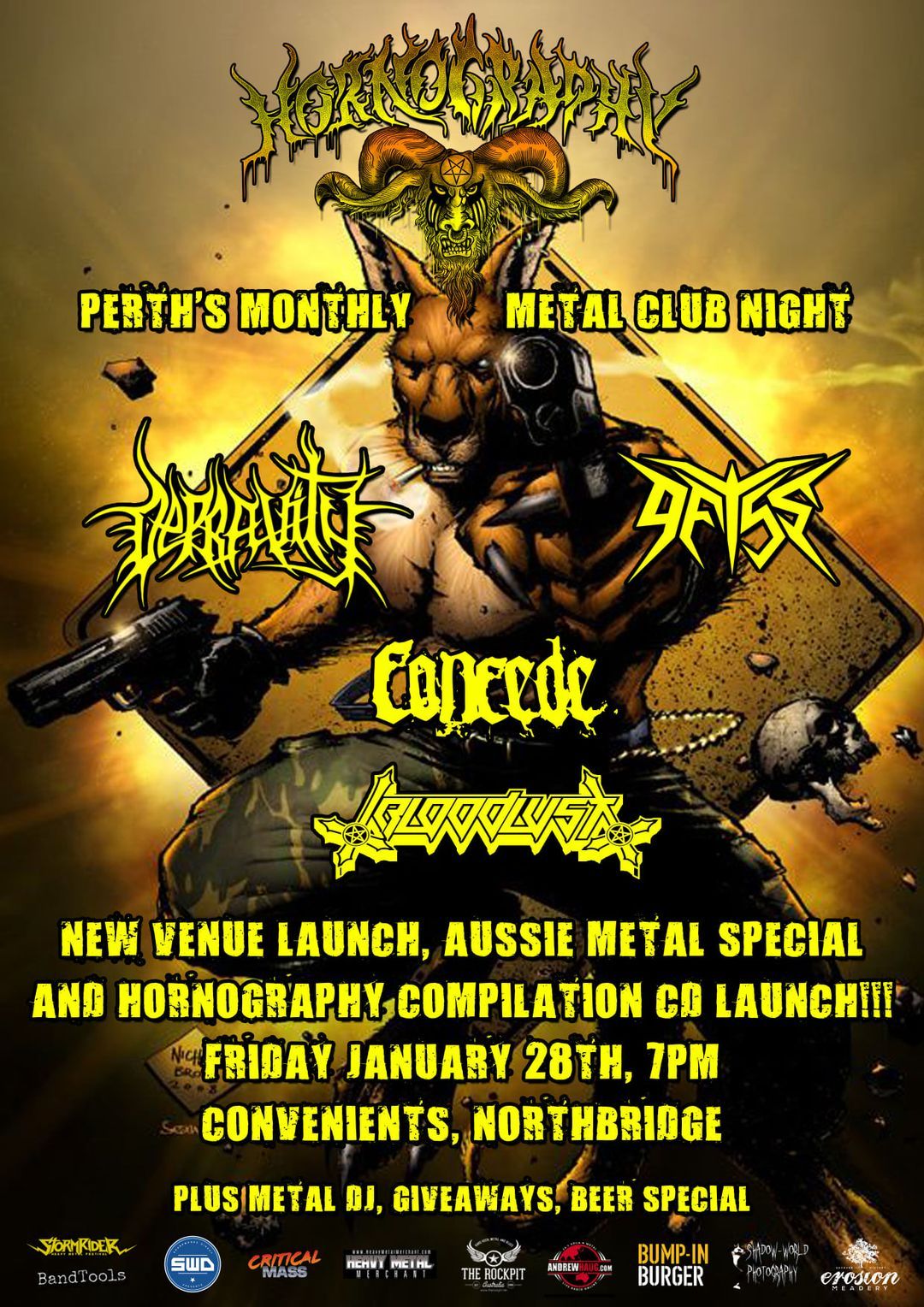 HORNOGRAPHY – JANUARY 2022! 
NEW VENUE LAUNCH, AUSSIE METAL SPECIAL & COMPILATION CD LAUNCH! 
FRIDAY 28TH JANUARY – CONVENIENTS – 35 LAKE ST NORTHBRIDGE 
DEPRAVITY / 9 FOOT SUPER SOLDIER / CONCEDE / BLOODLUST 
$10 ENTRY – 7PM TIL MIDNIGHT 
METAL GIVEAWAYS THROUGHOUT THE NIGHT 
HAPPY HOUR 6PM TIL 7PM - $6 EMU CANS ALL NIGHT 
2022 is here! And Hornography is proud to announce it's new home at CONVENIENTS! Right in the heart of Northbridge, behind a quaint little Convenience Store fridge door, dwells a pumping alternative den serving food, booze, tunes and stacked with good vibes. With punters welcome to enter from 4pm, there is a big outdoor beer garden to chill out before the bands start cranking inside on the high stage. 
Opening night of Hornography at Convenients will also mark the launch party of the second HORNOGRAPHY LOCAL METAL COMPILATION CD! Featuring 21 tracks of top quality established and underground Perth metal acts, this is the perfect sampler to discover your new favourite local heavy act and rock out to the stuff you already love! FREE copies for every attendee on the night! 
The HORNOGRAPHY events that you know and love are continuing as usual. Killer bands every month, cheap entry, loyalty cards, sick giveaways, themed metal playlists between acts, crazy MCs with crowd interaction, resident photographer, monthly mailing list with local metal news, website with Aussie interviews and reviews, and always open to suggestions from the punters on what you want from your monthly Perth Metal event! 
WWW.FACEBOOK.COM/HORNOGRAPHYMETALCLUB 
WWW.HORNOGRAPHY-PERTH.COM