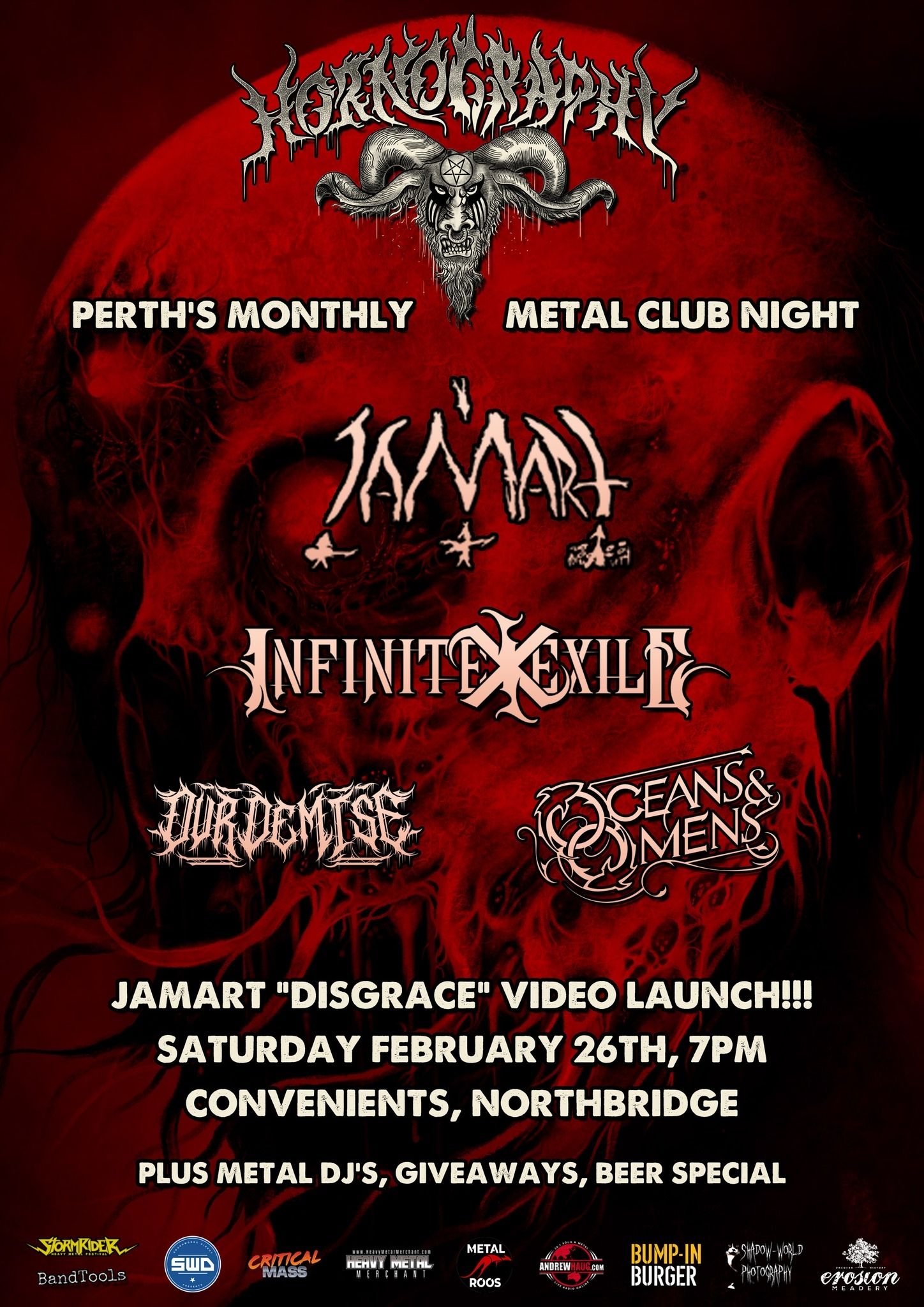 SATURDAY 26TH FEBRUARY – CONVENIENTS – 35 LAKE ST NORTHBRIDGE 
JAMART / INFINITE EXILE / OUR DEMISE / OCEANS AND OMENS 
$12 ENTRY – 7PM TIL MIDNIGHT 
METAL GIVEAWAYS THROUGHOUT THE NIGHT 
HAPPY HOUR 6PM TIL 7PM - $6 EMU CANS ALL NIGHT 
2022 has delivered Hornography to a new home at CONVENIENTS! The opening night last month was an absolute ripper, so let's do it again! Right in the heart of Northbridge, behind a quaint little Convenience Store fridge door, dwells a pumping alternative den serving food, booze, tunes and stacked with good vibes. With punters welcome to enter from 4pm, there is a big outdoor beer garden to chill out before the bands start cranking inside on the high stage. 
The HORNOGRAPHY events that you know and love are continuing as usual. Killer bands every month, cheap entry, sick giveaways, themed metal playlists between acts, crazy MCs with crowd interaction, resident photographer, monthly mailing list with local metal news, website with Aussie interviews and reviews, and always open to suggestions from the punters on what you want from your monthly Perth Metal event! 
JAMART (VIDEO LAUNCH) 
Metal, experimental and packed with raw emotion, JAMART will be launching their brand new music video for the single 'Disgrace'! With a new album out last year and plenty of live performances, JAMART will be more than ready to pump out a huge show. 
INFINITE EXILE 
Fresh from releasing a huge new single and music video, INFINITE EXILE offer a heavy, groovy and unique metal sound that translates perfectly to the live stage. With a new single in hand, this will be a crushing and energetic show! 
OUR DEMISE 
Cranking metalcore outta Freo, OUR DEMISE have a big new release ready to go and quickly making an impact on the local metal circuit! 
OCEANS AND OMENS 
Dirty metal with guitar harmonies and plenty of energy, OCEANS AND OMENS have tunes with influences of metalcore with melodic death, and are quickly becoming a must see act in the local scene. 
SHADOW WORLD PHOTOGRAPHY 
Resident hero MISTY SHADOW will be snapping killer photos of the bands and the crowd, so get your ugly mug captured in local metal history. 
GIVEAWAYS 
Unearth – Watchers Of Rule Tshirt 
Kimura – Circle The Prey Vinyl 
Voros - Tshirt 
In Malices Wake – Vision Of Live Destruction CD 
WWW.FACEBOOK.COM/HORNOGRAPHYMETALCLUB 
WWW.HORNOGRAPHY-PERTH.COM