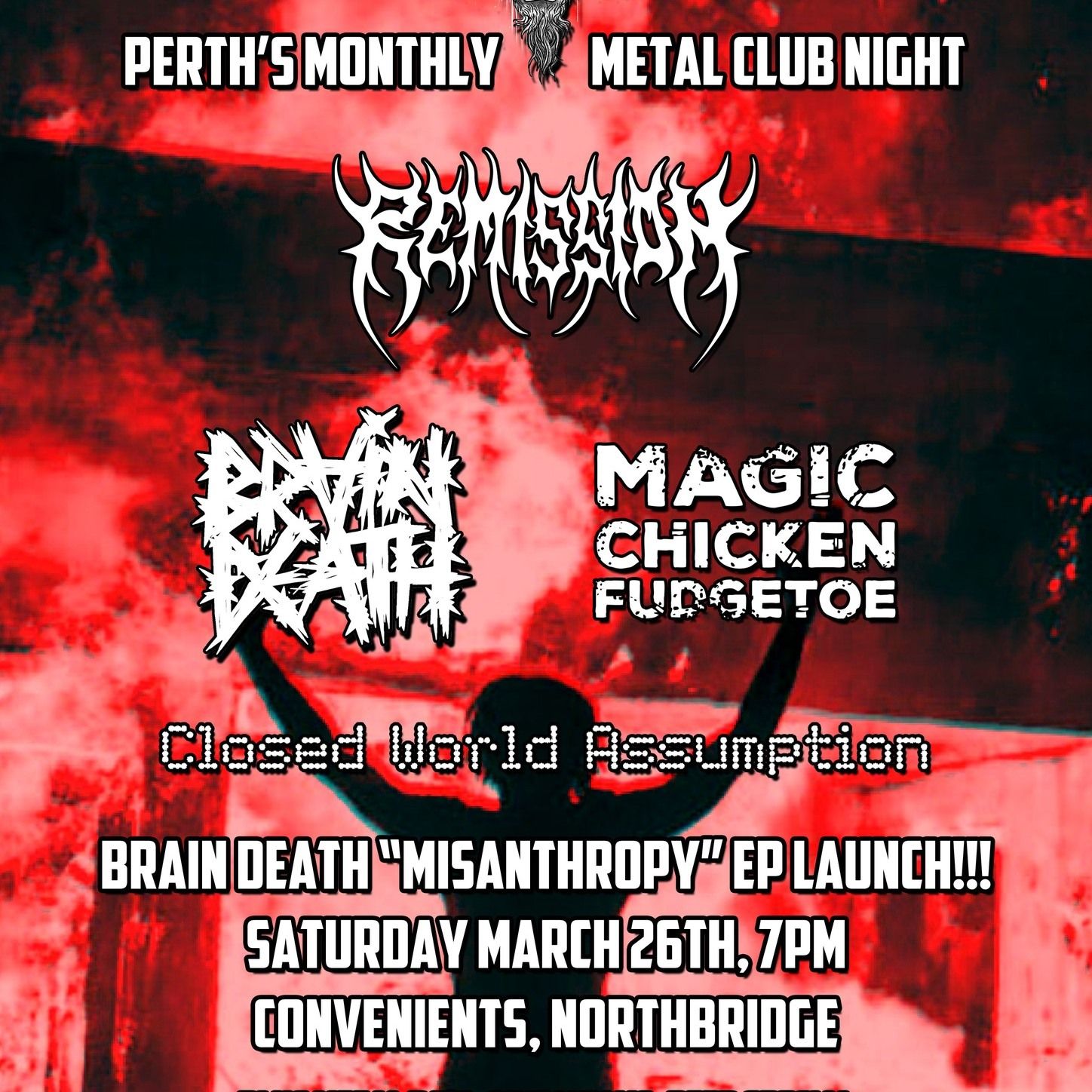 SATURDAY 26TH MARCH – CONVENIENTS – 35 LAKE ST NORTHBRIDGE 
REMISSION / BRAIN DEATH / MAGIC CHICKEN FUDGETOE / CLOSED WORLD ASSUMPTION 
$12 ENTRY – 7PM TIL MIDNIGHT 
METAL GIVEAWAYS THROUGHOUT THE NIGHT 
HAPPY HOUR 6PM TIL 7PM - $6 EMU CANS ALL NIGHT 
2022 has delivered Hornography to a new home at CONVENIENTS! And what a ripper start it's off to! Right in the heart of Northbridge, behind a quaint little Convenience Store fridge door, dwells a pumping alternative den serving food, booze, tunes and stacked with good vibes. With punters welcome to enter from 4pm, there is a big outdoor beer garden to chill out before the bands start cranking inside! 
This month we are celebrating 40 years since the release of Iron Maiden's 'Number of the Beast'! So expect to hear tracks from that classic metal album throughout the evening. 
REMISSION 
This melodic death/thrash outfit has come a long way since their inception, developing a killer live performance and building an evergrowing fanbase, making REMISSION a staple name in the Perth metal. 2019's 'The Tether's End' album created a huge reputation for the band, and HORNOGRAPHY punters are guaranteed a huge live show to close the night out! 
BRAIN DEATH ('MISANTHROPY' EP LAUNCH) 
Three piece old school outfit BRAIN DEATH, with a filthy combo of death, black & grind, will be treating us to the release party of their new EP 'Misanthropy'! After being around for 2 years and releasing a sick demo, these guys are continuing to make an impact and will be blasting a bunch of tracks from the new EP! 
MAGIC CHICKEN FUDGETOE 
Illustrious by name and long overdue for their debut HORNOGRAPHY appearance, MAGIC CHICKEN FUDGETOE offer a mish mash of sludgy stoner heaviness for us to soak up in a dark live environment. Prolific with releasing music, they got a big catalogue to check out prior to the night. 
CLOSED WORLD ASSUMPTION 
Industrial metal done dark and brutal, CLOSED WORLD ASSUMPTION are here with an EP released last year and bringing their tunes to the live stage. Get down early to cop a dose of this eery sound to get your night off to a killer start. 
SHADOW WORLD PHOTOGRAPHY 
Resident hero MISTY SHADOW will be snapping killer photos of the bands and the crowd, so get your ugly mug captured in local metal history. 
GIVEAWAYS 
Black Rheno - Noise Smasher Vinyl 
Eyehategod - Tshirt 
Lock Up - Tshirt 
Double Pass To Metal United Downunder On 2nd April 
WWW.FACEBOOK.COM/HORNOGRAPHYMETALCLUB 
WWW.HORNOGRAPHY-PERTH.COM