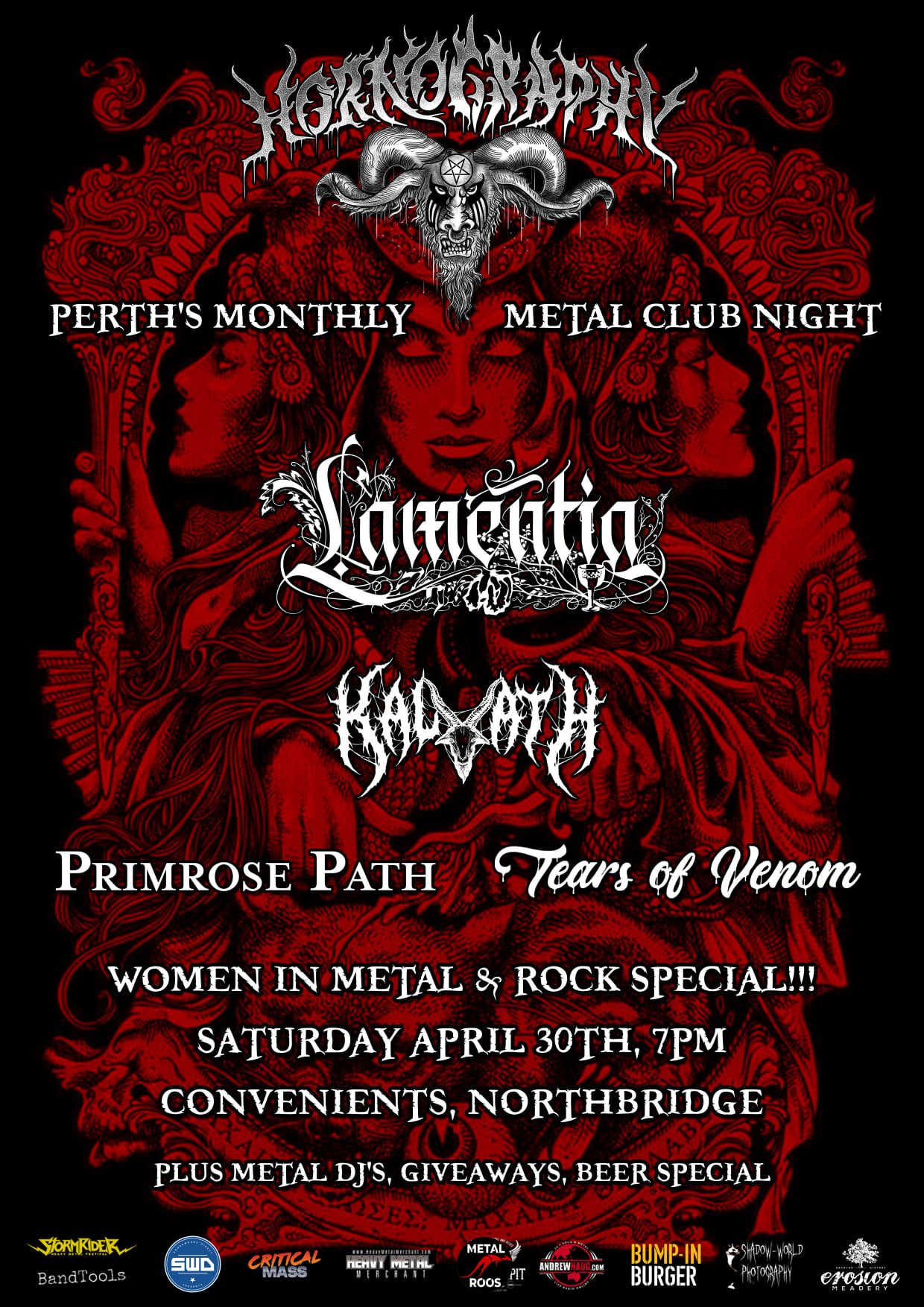 HORNOGRAPHY – APRIL 2022! 
WOMEN IN METAL & ROCK SPECIAL! 
SATURDAY 30TH APRIL – CONVENIENTS – 35 LAKE ST NORTHBRIDGE 
LAMENTIA / KALVATH / PRIMROSE PATH / TEARS OF VENOM 
$12 ENTRY – 7PM TIL MIDNIGHT 
METAL GIVEAWAYS THROUGHOUT THE NIGHT 
HAPPY HOUR 6PM TIL 7PM - $6 EMU CANS ALL NIGHT 
Roaring through 2022 in style, HORNOGRAPHY has flourished in it's new home at CONVENIENTS, with Perth metalheads making the most of the last Saturday of every month! 
With international womens day just a few weeks ago & with Mother's day rapidly approaching, us here at Hornography & Shadow World Photography have decided this month to pay tribute to the women in metal & rock bands! This APRIL event has three killer local metal acts featuring female vocalists to rock out to, amidst the usual good wholesome debauchery we are known for. We'll be celebrating our mad metal mums between bands too, with some appropriate heavy goodness over the speakers. 
LAMENTIA 
Melodic and atmospheric, this death/doom act will close the night out in brooding fashion. With a 4 track demo released last year, and plenty of shows under their belt, LAMENTIA have been building a strong following and best witnessed in a dark live setting. 
KALVATH 
Let's tell it like it is, KALVATH deliver dirty death metal from south of the river. Brutal as it comes and always a blast live, KALVATH have been smashing the gigs lately and ready to tear us a new one. 
PRIMROSE PATH 
Cathartic, grungy, post-prog metal, PRIMROSE PATH are an up-and-comer to keep an eye on. Primed to release a new single soon before a debut album later this year, get down early to check em out! 
TEARS OF VENOM (formerly Six Empty Bottles) 
Kicking off the evening in rockin' style is newly named rock/metal act TEARS OF VENOM. With this being the first show as Tears Of Venom, they are all fired up to open up with a bang and have everyone warmed up for the awesomeness to follow. 
SHADOW WORLD PHOTOGRAPHY 
Resident hero MISTY SHADOW will be snapping killer photos of the bands and the crowd, so get your ugly mug captured in local metal history. 
GIVEAWAYS 
Epica - Tshirt 
Be'lakor – Coherence CD 
The Plague – Within Death vinyl 
Hornography Cup 
WWW.FACEBOOK.COM/HORNOGRAPHYMETALCLUB 
WWW.HORNOGRAPHY-PERTH.COM