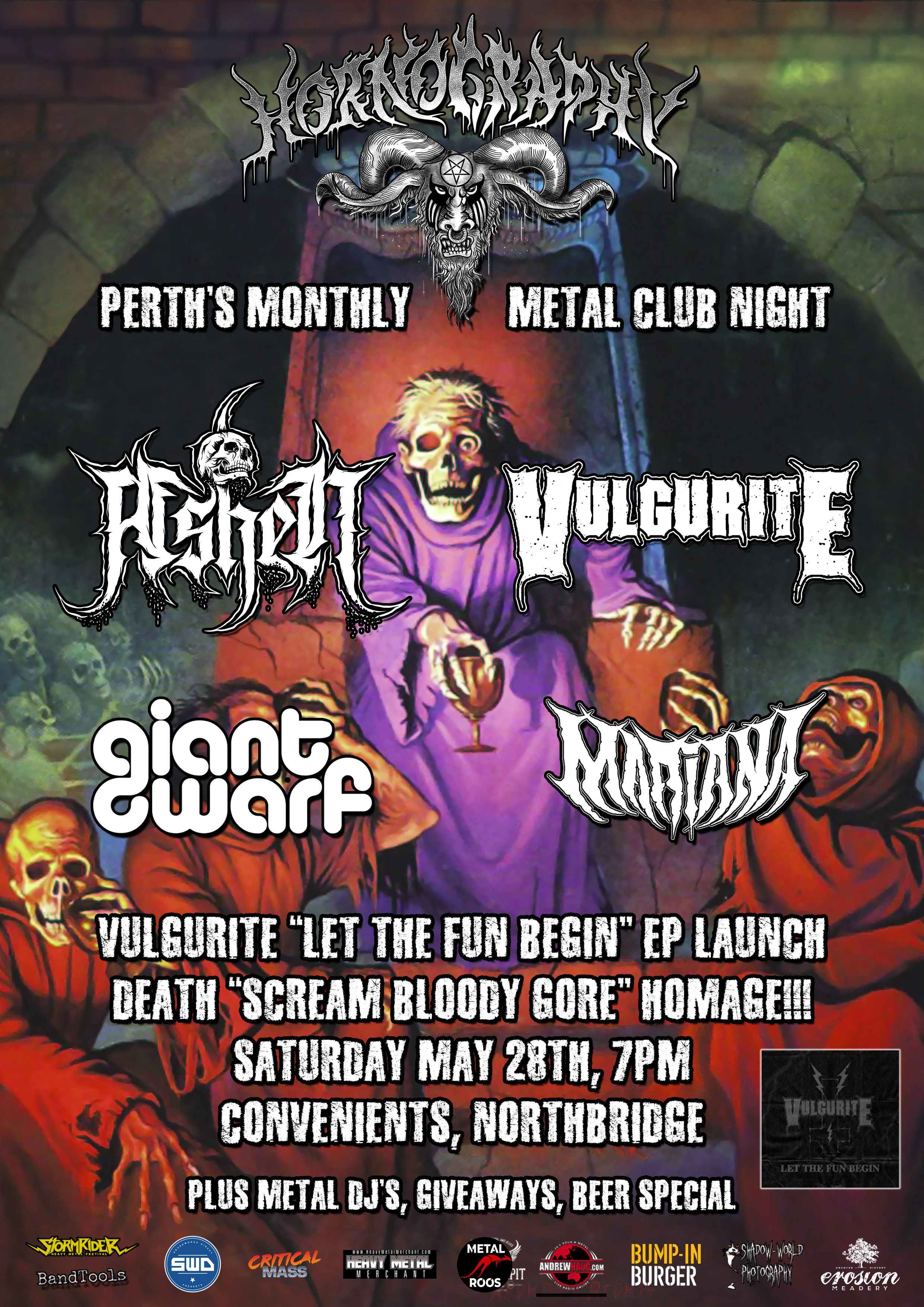 HORNOGRAPHY – MAY 2022! 
VULGURITE EP LAUNCH 
DEATH 'SCREAM BLOODY GORE' HOMAGE 
SATURDAY 28TH MAY – CONVENIENTS – 35 LAKE ST NORTHBRIDGE 
ASHEN / VULGURITE / GIANT DWARF / MARIANA 
$12 ENTRY – 7PM TIL MIDNIGHT 
METAL GIVEAWAYS THROUGHOUT THE NIGHT 
Roaring through 2022 in style, HORNOGRAPHY has flourished in it's new home at CONVENIENTS, with Perth metalheads making the most of the last Saturday of every month! 
This month at HORNOGRAPHY there are four killer local metal acts with varying heavy genres for every metalhead to enjoy, amidst the usual good wholesome debauchery we are known for. 
This month marks 35 years since DEATH released their classic 'SCREAM BLOODY GORE'! So we'll be paying homage to the album and blasting tracks from it throughout the night 
ASHEN 
Fresh off the release of their 'Godless Oath' EP, death metallers ASHEN are back on the live circuit and crushing all in their path. Featuring members of other classic local acts, ASHEN have a sound worshipping the heavy goodness of the old-school with a modern extreme touch. 
VULGURITE ('LET THE FUN BEGIN' EP LAUNCH) 
One of the year's most active heavy acts in Perth, VULGURITE have been relentlessly pummeling stages and winning a loyal fanbase in the process. For those who like their music gritty and rocky with a metal touch. 
GIANT DWARF 
Stoner rock stalwarts are here for their second Hornography appearance. Since we last had them on board they have played big shows, sold out of a vinyl and released a single with a sick music vid. Slinging heavy fuzz laden psychedelic riffs, these guys are the real deal. 
MARIANA 
This energetic instrumental metal trio will be opening up the bill and showing us Hornographers what they've got to offer! 
SHADOW WORLD PHOTOGRAPHY 
Resident hero MISTY SHADOW will be snapping killer photos of the bands and the crowd, so get your ugly mug captured in local metal history. 
GIVEAWAYS 
Death – Tshirt 
Phil Anselmo & The Illegals Tshirt 
Eyehategod – Signed Tour Poster 
Allegiance – Destitution CD 
WWW.FACEBOOK.COM/HORNOGRAPHYMETALCLUB 
WWW.HORNOGRAPHY-PERTH.COM