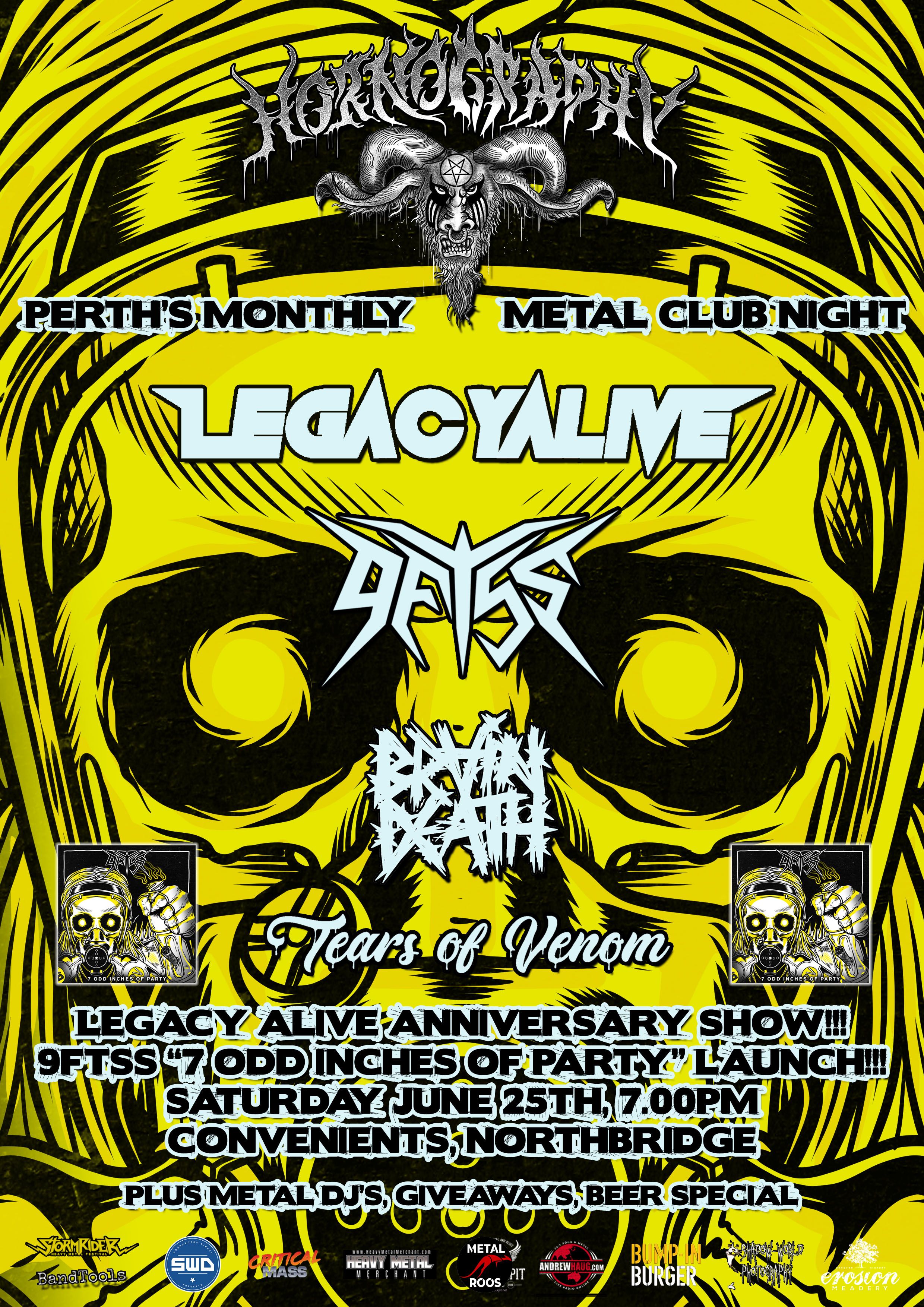 HORNOGRAPHY – JUNE 2022! 
LEGACY ALIVE ANNIVERSARY SHOW 
9 FOOT SUPER SOLDIER 7 ODD INCHES OF PARTY LAUNCH 
SATURDAY 25TH JUNE – CONVENIENTS – 35 LAKE ST NORTHBRIDGE 
LEGACY ALIVE / 9 FOOT SUPER SOLDIER / BRAIN DEATH / TEARS OF VENOM 
$12 ENTRY – 7PM TIL MIDNIGHT 
METAL GIVEAWAYS THROUGHOUT THE NIGHT 
Roaring through 2022 in style, HORNOGRAPHY has flourished in it's new home at CONVENIENTS, with Perth metalheads making the most of the last Saturday of every month! 
This month at HORNOGRAPHY there are four killer local metal acts including an anniversary show & new release PARTIES! Amongst these celebrations you can expect the usual good wholesome debauchery we are known for.
LEGACY ALIVE (ANNIVERSARY SHOW) 
Upbeat party heavy rock band LEGACY ALIVE is all about keeping the legacy of our rock n roll greats alive. All about the good vibes with catchy original music, this is the stuff you can sing along to and mosh out to the big riffs and electric live show! This will be their 10 year anniversary show for their first releases in "Midnight till Dawn" and "Firefight" 
9 FOOT SUPER SOLDIER (7 ODD INCHES OF PARTY LAUNCH) 
Armed with a lot of party and a whole heap of violence, the blistering bombast of banter laden mania known as 9 FOOT SUPER SOLIDER returns to Hornography to release their brand new 7 inch, and we aint talkin bout what's under those tight jeans of theirs. Those fortunate enough to have been entertained by these hooligans before will have enjoyed the ridiculous amounts of fun they provide, whilst also delivering shockingly catchy thrashy goodness. 
BRAIN DEATH 
Three piece old school outfit BRAIN DEATH are a filthy combo of death, black & grind. After being around for 2 years and releasing a sick demo, these guys are continuing to make an impact and will be blasting a bunch of tracks from their new EP!
TEARS OF VENOM (Previously Six Empty Bottles) 
Kicking off the evening in rockin style is newly named rock/metal act TEARS OF VENOM! With this being the first show under the new name, they are fired up to open with a bang and have everyone warmed up for the awesomeness to follow! 
SHADOW WORLD PHOTOGRAPHY 
Resident hero MISTY SHADOW will be snapping killer photos of the bands and the crowd, so get your ugly mug captured in local metal history. 
GIVEAWAYS 
Inquisition - 'Magnificent Glorification of Lucifer' Vinyl 
Nile - 'Vile Nilotic Rites' CD 
The Faceless - Shirt 
Desecrator - Shirt 
WWW.FACEBOOK.COM/HORNOGRAPHYMETALCLUB 
WWW.HORNOGRAPHY-PERTH.COM