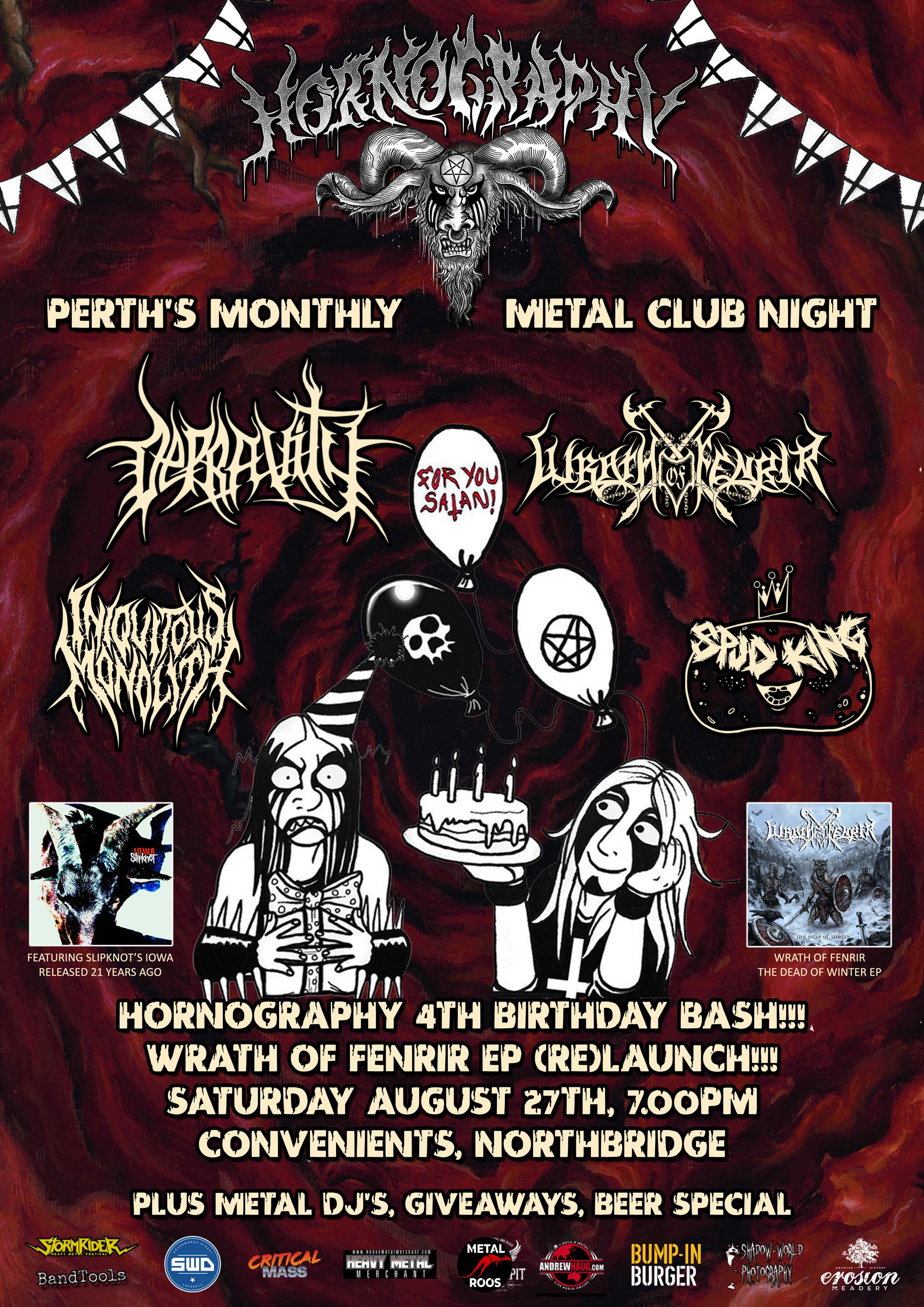 SATURDAY 27TH AUGUST – CONVENIENTS – 35 LAKE ST NORTHBRIDGE 
DEPRAVITY / WRATH OF FENRIR / INIQUITOUS MONOLITH / SPUDKING 
$12 ENTRY – 7PM TIL MIDNIGHT 
METAL GIVEAWAYS THROUGHOUT THE NIGHT 
Celebrating four years of delivering monthly metal in Perth, HORNOGRAPHY's birthday bash is here for another year this August! Over this time we've seen four venues, shit tons of bands, countless giveaways, thousands of photos and constant ongoing passion from local metalheads! The HORNOGRAPHY birthday bashes are a celebration of all of the sick local heavy acts that have played the show and all the supportive punters – HORNOGRAPHY is still alive and thriving thanks to YOU! 
We'll also be celebrating 21 years since SLIPKNOT released their classic 'IOWA' in August 2001! As a special feature, we'll be paying homage to the album and blasting tracks from it throughout the night 
HORNOGRAPHY has flourished in it's new home at CONVENIENTS on the last Saturday of every month. We got a feeling this month is gonna be the biggest yet, so come party! 
DEPRAVITY 
The monstrous death metal tyrant that is DEPRAVITY will be crushing us to pieces to close out the night! It's been quiet on the gig front for these maniacs of late, so we've been hanging for a solid dose of death metal and here it is! 
WRATH OF FENRIR ('THE DEAD OF WINTER' EP RE-LAUNCH) 
Prepare for war, WRATH OF FENRIR are bringing their epic brand of viking metal to HORNOGRAPHY! This show is the official RE-LAUNCH of their latest killer EP 'The Dead of Winter', so let's give it the headbanging welcoming it deserves! 
INIQUITOUS MONOLITH 
Pick those jaws up off the floor and get those stomping legs ready, INIQUITOUS MONOLITH will be slamming our arses into oblivion. This is some seriously destructive stuff! 
SPUDKING 
Like potatos? Who doesn't! Only natural to combine a morbid fascination with Tony Galati alongside metal tunes! Not only are these guys a heap of fun, the heavy performance is ripper too! 
SHADOW WORLD PHOTOGRAPHY 
HORNOGRAPHY's resident photographer MISTY SHADOW has been capturing the chaos since day 1! She will be here again as always snapping killer photos of the bands and the crowd, so get your ugly mug captured in local metal history. 
GIVEAWAYS 
DOUBLE PASS TO ALESTORM 
DOUBLE PASS TO SOILWORK 
DOUBLE PASS TO SKELETAL REMAIN 
DIMMU BORGIR 'SPIRITUAL BLACK DIMENSIONS' VINYL