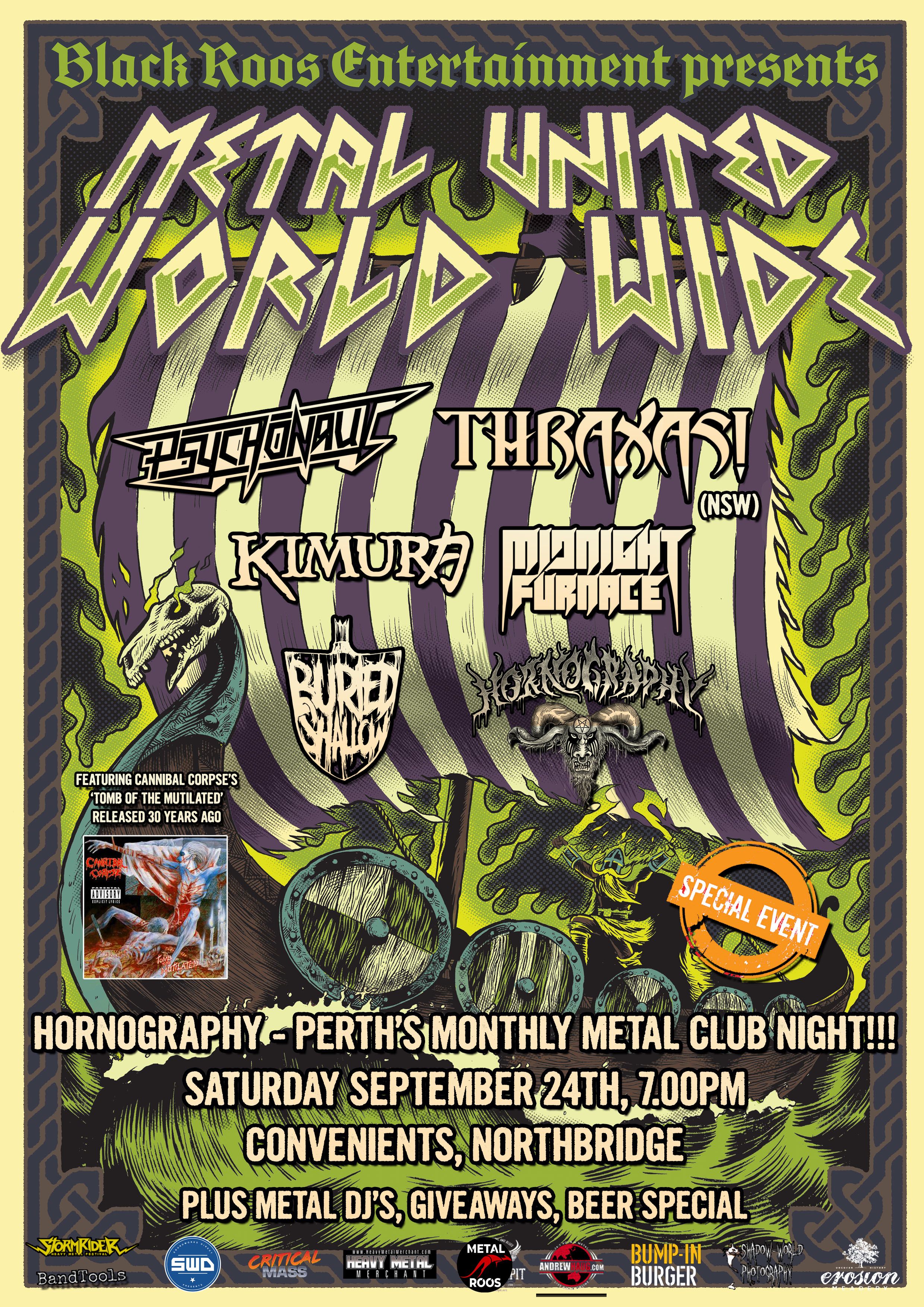 SATURDAY 24TH SEPTEMBER – CONVENIENTS – 35 LAKE ST NORTHBRIDGE 
PSYCHONAUT / THRAXAS! (NSW) / KIMURA / MIDNIGHT FURNACE / BURIED SHALLOW 
$15 ENTRY – 7PM TIL MIDNIGHT 
METAL GIVEAWAYS THROUGHOUT THE NIGHT 
Banging into it's fourth year, HORNOGRAPHY continues to bash out massive heavy nights in at CONVENIENTS, with Perth metalheads swarming to gather on the last Saturday of every month! 
This month at HORNOGRAPHY there are four killer local metal acts plus an interstate band and a debut gig! Amongst these celebrations you can expect the usual good wholesome debauchery we are known for. 
HORNOGRAPHY is also proud to be joining forces with METAL UNITED WORLD WIDE for this show! METAL UNITED WORLD WIDE is an initiative to overcome the distances between the widespread individual communities. The event consists of shows around the world on the same date under a united banner! For more info head to https://metal-united-world-wide.com 
We'll be spinning tracks from Silent Knights's new FULL FORCE album, plus it's the 30 Year anniversary of Cannibal Corpse's TOMB OF THE MUTILATED album, so expect a heap of tunes featured from that between bands! As well as It's also AFL GRAND FINAL DAY! Not everyone's teams will make the big dance (cough GUY BELL cough), but lotsa folks will be keen to party after the game so come join the shenanigans! 
PSYCHONAUT 
We don't get to see PSYCHONAUT as much as we'd like to these days, so enjoy this one! Oozing with power, speed, thrash and rock, and what a top class show it always is! 
THRAXAS! (NSW) 
Visiting us all the way from Sydney is THRAXAS! They've been demolishing stages over east for a while now and ready to bring their groovy thrash metal over to our shores. Give their PLANETARY TERRORISM album a smash before the show! 
KIMURA 
After releasing a banging new album last year 'Circle The Prey' that received high praise left, right and centre, KIMURA are back from a recent trip to the east coast and ready to pound it out for a show at HORNOGRAPHY! These guys are heavy, catchy, energetic and perfect for a good mosh 
MIDNIGHT FURNACE 
Killer rock/metal from right here in Perth, MIDNIGHT FURNACE join us for HORNOGRAPHY! Being quiet for the first half of the year, these guys have returned to the live scene with a new single and ready to rip us a new one. 
BURIED SHALLOW (DEBUT GIG) 
Burning a path from the centre of the boiling cauldron that is Perth metal comes BURIED SHALLOW! Get here for their first live show to check out their intense blend of groove metal with a side of core. 
SHADOW WORLD PHOTOGRAPHY 
Resident hero MISTY SHADOW will be snapping killer photos of the bands and the crowd, so get your ugly mug captured in local metal history. 
GIVEAWAYS 
AT THE GATES - Slaughter of the Soul Vinyl 
CRYPT CRAWLER -Bag 
KIMURA – Circle The Prey CD 
DOUBLE PASS - Stormrider Festival, Sat Oct 1st @ Badlands and SILENT KNIGHT - Full Force CD