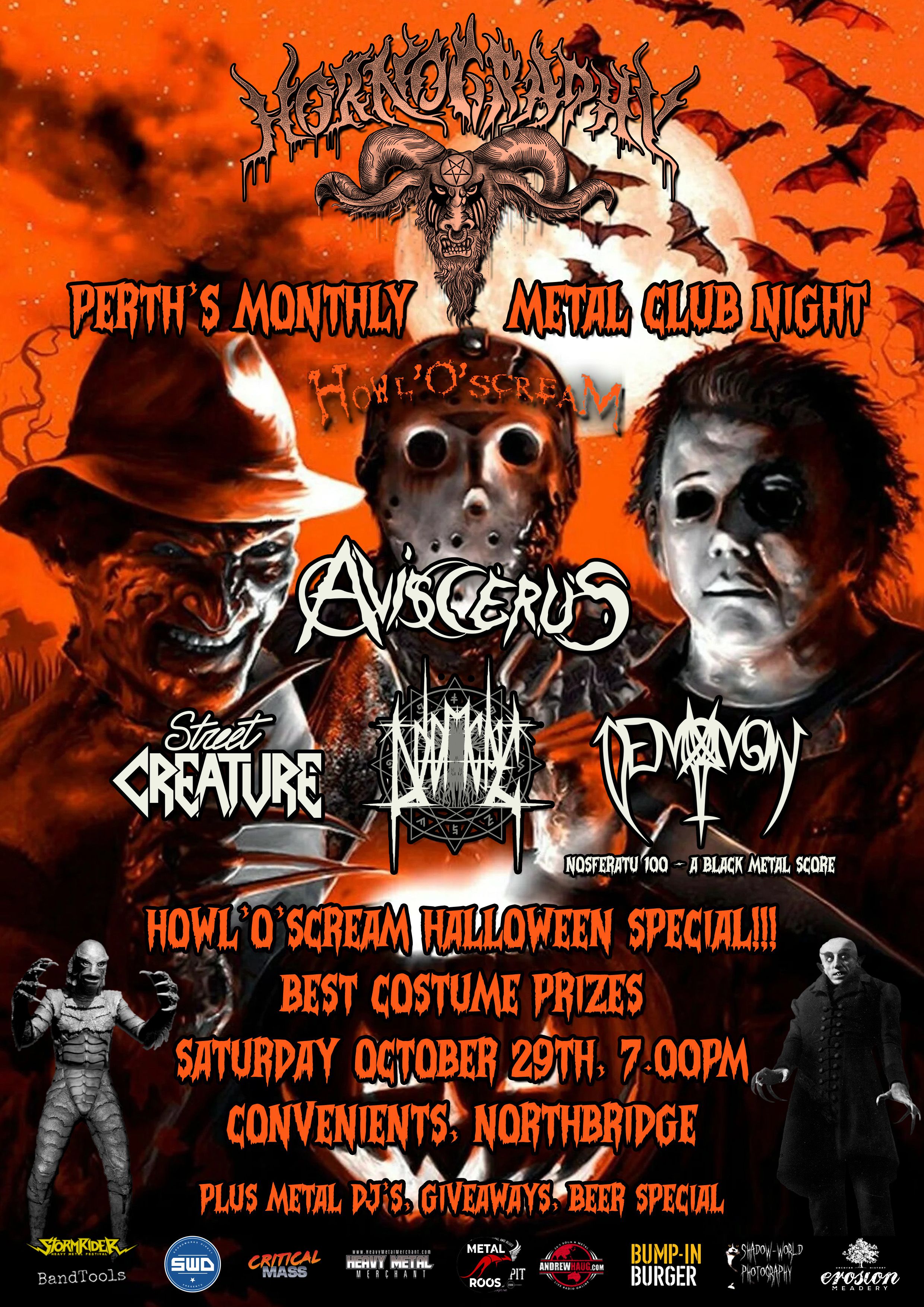 SATURDAY 29TH OCTOBER – CONVENIENTS – 35 LAKE ST NORTHBRIDGE 
AVISCERUS / DOOMCAVE / STREET CREATURE / DEMON SIN 
$13 ENTRY – 7PM TIL MIDNIGHT 
METAL GIVEAWAYS THROUGHOUT THE NIGHT 
Banging into it's fourth year, HORNOGRAPHY continues to bash out massive heavy nights in at CONVENIENTS, with Perth metalheads swarming to gather on the last Saturday of every month! 
This month at HORNOGRAPHY it's HALLOWEEN! That means scary bands, creepy punters, horror scenes on the screen, spooky cocktail specials, and killer decorations around the venue! 
Dress in your most terrifying costume, if you aren't freaky enough already. 
AVISCERUS 
With an upcoming record on the way, AVISCERUS has developed a unique style of heavy! Dense riffs, dynamic beats, and a savage vocal attack! Don't miss their monstrous live show to close out the night! 
DOOMCAVE 
Fresh off the release of their massive new album 'In The Shadow of His Throne', DOOMCAVE have been prolific in annihilating the Perth metal scene! Flowing from beauty to savagery and back between mournful and heavy, the live show from DOOMCAVE is always a great experience. 
STREET CREATURE 
Dirty rock act STREET CREATURE have been making their way around the traps of late, and will be treating us to their huge energetic vibe! Filthy distortion and catchy vocals, this is gonna be a heap of fun! 
DEMON SIN 
Underground black metal project DEMON SIN will be treating us to a debut viewing of a black metal Nosferatu score! Love the horror film and love black metal? Then get there early to check it out! 
SHADOW WORLD PHOTOGRAPHY / HOWL'O'SCREAM 
Resident hero MISTY SHADOW will be helping to spookify the venue with her top class Halloween prowess! She'll also guest DJ for the night and snapping freaky photos of the bands and zombies! 
GIVEAWAYS 
MAYHEM double pass for best costume prize 
BLOOD INCANTATION / DEAD CONGREGATION single ticket 
WATAIN Flag 
WAR DAEMONIC CD Pack