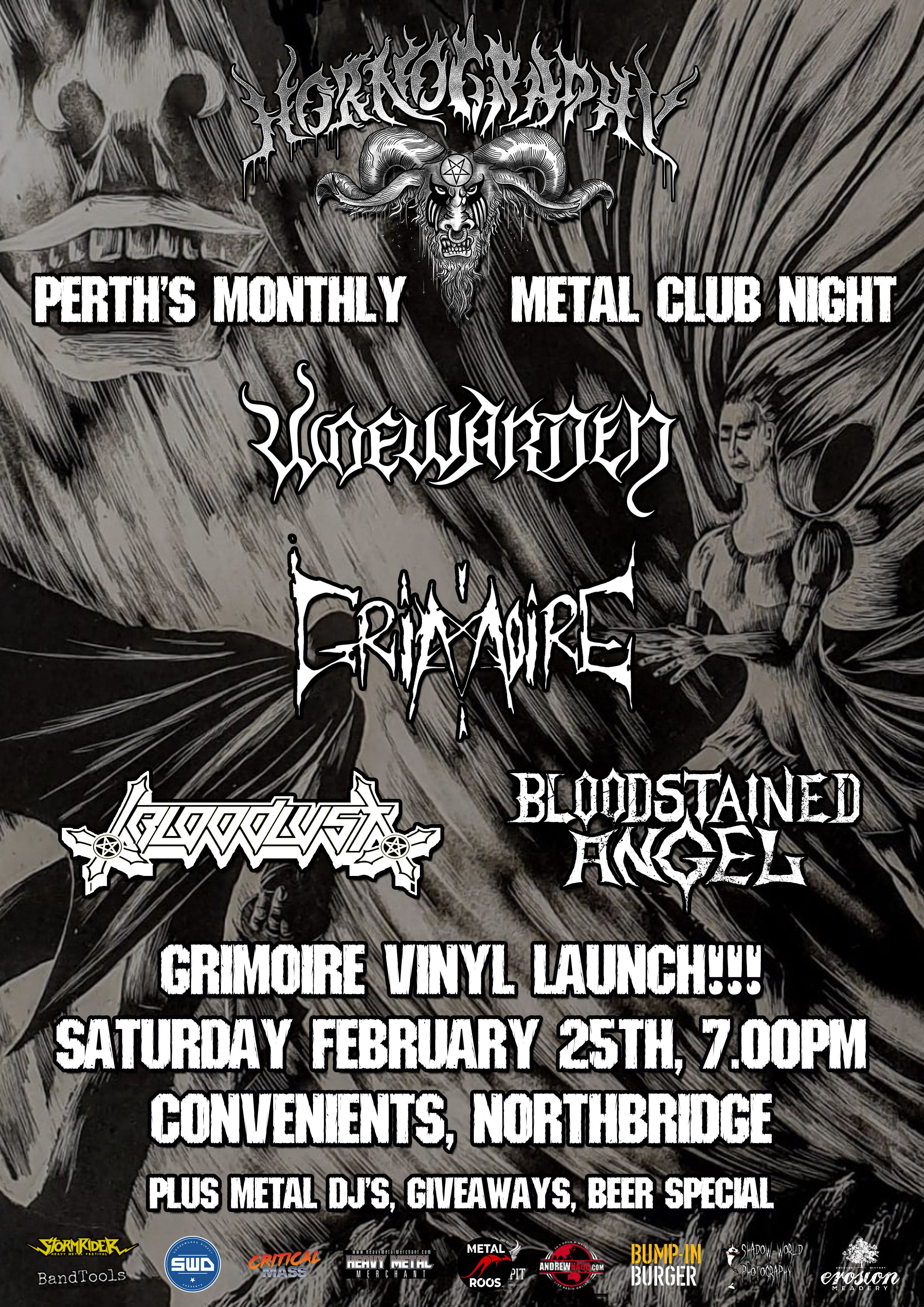 HORNOGRAPHY FEBRUARY 2023
SATURDAY 25TH FEBRUARY – CONVENIENTS – 35 LAKE ST NORTHBRIDGE
WOEWARDEN / GRIMOIRE / BLOODLUST / BLOODSTAINED ANGEL 
$11 ENTRY – 7PM TIL MIDNIGHT 
METAL GIVEAWAYS THROUGHOUT THE NIGHT 
The first HORNOGRAPHY event for 2023 is here! Taking a month's break in January, we are back in Feb with a cracker of a lineup featuring 4 top class local heavy acts. 
As always you can expected metal tunes between bands, slideshow projector screen, photographer, merch giveaways, MC's and all the usual good wholesome debauchery we are known for. 
WOEWARDEN 
Fresh off a run of Aussie tourdates, black metal outfit WOEWARDEN will be primed for a solid HORNOGRAPHY debut! Releasing their first album 'In The Art of My Caged Existence' in 2022, WOEWARDEN have been building a loyal following and establishing themselves as one of Perth's most promising extreme metal acts. 
GRIMOIRE (VINYL LAUNCH) 
A classic death metal band from Perth's 90's music scene, GRIMOIRE are making a comeback with an album release and a Vinyl being launched at HORNOGRAPHY! 
BLOODLUST 
Dirty deathy thrash metal performed by dirty deathy metalheads. BLOODLUST never fail deliver a high energy show full of sick riffs and constant speed. 
BLOODSTAINED ANGEL 
Newly formed 3-piece lineup for the live environment, BLOODSTAINED ANGEL bring heavy tunes with a high level of energy! 
SHADOW WORLD PHOTOGRAPHY 
Resident hero MISTY SHADOW will be snapping killer photos of the bands and the crowd, so get your ugly mug captured in local metal history. 
GIVEAWAYS 
WOLVES IN THE THRONE ROOM signed poster 
ENTOMBED AD Tshirt 
12GAUGE RAMPAGE Vinyl 
Double Pass TBC 
WWW.FACEBOOK.COM/HORNOGRAPHYMETALCLUB 
WWW.HORNOGRAPHY-PERTH.COM