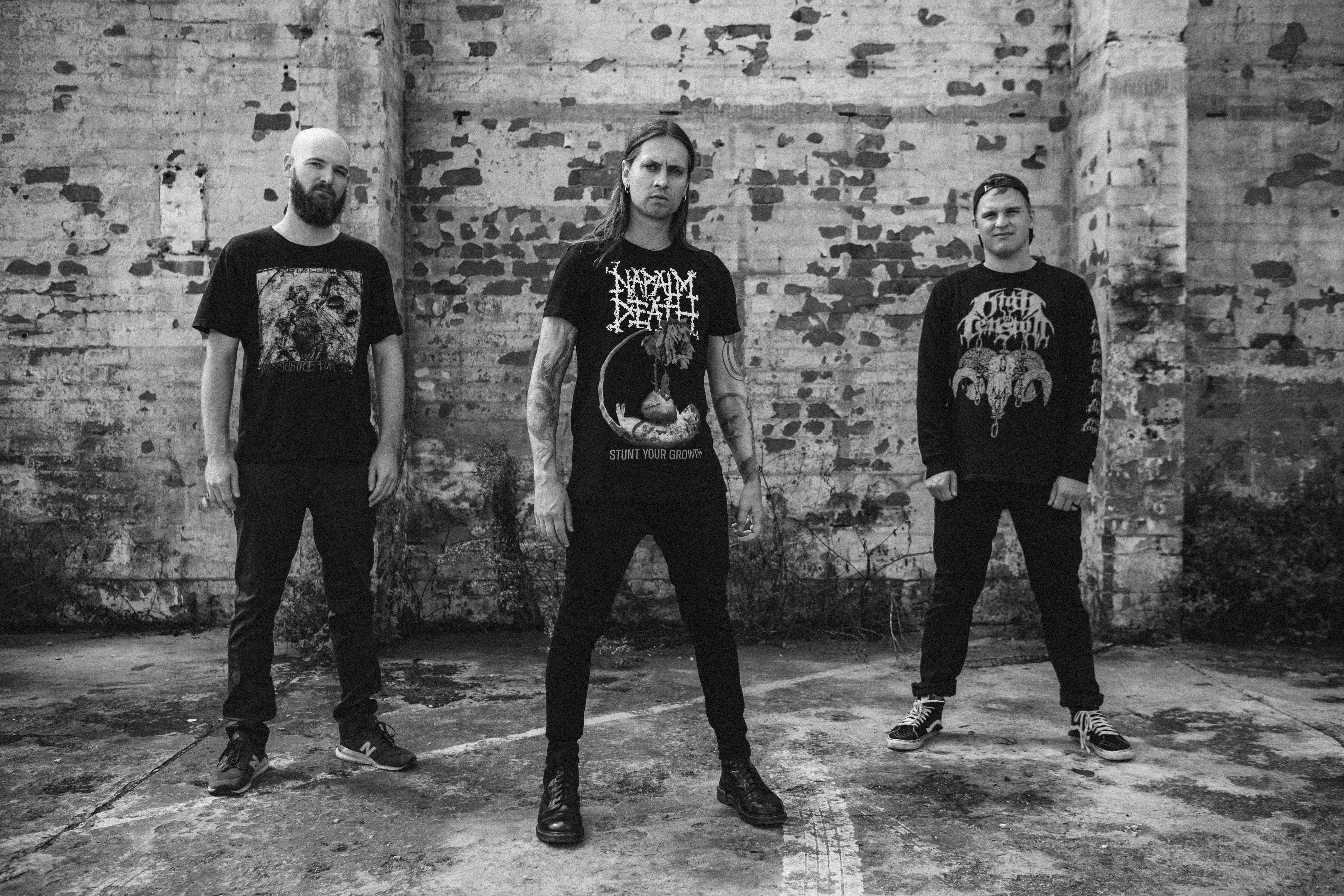 Who are we chatting with from NESHER?
Alex: Guitar, Bass 
Give us a quick rundown of the NESHER story so far & can you also tell us what the name NESHER means? 
NESHER is a Hebrew word that roughly translates to 'vulture'. Scavenging on the remains of the dead is a pretty good metaphor for what we see going on in the world around us. I started demoing the basic ideas for the project about two years ago. I bought on Al (drums) to help me workshop the songs and get the band going properly about six months after. We got Sam (vocals) on board as the lockdowns hit Australia. So we're only just taking our first steps out but excited to do so. Early days. 
Labels & webzines often like to write at the end of a bio or review with the term 'for fans of' such & such bands. But really I think the band itself should be telling us this. So enlighten us if you would. NESHER is for fans of? 
When I was writing the initial demos, I was really vibing on Entombed, Morbid Angel, Cro-Mags and Kyuss. Right now we're not trying to reinvent the wheel, but just write great DM songs that are more than just disconnected blasts and riffs. We still want to keep it brutal and heavy. Groove, atmosphere and lyrics are key. 
You have released one debut single so far in 'Preservation of Privilege'. What's the plan from here with new material? 
We're going to be dropping a second single and lyric video in October. It's concerning the bushfires so in time for the hot weather. We have quite a few songs written and ready to go. We were planning on hitting the studio back in July to start producing those, but the Sydney lockdowns put the kibosh on that for the time being. 
Obviously you are probably a fair way off from releasing a debut EP or album, but when the time comes, what would you say to a metal punter now to convince them to part with their bitcoin or credit card & grab themselves a copy? 
You were only going to spend that money on beer anyway – our riffs are sick, the words are dope and we're worth the price of a coupla schooners. I think it's pretty likely that we'll have a longer release out in 2022. Hopefully earlier rather than later in the year. 
Speaking of bitcoin, if you were going to start your own cryptocurrency, what would you call it & why? 
RIFFCOIN! 
Most death metal bands tend to go for very detailed & complicated cover artworks. What direction do you see NESHER's artwork going in for releases & perhaps merch? 
So far we've been working with this guy called @bahrullmarta for our first two releases. He's a painter, his works are abstract but have this immense feeling of dread that is perfect for us. I can see us sticking with that as we keep releasing material. 
Given NESHER has members from Sleepsmakeswaves, Hadal Maw & Lo!, are there any plans for live shows, or is this a recording project only? 
We'd love to take the band live when the Australian touring circuit is no longer lying in a ditch, on fire. 
KISS vs IMMORTAL – what's your band preference here? 
Listening to "Sons of Northern Darkness" while hanging with Ace Frehley – he seems like a cool dude. Gene can GTFO. 
NESHER is a very new Aussie death metal entity, but is there any fun fact you can share with us about yourself or any other members? 
Sam is training to be a zookeeper and has amazing stories about the fucked-up, perverse shit zoo animals can do to each other. Alasdair put himself through basic training boot camp just so he could have a steady gig playing in the army reserve band. I got my early break in the music industry because my post-rock band sleepmakeswaves had a track used in a Twilight "Team Edward" fan video and I'm still ashamed. 
Favourite musical format? Tape, vinyl, CD or digital and why? 
I'm all digital myself these days, and I'm still nostalgic about downloading a 128k mp3 of "Guerrilla Radio" off Napster when I was 11. It's been cool to see the resurgence in old-school formats like vinyl and tape, but I'm not a collector myself. 
We assume your music is available online to listen to for the time being? Where can we find it & for future reference, what formats do you see yourselves releasing your music on? 
NESHER is on Spotify and on Bandcamp - https://neshermetal.bandcamp.com/releases. I think doing some vinyl would be cool. 
Hypothetically, your next album is out, you've booked a massive national tour. What would be your ultimate Australian heavy music line-up that you would take with you to support you on it? 
Hope Drone for the atmospheric blasts, Underminer for the beatdowns and Totally Unicorn for the rainbows. 
Given the plague is here to stay for a while & I'm gonna need shit to check out, recommend us a stupendously good: 
Record Label – been dipping into Brilliant Emperor and really liking it. 
Album – Immolation – Close to a World Below, fucking hectic and brutal NYDM 
Artist (as in artwork) – Roger Dean coz I'm a 70s prog nerd 
Beverage – Whiskey Highball, make that shit at home! 
Restaurant – Shouting out my local Oxford Tavern, support those fellas if you're in Sydney's Inner West. 
And lastly, finish off this sentence if you would. 
Manowar would have to be…. 
Fairly ridiculous.