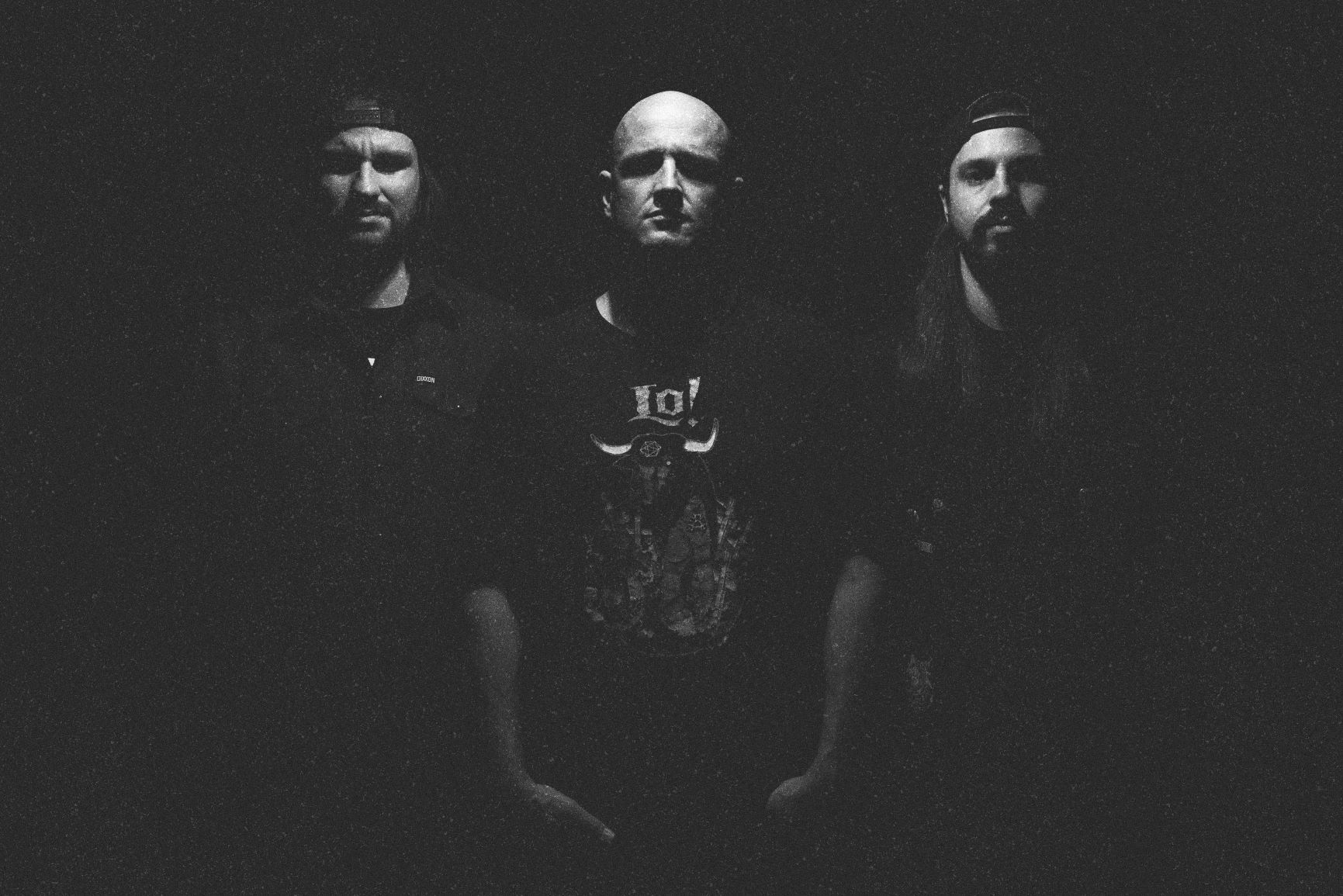 Who are the band members that make up BLACK RHENO & what other bands have they played in previously or currently? 
Mariano Palomares (Nano), Guitar: Spanish born and bread, Nano played in a bunch of bands growing up back in Spain, he moved to Italy doing the same, then to London where he played in a killer stoner metal band named Strauss (which is still going). After moving to Australia in 2015 he teamed up with Milla and formed Black Rheno and has been dishing out the Rheno riffs ever since.  
Ryan Miller (Milla), Vocals: Over the years Milla has bounced around a in few hard rock, punk and metal variations including some hip hop/ funk rock projects prior to Black Rheno. Since 2015 Rheno has been the number one focus. 
Kieran Smith, Drums: Kieran is Black Rheno's newest member having joined up in mid 2020 but has done plenty before hand. Kieran still plays in his long running band Disparo, blasting out fastcore grinding tunes they have toured the world essentially all on the backs of their own blood sweet and tears, a super hard working band they totally slay it. He also playing in Fat Monica, Hysterectomy and about 20 other acts.... there's a long history there! 
Labels & webzines often like to write at the end of a bio or review with the term 'for fans of' such & such bands. But really I think the band itself should be telling us this. So enlighten us if you would. BLACK RHENO is for fans of? 
High On Fire, Pantera, Clutch, Red Fang, Agoraphobic Nosebleed 
What is the motivation behind this band & it's music & what are you trying to achieve with it? 
What we try to do is write tunes that make us groove, vibe and and just rock the fuck out off as hard as possible while hopefully bringing the crowd with us. We want to be and groovy and dynamic yet but brutal as possible, we want to make super aggressive that make you want to bust out of you skin but still make you want to party just as much. We want to send the crowd into a frenzy and bring them back with a good ole stink face with the biggest fattest riff we can come up with. A big brutal goove party, something like that anyway :-) 
You have a new single out now called 'Battle Ready'. Who or what are you ready to battle with & when can we expect a new album? 
Pretty much we are keen to battle on all fronts. When life throws a shitty hand at you we're go to go, we'll stand up and push on and not back down from life's little hurdles. When the pandemic hit we'd just released our debut album "Noise Smasher". We were gearing up ready to take on Europe after just touring Japan, Australia & NZ alongside EYEHATEGOD. Things were really cracking along and then all that shit completely fucked the tour cycle and plans, it was a real pooper! So this latest release is just a little it of motivation for us, a little reminder that shit can go wrong but it's how we respond to it that counts and that it's time to pick ourselves up and just march onwards. As for a new album, we have a ton of songs in the bank and I'm sure next year we'll have something happening... we're working on it that's for sure. 
We've googled the word Rheno & can't find shit about it. So what the hell is a Black Rheno? 
Fucked if I know? 
You have a put a lot of effort into your video clips in the past, creating somewhat of a story with each one? Who is the ideas person behind these & also, if you could have a special guest or cameo appearance by anyone in the world in your next clip, who would it be? 
Yeh cheers, every clip has been shot by a different crew and each time it's been a bit of an idea spawned up from someone and then we've all added to it. Nano came up with this last concept and then we all added our 2 cents to it. Let's get John C Reilly in, that cunts funny as hell! 
Speaking of cameos, Youngy from King Parrot made an appearance in your first film clip a few years ago. Do you still have 'No Time For Numb Nuts'? 
Our stance on Numb Nuts has not changed and will not be any time soon... 
Favourite musical format? Tape, vinyl, CD or digital and why? 
Growing up in the 90's I was a CD kid and bought a ton of them through my younger years. The past few years I've been getting stuck into the vinyl, I find that with all the time we spend online these days it's nice to just come home and turn off from all that shit, put a record on and just enjoy the listen. 
Hypothetically, your next album is out, you've booked a massive national tour. What would be your ultimate Australian heavy music line-up that you would take with you to support you on it? 
High On Fire, Pantera, Clutch, Red Fang, Agoraphobic Nosebleed - hahahaha 
Given the plague is here to stay for a while & I'm gonna need shit to check out, recommend us a stupendously good: 
Movie – Morning Of the Earth 
Series – The Boys 
Podcast – Ain't That Swell 
Band – Burial Pit 
Album – Primus "They Can't All be Zingers" 
And lastly, finish off this sentence if you would. 
Manowar would have to be... a band I obviously need to learn more about.... I'm sorry (insert Wayne & Garth doing a "we're not worthy, we're not worthy)