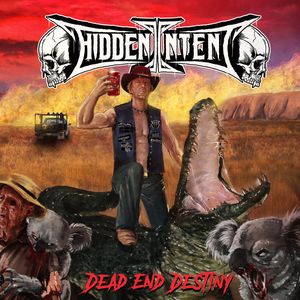 Adelaide's Hidden Intent have been thrashing thy heads for the best part of 10 years now & continue to improve as the years roll on. Whilst certainly not reinventing any wheels here, 'Dead End Destiny' triumphantly ticks all the right boxes for a thrash metal album. Fast riffs, triplet feels, heavy palm muting, blazing solos, fast percussive beats, gang vocals & solid smattering of groove. There is an element of party thrash & the fun side associated with that, but only in parts. 'Get A Dog Up Ya' showcases that side with a good dose of ocker slang.  

A theme the band has been running & having a laugh with in the past few years & also depicted in the very chuckle worthy album art. The first single 'Breaking Point' is a definite highlight that will be worthy of a violent headbang or windmill in a live setting. Catchy riffs, driving drums, a great chorus build up & added with a nice acoustic piece at the end, it's a very well rounded song. 
As you progress through the album you'll definitely find a tilt of the hat & a wink of an eye to such beasts as Slayer, Testament, Sacred Reich & Destruction, which by all means is a positive aspect, especially when it's been executed as good as it has been here. 
Well produced, well written & well played, 'Dead End Destiny' boasts 7 new tracks & a couple of covers to boot in The Chats 'Pubfeed' & Slayer's 'Altar Of Sacrifice' 
All in all, this is another tremendous slab of Aussie thrash metal & a worthy addition to the collection. 
Review score 7/10 
Gary Goat - Hornography