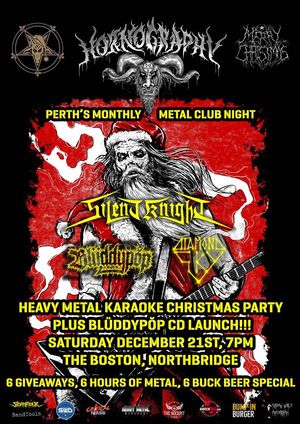 HORNOGRAPHY PERTH MONTHLY METAL MEET UP 
SATURDAY 21ST DECEMBER - 7PM TIL 1AM 
6 GIVEAWAYS / 6 HOURS OF METAL / 6 BUCK BEERS 
SPECIAL EVENT – HORNOGRAPHY XMAS SPECIAL & HEAVY METAL KARAOKE 
PLUS BLÜDDYPŎP CD LAUNCH!! 
Storming into the festive season with a ferocious roar, Perth's home of local metal HORNOGRAPHY is here to celebrate the end of the year in style! Cheap entry, cheap drinks, giveaways, live heavy music, metal merch and many local brethren to chill with means there is no better metal party this Christmas! 
Not only that, the excruciatingly popular HEAVY METAL KARAOKE makes an epic return, giving the punters a chance to bellow out their favourite tunes! 
The punters and bands alike all agree the vibe at HORNOGRAPHY has been the coolest in decades! Be a part of the flourishing community and keep supporting local heavy music! The last Saturday of every month can be locked into every Perth metalhead's calendar! 
Silent Knight 
Fresh from huge shows with Rhapsody's Turilli over east and festival appearance in Indonesia, Perth's favourite power metal sons SILENT KNIGHT return for what is undoubtedly to be one of Hornography's biggest sets yet! Throw into the mix a launch of brand new Xmas merchandise range, and the first Perth show with current vocalist Dan Brittain, this is one epic way to close out Hornography for 2019! 
Blüddypŏp 
No one likes blood in their poop, and this local upcoming powerhouse know how to capture that horrid feeling in musical form. BLUDDYPOP come grindin' and rollin' into Hornography to launch their brand new Split CD! Sometimes solid, sometimes fast, sometimes mushy, sometimes loose, however you like it you know you're in for a banger of a time. 
Diamond Sky 
Fresh onto the scene with big hair, big licks & big falsettos, DIAMOND SKY will be treating us to the sounds of the golden era of rock n roll! Triumphant and powerful heavy metal anthems to get us in the mood to party for the night ahead. 
HEAVY METAL KARAOKE 
Those who have witnessed the insanity that is heavy metal karaoke will know we are in for a whole lot of fun. There is nothing more epic than when the unassuming local Perth punter gets up on the stage and belts out a terrifying rendition of their favourite classic metal tune! Get in early if you want to have a scream as the limited slots are always in high demand. 
GIVEAWAYS 
VIP Ticket to Obituary in Perth 
Double pass to Cattle Decapitation & Revocation in Perth 
Wolves In The Throne Room Shirt 
KING CD & Shirt 
Heavy Metal Merchant Shirt & Patch 
CDs from Bluddypop, Flatus & Obscene Extreme 
Plus free copies of HEAVY Magazine! 
So bring your metal mates and bring your Hornography loyalty card for another night of celebrating the genre that we all live and breathe. See ya there! 
WWW.FACEBOOK.COM/HORNOGRAPHYMETALCLUB 
WWW.HORNOGRAPHY-PERTH.COM