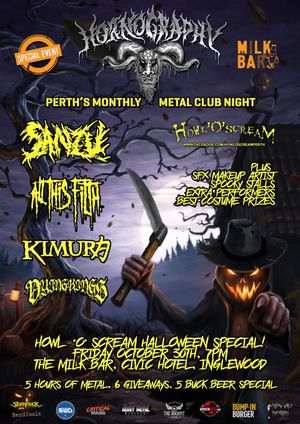 HORNOGRAPHY HOWL'O'SCREAM SPECIAL! 
FRIDAY 30TH OCTOBER 2020 - MILK BAR AT THE CIVIC HOTEL 
5 HOURS OF METAL / 6 GIVEAWAYS / 5 BUCK BEERS 
SANZU / ALL THIS FILTH / KIMURA / DYING KINGS 
HINFERNO INSOMNIA (FIREDANCER) 
Another year, another deadly Halloween metal event courtesy of our evil specialists, HOWL'O'SCREAM! 
Decorating the venue in ghoulish style, HOWL'O'SCREAM will turn our local metal show into a creepy madhouse. And hey, why not join in the fun, chuck on your scariest outfit to make this a Perth metal Halloween to remember! 
How good has it been to have gigs back on in Perth!? Let's keep the spirit going, and this month we HORNOGRAPHY bretheren can check out the brand new MILK BAR venue on Beaufort St and check out how they have transformed the Civic. 
SANZU 
It's been a while since Perth has been treated to an aural assault from SANZU! Returning at Slayfest, then busting up HORNOGRAPHY, SANZU is a unique beast that unleashes heavy music in a way that utilises diversity without straying too far from it's death metal foundation. Get ready for a headbang. 
ALL THIS FILTH 
Fast becoming veterans of the current Perth metal circuit and HOWL'O'SCREAM regulars, ALL THIS FILTH will be tearing up the stage to really bring the heavy Halloween fun. Groove, thrash, hardcore, whatever it is it's filled with energy and demands crowd interaction. 
KIMURA 
During the lockdown break Perth modern metallers KIMURA have been treating us to a new single, lyric video and track on the HORNOGRAPHY compilation. But gigs are back and they are pumped to bring their crushing live show back! 
DYING KINGS 
Local black metal act DYING KINGS are fresh off a launch for their debut 'Salted Earth, Ashen Air' release and are guaranteed to be in top form. A huge way to open up this heavy Halloween event! 
SPECIAL GUEST PERFORMERS 
HORNS HEADBANGER / INFERNO INSOMNIA 
As with each year HOWL'O'SCREAM bring us special performances from creative acts to transform the night into a true Halloween event. There will be heavy horny headbanging and a heated up fire dance show! 
SHADOW WORLD PHOTOGRAPHY 
Resident hero MISTY SHADOW will be snapping killer photos of the bands and the crowd, so get your ugly mug captured in local metal history. 
GIVEAWAYS 
Double pass to TBC show for best dressed 
Signed Obituary poster 
Cattle Decapitation Vinyl 
Bellwitch T-Shirt 
Whoretopsy CD 
Grotesque snapback cap. 
OTHER KEWL SHIT 
SFX Makeup Artist 
Spooky Stalls 
Huffing Asbestos Records merch stand 
Drink Specials - Halloween Cocktail, Vodka Cruisers & $5 Emu Export beer! 
Loyalty Cards still accepted! 
WWW.FACEBOOK.COM/HORNOGRAPHYMETALCLUB 
WWW.HORNOGRAPHY-PERTH.COM