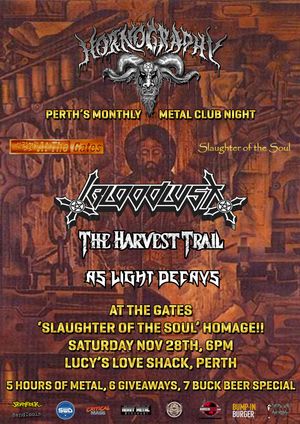 AT THE GATES HOMAGE! 
SATURDAY 28TH NOVEMBER - LUCY'S LOVE SHACK, PERTH 
5 HOURS OF METAL / 6 GIVEAWAYS / $7 DRINKS 
BLOODLUST / THE HARVEST TRAIL / AS LIGHT DECAYS 
Perth's monthly metal event HORNOGRAPHY is back in November for another heavy hitting party! 
This month we are paying homage to a classic AT THE GATES album! Released this month 25 years ago, SLAUGHTER OF THE SOUL was, and still is, one of the most groundbreaking and influential melodic death metal albums of all time. An undisputed landmark in melodic death metal and played a major role in popularizing the Gothenburg scene and is commonly ranked amongst best metal album of all time! 
WA has been spoilt with local metal events during this pandemic and HORNOGRAPHY is no exception, with all of the return shows being absolute rippers. So get down early and don't miss this chance to rock out with Perth punters and muso's for another killer night out. 
BLOODLUST 
What better way to end a night out than with a ruthless slab of blackened thrash metal! Devil's soldiers BLOODLUST have risen from hell to spread a plague of blasphemous darkness against the light and all that is holy! 
THE HARVEST TRAIL 
Taking influence from melodic death metal but doing it faster and angrier than anyone, THE HARVEST TRAIL are a fitting addition to this At The Gates homage event! A new name to the Perth live circuit, but with members of historic acts such as Claim The Throne and Red Descending, good luck sitting still for this one! 
AS LIGHT DECAYS 
High intensity thrash groove crossover act AS LIGHT DECAYS have been making their presence felt in Perth, scoring a ton of shows and winning over the local headbangers. Now making their Hornography debut in the lead to their next release, these guys are ready to stamp their ground and make an impact! 
SHADOW WORLD PHOTOGRAPHY 
Resident hero MISTY SHADOW will be snapping killer photos of the bands and the crowd, so get your ugly mug captured in local metal history. 
GIVEAWAYS 
Double pass to INFECTED show Sat Dec 5 
Behemoth T Shirt 
King Parrot 7 inch 
CrisisAct 7 inch 
Black Rhino cap 
Pack of metal patches 
OTHER KEWL SHIT 
Loyalty Cards still accepted! 
Beer Specials - $7 cans of Emu Export 
WWW.FACEBOOK.COM/HORNOGRAPHYMETALCLUB 
WWW.HORNOGRAPHY-PERTH.COM 
A huge thanks to all the sponsors who have come on board to support this beast! 
Soundworks Touring 
Direct Touring 
Stormrider Touring 
Critical Mass 
AndrewHaugRadio 
The Rockpit 
Bump In Burger 
Heavy Metal Merchant 
BandTools Musician Podcast 
Shadow-World Photography