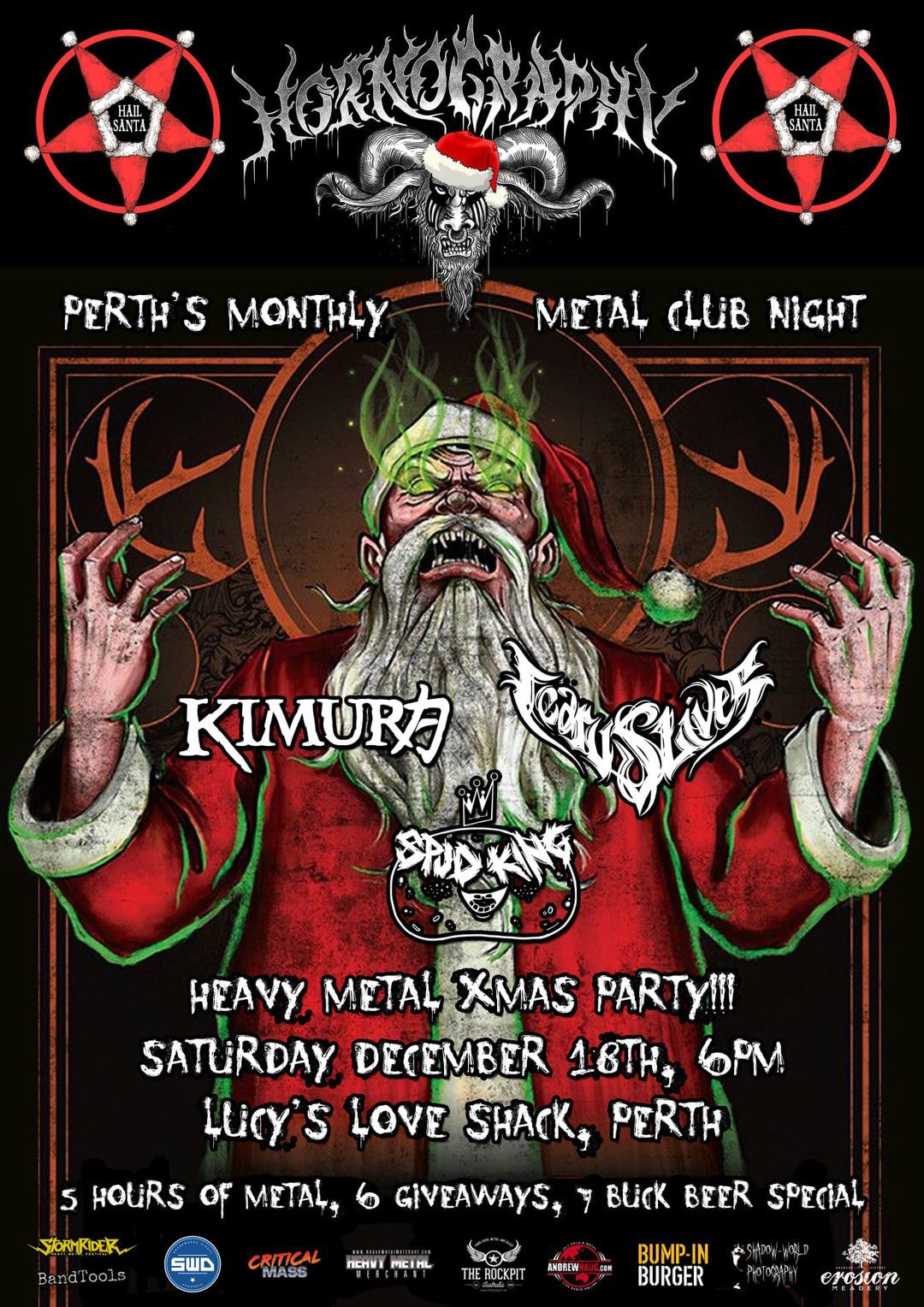 HORNOGRAPHY – DECEMBER 2021! METAL CHRISTMAS PARTY! 
SATURDAY 18TH DECEMBER – LUCY'S LOVE SHACK, PERTH 
KIMURA / ICARUS LIVES / SPUDKING 
$10 ENTRY – 6PM TIL 11PM 
5 HOUSE OF METAL / 6 GIVEAWAYS / $7 BEER SPECIAL 
It's the end of the year, so this month we'll be enjoying a Christmas party of the metal variety – Hail Santa! 
This month will also be the last HORNOGRAPHY event at LUCY'S LOVE SHACK… LUCY'S has treated us metalheads to a bloody good time and looked after us throughout the Covid Pandemic, allowing HORNOGRAPHY to stay alive during a tough period. So come along to support the venue and buy a shitload of Xmas beers! 
KIMURA 
Fresh from releasing a banging new album that has been copping high praise left, right and centre, KIMURA are back for a show at HORNOGRAPHY! These guys are heavy, catchy, energetic and perfect for a good mosh. 
ICARUS LIVES 
Longstanding Perth favourites ICARUS LIVES have recently got themselves a new vocalist and are revitalized with a big live sound. Female fronted melodic death metal that is plenty of fun. 
SPUDKING 
Roasted, boiled or mashed, there's nothing better than a good solid spud. Newcomers SPUDKING play death metal with a morbid fascination for potatoes. Get down early for a good dose of Tony Galati worship. 
SHADOW WORLD PHOTOGRAPHY 
Resident hero MISTY SHADOW will be snapping killer photos of the bands and the crowd, so get your ugly mug captured in local metal history. 
GIVEAWAYS 
Carcass 'Torn Arteries' CD 
Crypt Crawler 'Future Usurper' Vinyl 
The Plague 'Within Death' CD 
King Parrot & Heavy Metal Merchant Patches 
Obituary & Wormrot Pins 
Double Pass to Hornography Jan 28th new venue launch show 
OTHER STUFF 
Loyalty Cards still accepted! 
Beer Specials - $7 cans 
WWW.FACEBOOK.COM/HORNOGRAPHYMETALCLUB 
WWW.HORNOGRAPHY-PERTH.COM