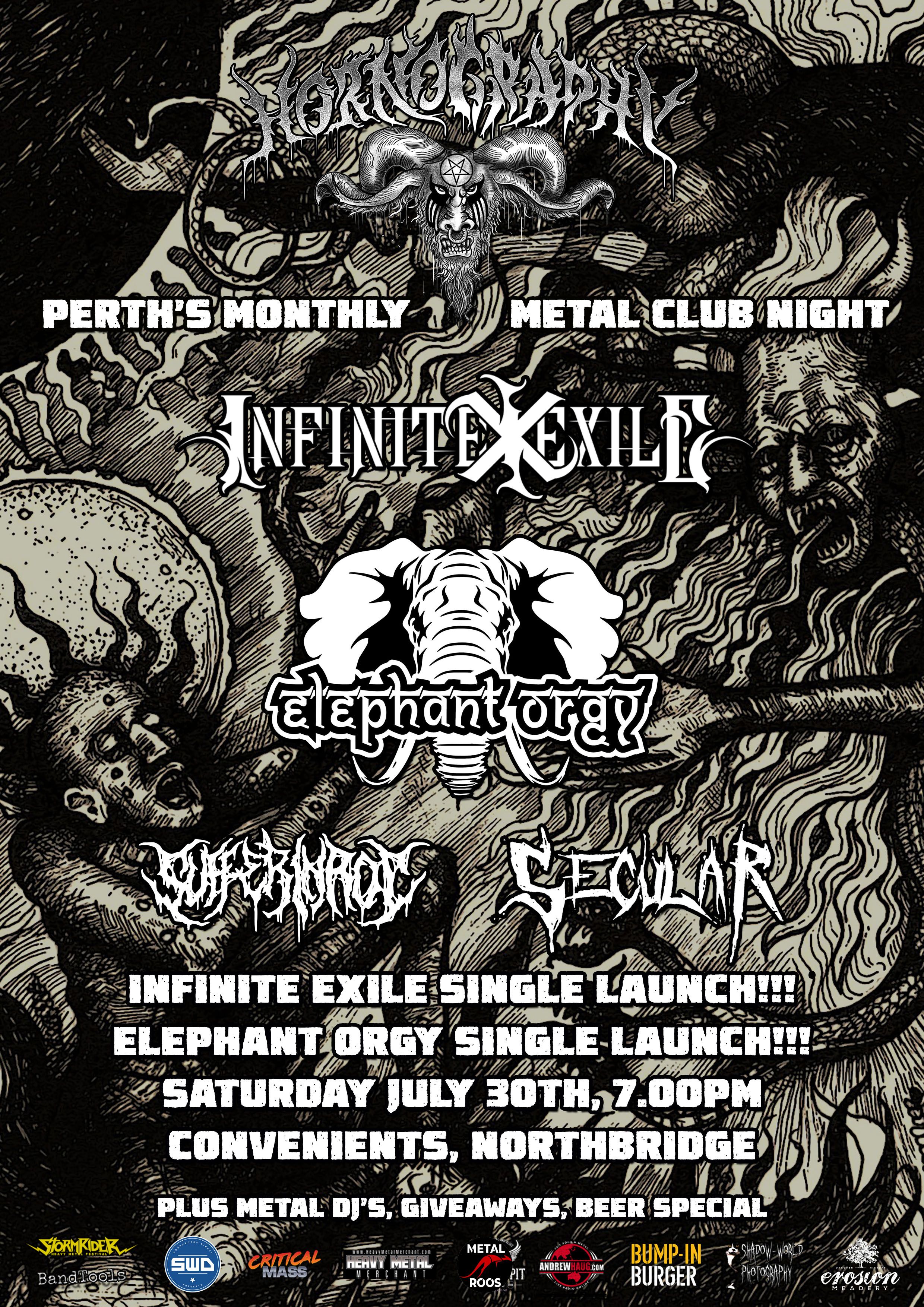 HORNOGRAPHY – JULY 2022! 
INFINITE EXILE 'SUBHUMAN' SINGLE LAUNCH 
ELEPHANT ORGY 'PUSH BACK' SINGLE LAUNCH 
SATURDAY 30TH JULY – CONVENIENTS – 35 LAKE ST NORTHBRIDGE 
INFINITE EXILE / ELEPHANT ORGY / SUFFER IN ROT / SECULAR 
$12 ENTRY – 7PM TIL MIDNIGHT 
METAL GIVEAWAYS THROUGHOUT THE NIGHT 
Roaring through 2022 in style, HORNOGRAPHY has flourished in it's new home at CONVENIENTS, with Perth metalheads making the most of the last Saturday of every month! 
This month at HORNOGRAPHY there are four killer local metal acts including 2 SINGLE LAUNCHES! Amongst these celebrations you can expect the usual good wholesome debauchery we are known for. 
INFINITE EXILE ('SUBHUMAN' SINGLE LAUNCH) 
A year since releasing their debut EP, INFINITE EXILE are back with new tunes, starting with the launch of a new single at Hornography! High energy stuff that is crushingly heavy and made for the live stage! 
ELEPHANT ORGY ('PUSH BACK' SINGLE LAUNCH) 
Bringing the doomy sludgy stoner stuff this month is ELEPHANT ORGY! With their debut single coming out late last year, they are back with another to launch at Hornography! 
SUFFER IN ROT 
Long-time death metal maniacs in the WA metal scene is SUFFER IN ROT, bringing their extreme brutality to Hornography! Get those necks ready to bang out to classic tracks from their Ever Tried Kill album. 
SECULAR 
Big chunky riffs and oozing with aggression, SECULAR have a huge sound that is massive in the live environment. Get down early to start the night off with a bang. 
SHADOW WORLD PHOTOGRAPHY 
Resident hero MISTY SHADOW will be snapping killer photos of the bands and the crowd, so get your ugly mug captured in local metal history. 
GIVEAWAYS 
ENTOMBED 'WOLVERINE BLUES' VINYL 
ABREMALIN 'NEVER ENOUGH SNUFF' CD 
OBSCURA T-SHIRT 
SYMPHONY X T-SHIRT 
WWW.FACEBOOK.COM/HORNOGRAPHYMETALCLUB 
WWW.HORNOGRAPHY-PERTH.COM