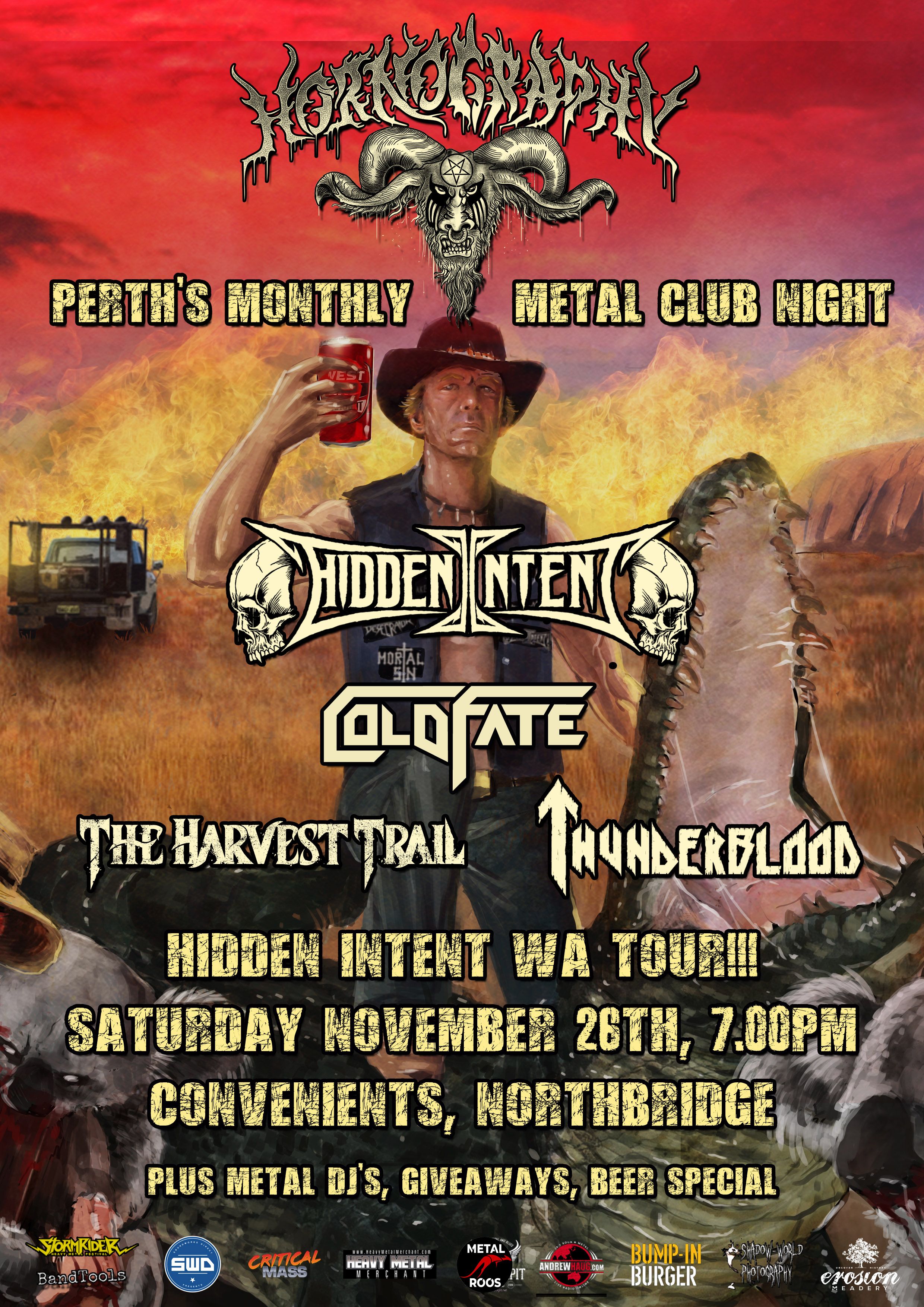 HORNOGRAPHY NOVEMBER 2022 
HIDDEN INTENT WA TOUR! 
SATURDAY 26TH NOVEMBER – CONVENIENTS – 35 LAKE ST NORTHBRIDGE 
HIDDEN INTENT / COLD FATE / THE HARVEST TRAIL / THUNDERBLOOD 
$15 ENTRY – 7PM TIL MIDNIGHT 
METAL GIVEAWAYS THROUGHOUT THE NIGHT 
Strap on your bullet belts and hold on to your battle jackets, HORNOGRAPHY is back with a thrashtastic extravaganza! Did someone drop their guts, or is Dysie in the room? Must be that time of the month again when Perth's wildest metal night descends upon Convenients. 
HIDDEN INTENT (SA) 
Wanna cop a load of thrash right to the face, then today is your lucky day because South Australian bogans HIDDEN INTENT are touring Perth and riding a sea of VB's onto the stage at HORNOGRAPHY! Fresh off a massive US tour, HIDDEN INTENT will be in prime form to treat us to a totally killer metal party. 
COLD FATE 
What do get when you cross the big four with a pizza? COLD FATE make their long awaited return to Hornography, and are guaranteed to put the mince in our Bolognese. Fresh handmade thrash right outta Perth, with a much anticipated album on the way, get on it! 
THE HARVEST TRAIL 
It's been a year since they last played, and what a great year it has been. Nonetheless Perth melodeath wannabees THE HARVEST TRAIL return to the Perth stage to mash out reckless riffs from last year's debut album and an upcoming EP. Blink and you'll miss it. 
THUNDERBLOOD 
Rocky and groovy thrash metallers THUNDERBLOOD return to HORNOGRAPHY to open the night in heavy style. With a brand new single and music video under their belt, this is gonna be a lot of fun! 
SHADOW WORLD PHOTOGRAPHY 
Resident hero MISTY SHADOW will be snapping killer photos of the bands and the crowd, so get your ugly mug captured in local metal history. 
GIVEAWAYS 
THE HAUNTED Tshirt 
DESECRATOR Summoning Vinyl 
KILLRAZOR & AS FLESH DECAY Cds 
Double Pass TBC 
WWW.FACEBOOK.COM/HORNOGRAPHYMETALCLUB 
WWW.HORNOGRAPHY-PERTH.COM