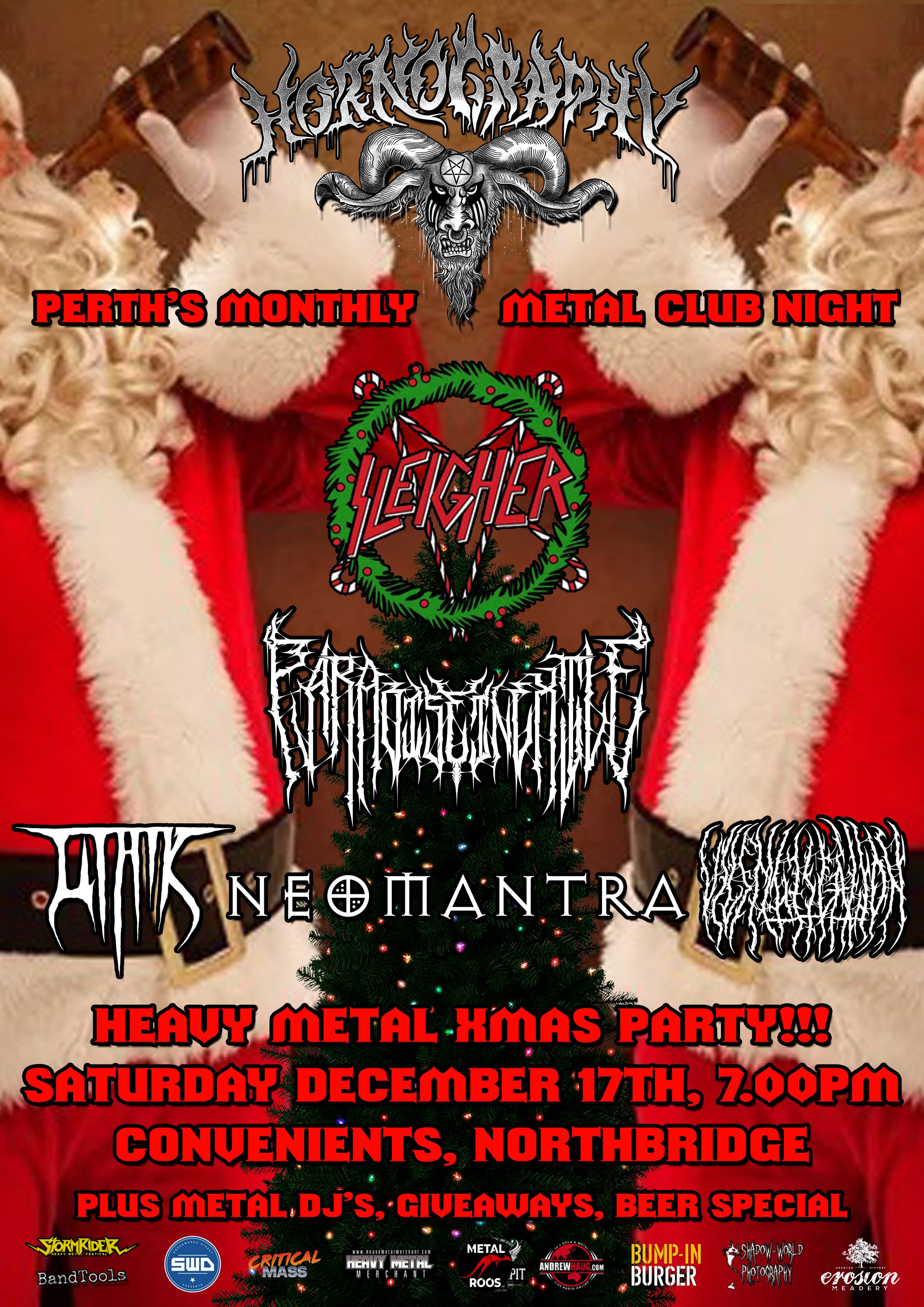 HORNOGRAPHY DECEMBER 2022 - HEAVY METAL XMAS PARTY! 
SATURDAY 17TH DECEMBER – CONVENIENTS – 35 LAKE ST NORTHBRIDGE 
PARADISE IN EXILE / NEOMANTRA / LITHIK / VILE MUTILATION 
$10 ENTRY – 7PM TIL MIDNIGHT 
METAL GIVEAWAYS THROUGHOUT THE NIGHT 
We made it, the last HORNOGRAPHY for the year has arrived! What a huge 2022 it has been for metal in Perth, let's send it off with a bang and party hard at Convenients! 
PARADISE IN EXILE 
With a brand new crushing music video under their belt, PARADISE IN EXILE cementing themselves as a serious force amongst Perth extreme metal. Low tuned and heavy as hell, the perfect thing to soak up as the last act to play HORNOGRAPHY in 2022! 
NEOMANTRA 
Post-metal with dirty extremities and proggy filth, NEOMANTRA have made their mark in Perth with their HENOSIS EP and been smashing the live circuit. 
LITHIK (NSW) 
Debut gig for Sydney's LITHIK is happening here at HORNOGRAPHY! Featuring some local heavyweights on the lineup, LITHIK will be performing doomy tunes from their 2021 debut release. Epic and vast, this will translate greatly to the live landscape. 
VILE MUTILATION 
Death metal up and commers VILE MUTILATION have been tearing Perth stages apart this year and make their debut HORNOGRAPHY show this month! 
SHADOW WORLD PHOTOGRAPHY 
Resident hero MISTY SHADOW will be snapping killer photos of the bands and the crowd, so get your ugly mug captured in local metal history. 
GIVEAWAYS 
PERTURBATOR Double pass 
OPETH Tshirt 
THE FACELESS Tshirt 
NILE & BLACK TRILLIUM Cds 
WWW.FACEBOOK.COM/HORNOGRAPHYMETALCLUB 
WWW.HORNOGRAPHY-PERTH.COM