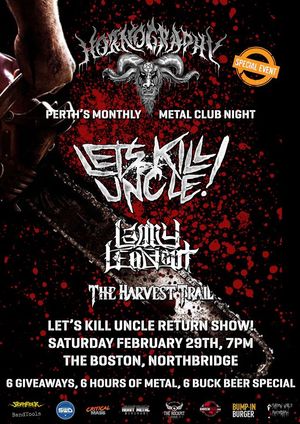 HORNOGRAPHY PERTH MONTHLY METAL MEET UP 
SATURDAY 29TH FEBRUARY - 7PM TIL 1AM 
6 GIVEAWAYS / 6 HOURS OF METAL / 6 BUCK BEERS 
LET'S KILL UNCLE / LARRY LEADFOOT / THE HARVEST TRAIL 
Storming in 2020, Perth's most legendary monthly metal night shows no signs of slowing down! Back at The Boston for a classic Hornography event in February, we are treated to 3 heavy bands, metal DJ, slideshow visuals, plenty of giveaways and guaranteed good times with likeminded maniacs. 
Lets Kill Uncle – COMEBACK SHOW 
Local metal fans can cast their minds back to 2015, when LETS KILL UNCLE destroyed stages with all of Perth's biggest heavy acts and played overseas. Things slowed down for a few years, apart from a huge comeback show in 2018, but now the stars have aligned and these hard hitting melodic death metallers are back to give Perth fans another taste. 
Larry Leadfoot – FROM MELBOURNE 
Experimental death metal with a modern twist and super heavy, LARRY LEADFOOT from Melbourne are making the trip west to play one Perth show for the Hornography punters. Prepare for their crushing wall of sound and get your neck in shape for a good old-fashioned headbanging session! 
The Harvest Trail – FIRST SHOW 
This is the debut live show for a brand new Perth metal act. Inspired by 90's Scandinavian melodeath/thrash, THE HARVEST TRAIL play a relentless style of melodic death metal packed full of riffs and delivered with ruthless aggression. 
DJ Jen Gruesome 
Destroying our ears for this event is DJ JEN GRUESOME. Expect tunes from all heavy genres from underground grind to folk metal and plenty of classic tracks in between. 
GIVEAWAYS 
ALL PAYERS RECEIVE A TICKET ON ENTRY TO GO INTO THE DRAWS! 
Double pass to see Nile & Ingested 
Double pass to Slayfest 2020 
Obituary hat 
Wormrot patch 
Signed EYEHATEGOD & Wolves In The Throne Room tour poster 
Bump In Burger Creeper Sauce 
Plus issues of HEAVY Magazine available for FREE! 
So as always, bring your metal mates and bring your Hornography loyalty card for another night of celebrating the genre that we all live and breathe. See ya there! 
WWW.FACEBOOK.COM/HORNOGRAPHYMETALCLUB 
WWW.HORNOGRAPHY-PERTH.COM