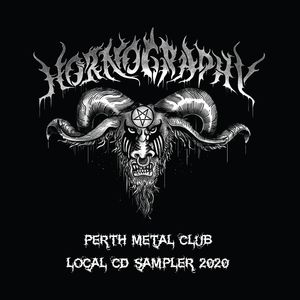 HORNOGRAPHY PERTH METAL SAMPLER OUT NOW! 
Nearly 2 years into Hornography we have been privileged to witness some outstanding local metal acts! Not only do these bands put on unbelievable live performances but they're kickass in the studio too! 
Initially planned to be distributed at upcoming big metal events to spread the word about our local talent, with the world's bizarre turn of events the distro will be stripped back a bit. Read on to hear more about how you can get a copy and how to support these rad bands. 
1. Silent Knight : Dethrone Tyranny (Gamma Ray cover) : Power Metal 
2. Depravity : Castrate The Perpetrators : Death Metal 
3. Tempest Rising : Fuck The Scene : Metal 
4. Vanadium BC : Something Brutal : Pure Australian Metal 
5. Crypt Crawler : The River Of Blood : Death Metal 
6. All This Filth : Drowning : Industrial Groove Core 
7. Blüddypŏp : Housing Refugees : Grind / Death 
8. Tom Thumb : Boiling Little Balls : Fore Grind 
9. Burial Ground : The Black Monolith : Death Metal 
10. The Uncreation : Pan Dimensional Webs Of Satan : Black / Death 
11. Bloodlust : High Speed Slaughter : Black / Thrash 
12. Population Control : Predators :  : Grindcore 
13. Population Control : Hell On Earth : Grindcore 
14. Prognosis Negative- : The Dark Defender : Alternative Metal 
15. Kalvath : Sadist Of Circumstance :  : Death Metal 
16. Death Dependant : Parasite : Thrash Metal 
17. Kimura : Bloodfan : Modern Australian Metal 
18. SenSiMiLLia : Life : Metal 
19. Claim The Throne : My Dying Throes : Melodic Death / Folk