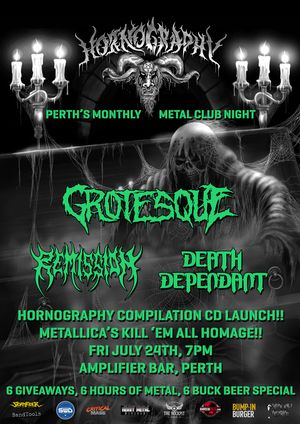 THE RETURN OF HORNOGRAPHY! 
HORNOGRAPHY COMPILATION CD LAUNCH 
METALLICA'S KILL 'EM ALL HOMAGE 
FRIDAY 24TH JULY - AMPLIFIER BAR, PERTH 
$6 DRINKS / 6 GIVEAWAYS / 6 HOURS OF METAL 
GROTESQUE / REMISSION / DEATH DEPENDANT 
Hold onto your snotty noses ladies and gentlemen, have we got some news for you! Wash those hands, horde that toilet paper, and get ready for the return of Perth's favourite local metal night HORNOGRAPHY! Everyone in Perth has been so well behaved with their social distancing, so let's reward ourselves with a night out of live heavy metal! 
With the introduction of live music back into Perth, we need to be flexible with how it's all gonna work. So please note this event is on a FRIDAY and it is at AMPLIFIER BAR. Things will gradually return to normal as we move forward. 
Plus photography from our much loved resident photo snapper Shadow-World Photography 
HORNOGRAPHY CD AND NEW MERCH LAUNCH 
The first HORNOGRAPHY COMPILATION CD sampler was released right before the virus hit, so now is the time to launch it properly! Every person through the door scores themselves a copy for FREE! Not only that, we have brand spankin new HORNOGRAPHY shirts and hoodies available for purchase on the night! 
METALLICA'S KILL 'EM ALL HOMAGE! 
Released 37 years to the day (almost, hehe). That's as good of an excuse as any to blast Metallica's classic debut album from start to finish during the night! 
GIVEAWAYS 
Wormrot vinyl, Immolation Hoodie, Emperor official Flag, Slayfest T-Shirt, Abramelin CD, Flatus CD, Black Trillium CD, Hornography shirt & cup 
OTHER KEWL SHIT 
Prime Cuts Music and Huffing Asbestos Records merch stands 
Loyalty Cards still accepted! 
Beer Specials - $6 cans of VB and selected $8 pints 
WWW.FACEBOOK.COM/HORNOGRAPHYMETALCLUB 
WWW.HORNOGRAPHY-PERTH.COM