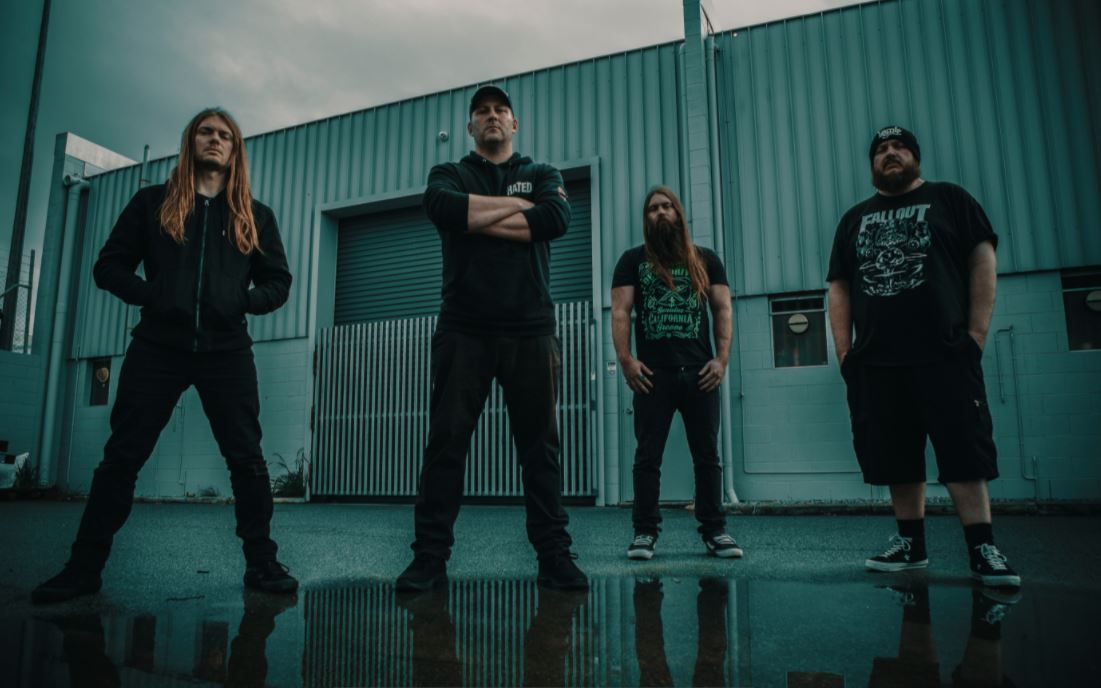 Give us a quick rundown of the KIMURA story so far & can you also tell us what the name KIMURA means? 
Kimura was formed in 2010 by our drummer Gordo 
First release, Uncaged, was out in 2014 
Second release, Kintsukuroi, was out 2016 
Kimuras 3rd release, Euthanize-Sterilize, out 2018, was with new vocalist, Josh Kelly 
Circle The Prey, Kimuras 4th, release is set for October 21st 2021, first full length album and with new bass player Kyle 
Kimura (Kee-more-ah), is the surname of Masahiko, who first developed this as a jiujitsu move which is a shoulder lock 
Labels & webzines often like to write at the end of a bio or review with the term 'for fans of' such & such bands. But really I think the band itself should be telling us this. So enlighten us if you would. KIMURA is for fans of? 
Lamb of God, Slipknot, Devildriver, Whitechapel, Machine Head, Pantera 
Your new album, 'Circle The Prey', is due for release on October 21st independently. How does it stack up to your previous releases & what would you say to a metal punter now to convince them to part with their bitcoin or credit card & grab themselves a copy? 
Over the 12 months leading up to the studio, we stepped up the production & song writing process to a more professional level and really pushed ourselves musically as well as collectively writing the song structures together.  This release, is much heavier, darker & personal to us, than previous releases but still maintains that Kimura Headbang feel, with more technical elements of musical playing, writing & performing.  Come to a show and we'll get you moving. 
Speaking of bitcoin, if you were going to start your own cryptocurrency, what would you call it & why? 
Suckercoin.  Pretty self-explanatory. 
A lot of bands in the current climate are adapting & coming up with some interesting & out there ideas for merch. Anything you plan on doing differently? Or if not, what do you have on offer at the moment? 
We are releasing the album on a format that's much more convenient for just about any stereo 😉 as well as something very important to us we've wanted to do for a long time, VINYL!!!! 
Outside of that, we have, CDs, Hoodies, Shirts, Singlets, Hats, Beanies & more coming, another reason to come to the show. 
KISS vs IMMORTAL – what's your band preference here? 
Neither.  Ummmm……. 
Life always presents itself with hilarious or crazy moments, that forever stick in your mind. Any moments like this stick out for you KIMURA guys, or any fun fact you can share with us? 
Our drummer for lack of a better word, is a potato and falls down a lot, this is a daily occurrence, so there's not one particular time that stands out. 
Our guitarist, Ian, whilst heavily intoxicated after a show in Bunbury, decided to challenge mother natures fury and ocean storms by nearly dying.  Lucky for mother natures sake, Ian is an immortal. 
We know something isn't right with Kyle our bass player, we just can't quite put our finger on it yet. 
Josh has issues…lots of… and mostly is a cephalopod (broken spine in various places).  He once played a show with a broken neck, but we weren't worried as you need bones to have a broken neck and we know he is spineless. 
Favourite musical format? Tape, vinyl, CD or digital and why? 
Gordo likes his CDs, its an OCD collector thing he has, Ian & Josh prefer live for the energy, otherwise digital for convenience & Kyle also likes his CDs, it's a pastime for him to buy a cool CD and play it start to finish 
What formats will your album be available on? 
CD, Vinyl, Digital, USB 
Hypothetically, your next album is out, you've booked a massive national tour. What would be your ultimate Australian heavy music line-up that you would take with you to support you on it? 
Perfect Line Up in our dreams: Parkway Drive, Thy Art Is Murder, Psycroptic, Resist The Thought. 
Given the plague is here to stay for a while & I'm gonna need shit to check out, recommend us a stupendously good: 
Record Label – Seek & Strike 
Album – Nija by Orbit Culture 
Artist (as in artwork) – Black Abyss: The Art of Rob Stanley (did our artwork for Circle The Prey) 
Beverage – Bellevue Kriek Cherry Beer 
Restaurant – Meat & Wine Co 
And lastly, finish off this sentence if you would. 
Manowar would have to be no where near as good looking as Ian…EVEN if you combine them all... Doesn't even come close.