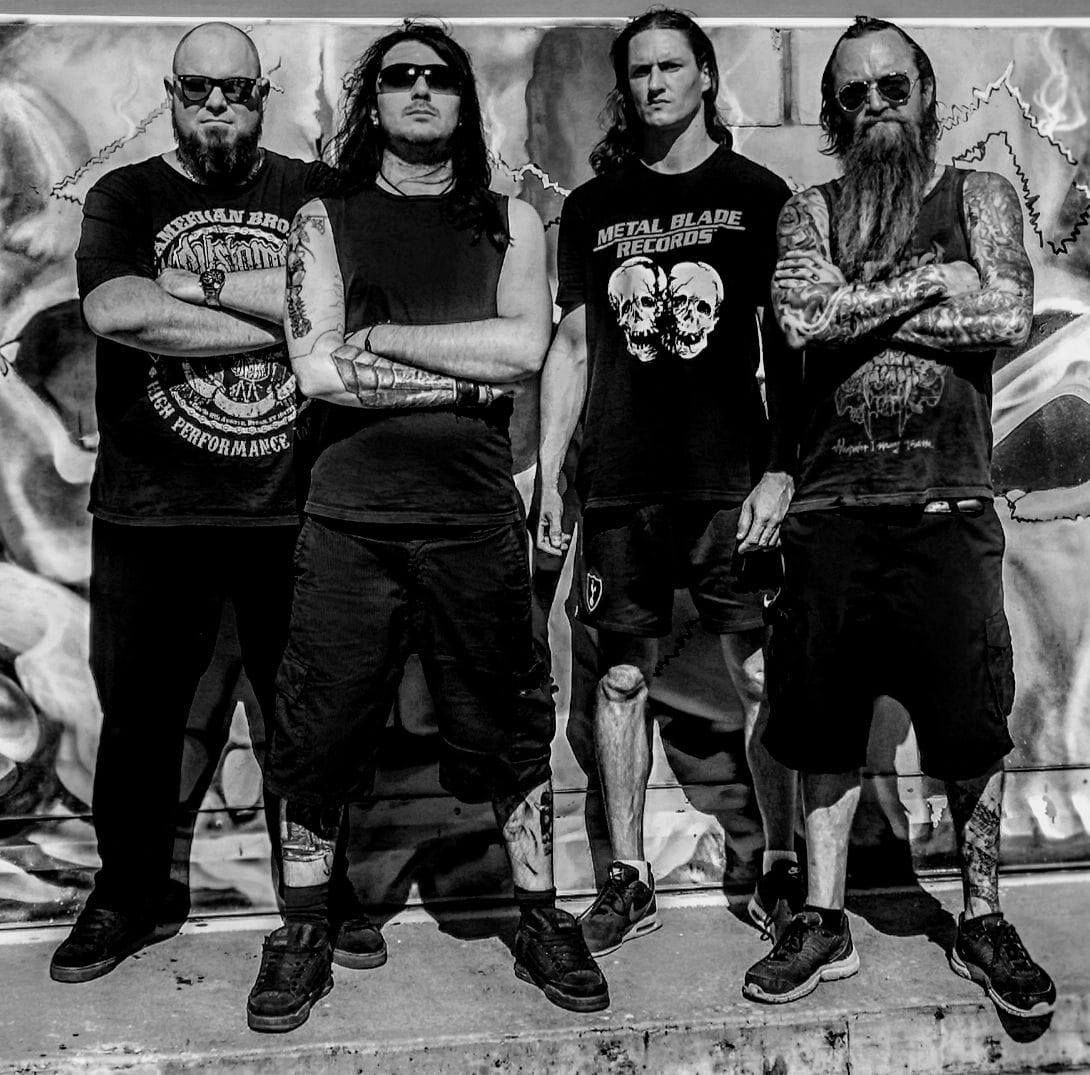 Give us a quick rundown of the AS LIGHT DECAYS story so far & how did the name of the band come about? 
In the summer of 2017 I joined forces with Brett Dunsire (Guitar) and Beau Unwin (Drums), in what was at the time a fun music project. We'd catch up every Sunday (which remains our traditional jam day) and before we knew if we had a stack of songs. Some of the tunes were throw-away's, but a couple have remained staples of our live set, for example Chaos In Order and Dissent From Above. 
We were hungry for the stage, so we auditioned for a bassist. Gregory Hall, or Googz as he is better know, literally sealed the deal with his first impression. Hard working, honest and hungry. Perfect for ALD. We are a band that loves to keep busy, having played 14 shows in 2019 and another 14 in 2020 (despite COVID). We have 9  under our belt this year so far with 3 more locked and loaded. 
As for our name "As Light Decays" we brain stormed for days, but this name stood out,. A contrasting thought provoking title that captured the essence of our music and rolled off the tongue nicely. 
Labels & webzines often like to write at the end of a bio or review with the term 'for fans of' such & such bands. But really I think the band itself should be telling us this. So enlighten us if you would. AS LIGHT DECAYS is for fans of? 
Pantera, Machine Head, Sepultura, Sylosis. If you dig any, or all of these bands then you should definitely give As Light Decays a spin. 
Your new album, 'System Of Division', is due for release on November 13th independently. How does it stack up to your previous releases & what would you say to a metal punter now to convince them to part with their bitcoin or credit card & grab themselves a copy? 
System Of Division is our first full length album, following the release of three singles over the last 18 months. We're very proud of everything we've released so far, but this album really encapsulates our sound and overall energy. It's an album specifically designed to play through, so if you're a fan of non-skip old school groove metal with a twist, then you won't be disappointed. Definitely worth the investment.  
Speaking of bitcoin, if you were going to start your own cryptocurrency, what would you call it & why? 
The "Rasstrelny" 
Russian for "execution by shooting", it is the title of the seventh song on the album. 
Boom!.. Or bust Haha 
A lot of bands in the current climate are adapting & coming up with some interesting & out there ideas for merch. Anything you plan on doing differently? Or if not, what do you have on offer at the moment? 
Recently we've run a limited-edition pair of mosh shorts, available in black and red. They've been really popular. I only wear shorts on stage, so I wanted something custom and light weight. Originally, they were just going to be a one off but it wasn't long before the requests came in from the ALD Army. Perfect for summer! We've also got our trademark ALD start logo shirts in long and short sleeve which have proved popular too. All available at our shows, via our merch shop link on our FB page or via our Bandcamp page. We have a few other cool items up our sleeve planned for 2022 as well! 
KISS vs IMMORTAL – what's your band preference here? 
Immortal for sure. I've never really got into KISS, though I definitely respect their ability to put on a spectacle. 
Life always presents itself with hilarious or crazy moments, that forever stick in your mind. Any moments like this stick out for you AS LIGHT DECAY guys, or any fun fact you can share with us? 
Yeah, there is never a dull moment in the ALD camp. Some classic moments on stage come to mind. Googz being "killed" and dragged off stage mid song at the Rechabite as part of the Friday 13th horror show. Beau busting through his bass skin towards the end of a show; oblivious to this plight we decided to play our fastest song as an encore! Haha. We had a huge fight break out during our set at the Sixty30. There were cops and punters everywhere and it nearly turned into a riot! We've played everything from a wedding to a backyard party, from pub gigs out in Karragullen to putting on a sold out shows at Badlands, it's been a great journey so far.   
Favourite musical format? Tape, vinyl, CD or digital and why? 
For ease of access, I listen to most of my music digitally, but CD's are my preferred format. Supporting your favourite bands by purchasing a hard copy is important and nothing beats holding the gold in the palm of your hand. Tapes and vinyl have a special vintage charm, but I prefer CD's. 
What formats will your album be available on? 
The album will be available via all streaming services from the 13th November. CD's are the chosen weapon in the physical media artillery though. The art, the lyrics and eight tracks of relentless metal infused into a little shiny disc and case. Get a hold of one via our Bandcamp  or at any of our shows. Upcoming gigs for the remainder of 2021 are the album launch @Amplifier Bar on the 13th November, Hornography @Lucy's Love Shack on the 27th November and The Swan Basement gig on the 3rd December. 
Hypothetically, your next album is out, you've booked a massive national tour. What would be your ultimate Australian heavy music line-up that you would take with you to support you on it? 
If we were heading over East and could take a few bands, then we'd definitely be hitting up our mates in Bayview Suspect, All This Filth and Enforce. All great dudes, who kick arse on and off the stage. Man I could easily name a dozen Perth bands that would blow the minds of a national audience. As a state we are not only blessed with an abundance of talent, we have so many great people. 
Given the plague is here to stay for a while & I'm gonna need shit to check out, recommend us a stupendously good: 
Record Label: Metal Blade 
Three decades of brutality. The best roster of bands on the planet. A company that rose from humble beginnings and always puts the artist first. Love that shit. 
Album: Crypt Crawler – Future Usurper. 2021 has been a massive year for Western Australian bands. Many great releases. The standout for me is this barnstormer from one of the best metal bands in Australia right now. Crypt Crawler deliver a death metal delight, that is both technical and explosive. 
Artist: Check out Mariusz Lewandowski. 
ALD are very fortunate to have an awesome artist amongst us, with our drummer Beau doubling as our resident artistic genius. Our visual representation really is a part of who we are. 
Beverage: Spirits are my choice of drink. I recommend two Western Australian small batch distilleries that create a superb world class product. 
Illegal Tender Rum (Dongara) and Limeburners Tiger Snake Whiskey (Albany). Worth searching for! 
Restaurant: Burrendah Bar and Bistro. 
First date with my fiancée was at the Burrendah and we often go for lunch or dinner. A relaxed comfy atmosphere with a top notch menu. 
And lastly, finish off this sentence if you would. 
Manowar would have to be…. 
The heaviest jellyfish in the sea.