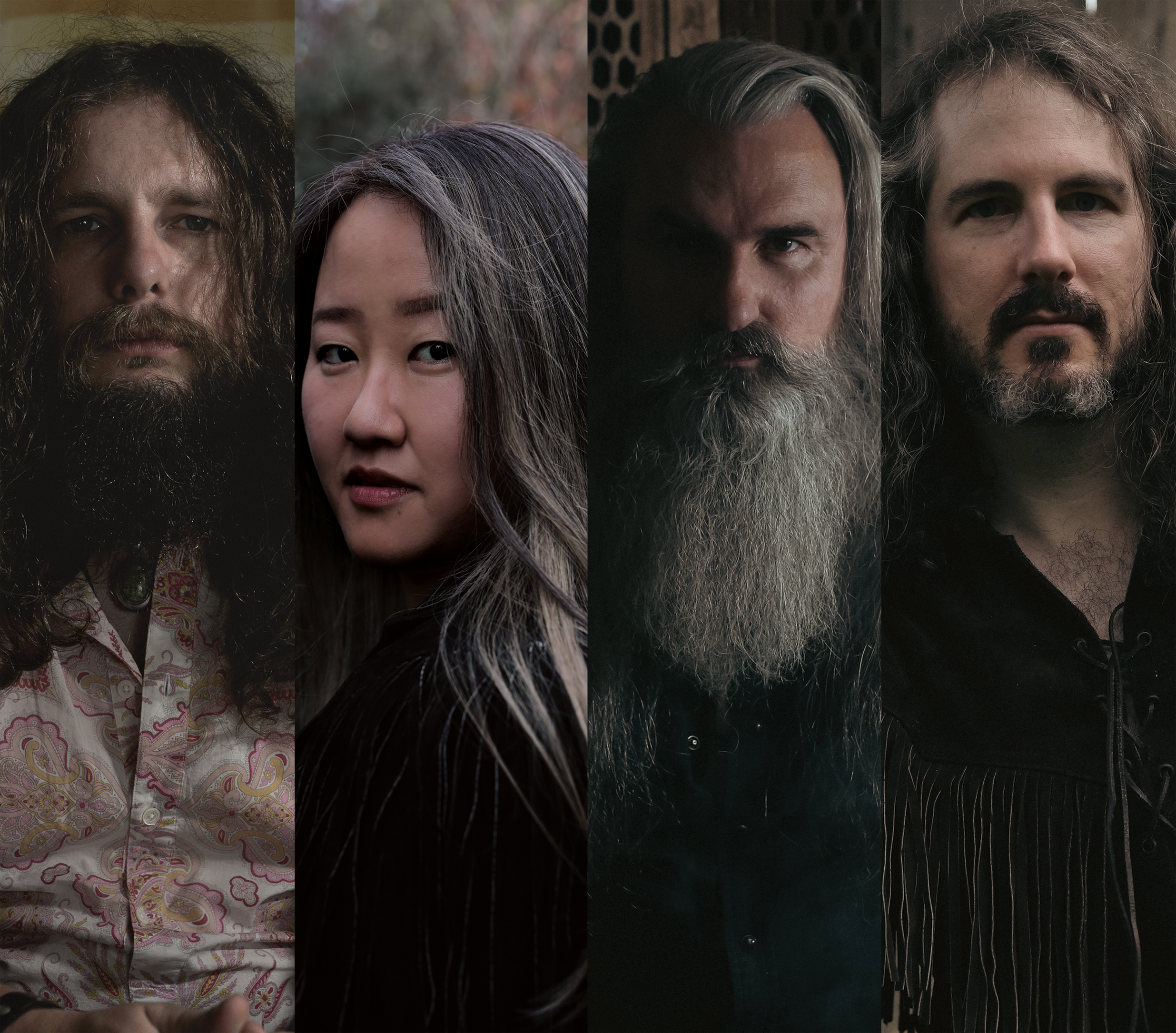 Give us a quick rundown of the MOTHERSLUG story so far? 
Motherslug formed in December 2011, we released our first EP on doomsday 21/12/12, followed that with a second EP and an East Coast tour in 2013. We had a couple of lineup changes with our original guitarists Matt and Ferg leaving and Regan joining us in 2015. The two EP's were combined and released in the US as a self-titled album only available on vinyl. Our first full length album, Electric Dunes of titan was released on Halloween 2017. 
Labels & webzines often like to write at the end of a bio or review with the term 'for fans of' such & such bands. But we really think the band itself should be telling us this. So enlighten us if you would. MOTHERSLUG is for fans of? 
Black Sabbath, Kyuss and Pink Floyd. Doesn't every stoner band sound like Sabbath?! Our music style varies considerably but it's almost always heavy and the nod to Floyd covers the psychedelic aspect of the tunes.
Your third album, 'Blood Moon Blues', is out on August 20th independently. What would you say to a heavy music punter now to convince them to part with their bitcoin or credit card & grab themselves a copy? 
Do yourself a favour! This album has our blood, sweat and tears in it - and some great tunes. 
Speaking of bitcoin, if you were going to start your own cryptocurrency, what would you call it & why? 
Slugecoin - pronounced sl-oo-j-coin. Yeah crypto is great, not a con at all. 
The album cover is a very striking image and an amazing photo (well we assume it's a photo). 
Was there a conscious thought to try and take an image like this or did you stumble across the image somehow? 
Either way, what made you decide it was the right image for your album cover? 
We had determined early on that we wanted a photographic cover to separate us from the deluge of awesome artwork covers that dominate this genre of music and Jason Vassallo's work seemed aligned with the mood of the album - an Australian rural landscape full of desolation and despair. Jason's photography also features on the inside of the gatefold (vinyl coming sometime later this year). I personally loved the Pink Floyd Atom Heart Mother cow cover and wanted a similar vibe, this photo of the horse just leaped out at me when looking through Jason's portfolio of work. 
Has anyone ever called you a motherslugger? 
Not to my face but that is how we generally refer to our fans - mothersluggers. 
How does Aussie doom metal stack up to the rest of the world? 
World class. Of course we don't have the music industry infrastructure to support niche genre bands so we're never going to see an Electric Wizard or Sleep come out of Australia but musically we're on par. 
Mainstream metal vs the underground – what's your preference & hit us with 3 bands that have been tickling your fancy lately & we should check out. 
Stick around long enough and you'll be considered mainstream. I always prefer the underground sounds though. Locally we have Mammon's Throne, a band that's filled in for us a couple of times during the pandemic and Witchskull out of Canberra. Internationally I dig Chelsea Wolfe and Anna Von Hausswolff. Boris and Fu Manchu are big favourites amongst the band. 
Did you know there is a Brooklyn house music artist called Slug Father? What are the chances of a Motherslug / Slug Father split in the future? 
Highly unlikely! We tried to do some splits early on in our career and they were just too tedious to set up. 
Favourite musical format? Tape, vinyl, CD or digital & why? 
Digital - as Jello says, give me convenience or give me death! I have a bookcase worth of vinyl that sits there neglected, I have suitcases full of cd's stored away and no cd player. I can play digital anywhere on any device and my collection is totally portable. 
What formats will your album be available on? 
Digitally available worldwide on Bandcamp, Spotify, Amazon and Apple on August 20th and following up with vinyl later this year. We have an alternate vinyl version coming out in the US early next year, available through NoSlip Records. The wait time for vinyl is ridiculous! 
A lot of bands in the current climate are adapting & coming up with some interesting & out there ideas for merch. Anything you plan on doing differently? Or if not, what do you have on offer at the moment? 
As Gene Simmons says to his detractors, once you start selling items that aren't music you're in the same business as us. I see the truth in that statement. We are a band, we make music. We don't make merchandise, and despite what social media tells you bands generally don't make any money on merchandise, unless it's shoddy - and we would never do that to our fans. Having said that, I love Kiss and Motherslug have released a t-shirt with every album. We should have a couple of shirt designs up on our site by September. 
Hypothetically, your next album is out, you've booked a massive national tour. What would be your ultimate Australian heavy music line-up that you would take with you to support you on it? 
Previous tours have always included a local band from the town we are playing in and I love researching those bands and listening to their stuff. If reality isn't a constraint I'd love to play with Tumbleweed and Cosmic Psychos. 
For you guys, who is the ultimate stoner, doom, rock etc band of all time & why? 
Kyuss vs Fu Manchu. John Garcia's voice, that bass, those low end guitars and the riffs… I mean Thumb, Green Machine, Gardenia. But then King of the Road says you move too slow. It might just come down to how much you like cowbell. 
And lastly, finish off this sentence if you would. 
Manowar would have to be…. 
on steroids