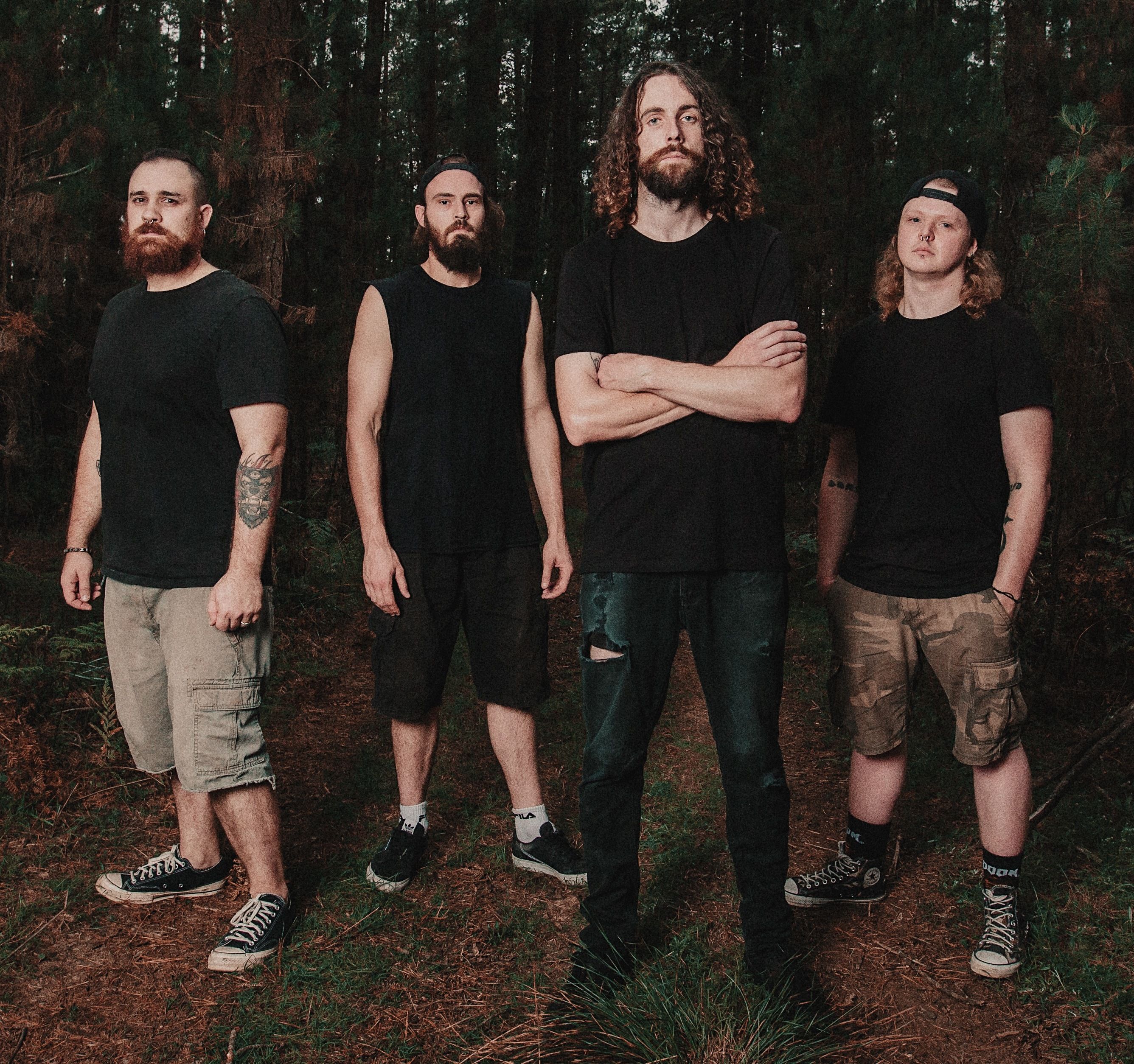 Who are the band members that make up FLAMING WREKAGE and what other bands have they played in previously or currently? 
Dave Lupton - Vocals/Guitar 
Justin Humphry - Lead Guitar 
Matt Thornton - Drums 
Lachlan Campbell - Bass 
Juzz used to play in a band called "Turn From Temptation" which was more on the metalcore side of things. We played together once and Juzz rocked up with a full Marshall stack, so naturally we were like, "who the fuck does this 12 year old think he is?" As soon as he started playing we knew that we had to poach him immediately. 
Matt played in a rock band called "Bears With Guns", which aside from being a great name, did a bunch of international touring.  He's also started a band with some mates called "Mexican Wristlock" which is the most unapologetic, ridiculous, tongue in cheek death metal you've ever heard. We're trying to convince him to get some legit tracks recorded. 
Lach played in a groove metal band called "In Hydes Shadow", who we also played with a few times on the Central Coast. He also plays ever woodwind instrument ever and is really fucking good at it. We're pretty stoked we got him before the Sydney Symphony got their hands on him. 
Dave has only ever played in Wrekage, but has recently started a Judas Priest cover band with some mates called "The Turbo Covers'. Hopefully we can do a few shows one day! 
Labels & webzines often like to write at the end of a bio or review with the term 'for fans of' such & such bands. But really I think the band itself should be telling us this. So enlighten us if you would. FLAMING WREKAGE is for fans of? 
I'd like to think Flaming Wrekage is a melting pot of a bunch of different kinds of metal that we've all listened to over the years. I think the main ones would be: 
In Flames 
Carcass (Heartwork era) 
At The Gates 
Early Metallica 
Testament 
Gojira 
What is the motivation behind this band & it's music & what are you trying to achieve with it? 
We want to make consistently powerful music that can take us around the world. Touring is the most satisfying part of this and seeing people's reactions to music that we've made is hugely rewarding. That being said,  it's always been very important to us to stay grounded and remember why we do this, and we do it because it's the kind of metal that we want to listen to. We do this for us. I think that attitude will lend itself to a long and successful career. 
Who is responsible for writing the powerful melodic death riffage FLAMING WREKAGE have assembled on the new album 'Cathedral Of Bones'? Musically & lyrically? 
Dave and Juzz are the riff architects of the band. Dave being more on the melodic side and Juzz on the more flatout thrash side. When you bring the two together, you get some really solid songs. Although the foundation of our band is rooted in riffs, this new album brought forward some more rhythmic ideas to drive the songs. These sorts of ideas are spearheaded by Matt and Lach. The outro to "Leech" is a great example of this. Those two guys were really instrumental in song structures as well. If it was up to Juzz and Dave we would have 25 minute tracks with way too many riffs. Having a rhythm section like that really keeps you grounded and focused on what you're trying to do. 
Every member in Flaming Wrekage has really nice hair, particularly the lead guitarist. Do you guys all see the same hairdresser or are you all just blessed with wonderful hair genes? 
To be honest, Juzz's hair hasn't grown a centimetre in as long as we've known him but it is undoubtedly majestic on stage. I don't reckon any of us have even considered a hairdresser in several years. The closest we've been is when Dave shaved his head after a few years of filthy dreads. Lach used to have a MASSIVE mo-hawk too. Bring it back! 
Why did you leave the C out of WREKAGE in your band name? Or did you just go to a shit school & can't spell properly? 
C'mon man! We're all from either western Sydney or the Central Coast of NSW; what chance did we have?! Honestly it was just something that we thought would be cool when we came up with the band name in high school and I can't even remember why.  If i had my time again i'd definitely reconsider, but we're too deep now so fuck it! Megadeth got away with leaving the "A" out of death! Sadistik Exekution?! The list goes on! 
The artwork for the album is an absolute corker of a piece & I think one of the best album covers I have seen from an Australian metal band ever! Who do we have to thank for this brilliant work? Have you given the artist a concept of what you are after as an album cover or have you given the artist free reign? 
That would be the incredible Mike Morphett from M:29 Creative. We couldn't be more stoked with how that came out, as getting to that stage was a bit of a process, but nothing good ever comes easy, right? Mike was the third artist we used to get to the final product. We wanted something that accurately represented the dark, apocalyptic theme of the album, depicting an army of sadistic ghouls building a shrine to the end of days. The Cathedral represents the final frontier of mankind, so the artwork needed to mirror that darkness. Mike managed to crank out an insanely detailed Cathedral on the first draft and with some creative license, brought the cover to life. We sent him a concept that was fairly set in stone, but each artist is different and we wanted him to bring his own style and flair to the project. He worked with the lyrics and the tracks themselves as inspiration and the result speaks for itself. We really can't say enough good things about Mike. His professionalism and rapid turnaround was really inspiring and we definitely recommend him to any band, especially metal! 
If a metal punter is reading this interview & is teetering on the edge of buying your album, what would you say to them now to convince them to part with their paypal money or credit card & grab themselves a copy? 
I can say with confidence that this is the most accomplished album we've ever written. Because we hold ourselves to a particularly high standard, there's no filler on this thing whatsoever. So if you want bulk pummelling riffs that you can bang your head to, this is the album for you! Also the artwork looks even better on the physical copies! 
Favourite Australian bands and / or releases? 
Man, where to start? All of these bands get an absolute flogging in the tour van. 
Here's a few of our recent favourites: 
Sumeru - Blood Ordinance 
Werewolves - What A Time To Be Alive 
Harlott - Detritus Of The Final Age 
In Malice's Wake - The Blindness Of Faith 
Darker Half - If You Only Knew 
Private Function - Whose Line Is It Anyway? 
Some not so recent favourites: 
The Black Swamp - Witches 
Dr Colossus - The Dank 
Mason - Impervious 
Psycroptic - (Ob)Servant 
Front End Loader - How Could We Fail When We're So Sincere? 
Frenzal Rhomb - Sans Souci 
Karnivool - Sound Awake 
Midnight Oil - 10 to 1 
Cog - The New Normal 
Given the plague is here to stay for a while & I'm gonna need shit to check out, recommend us a stupendously good: 
Movie - Pitch Black 
Series - The Boys 
Podcast - Vox And Hops 
Band - All Them Witches 
Album - Darker Half - If You Only Knew 
Apart from Jon Schaffer, if you could pick 5 musicians to storm our capitals parliament house with, who would they be? 
Rob Halford. You need someone to make an entrance, so rolling in with a harley is a fucking statement. 
Crispy from Private Function. He'd do the same as Halford but on a Lime Bike. I've actually seen that at a PF show. Comedic relief is required to keep everyone honest. 
Dave Haley. You need someone consistent and solid to keep everyone's shit together. 
Ozzy. He wouldn't have a clue why he's there, but I reckon he'd still be up for it. 
Doyle from the Misfits. Need muscle? He is literally the largest human being anyone has ever seen.