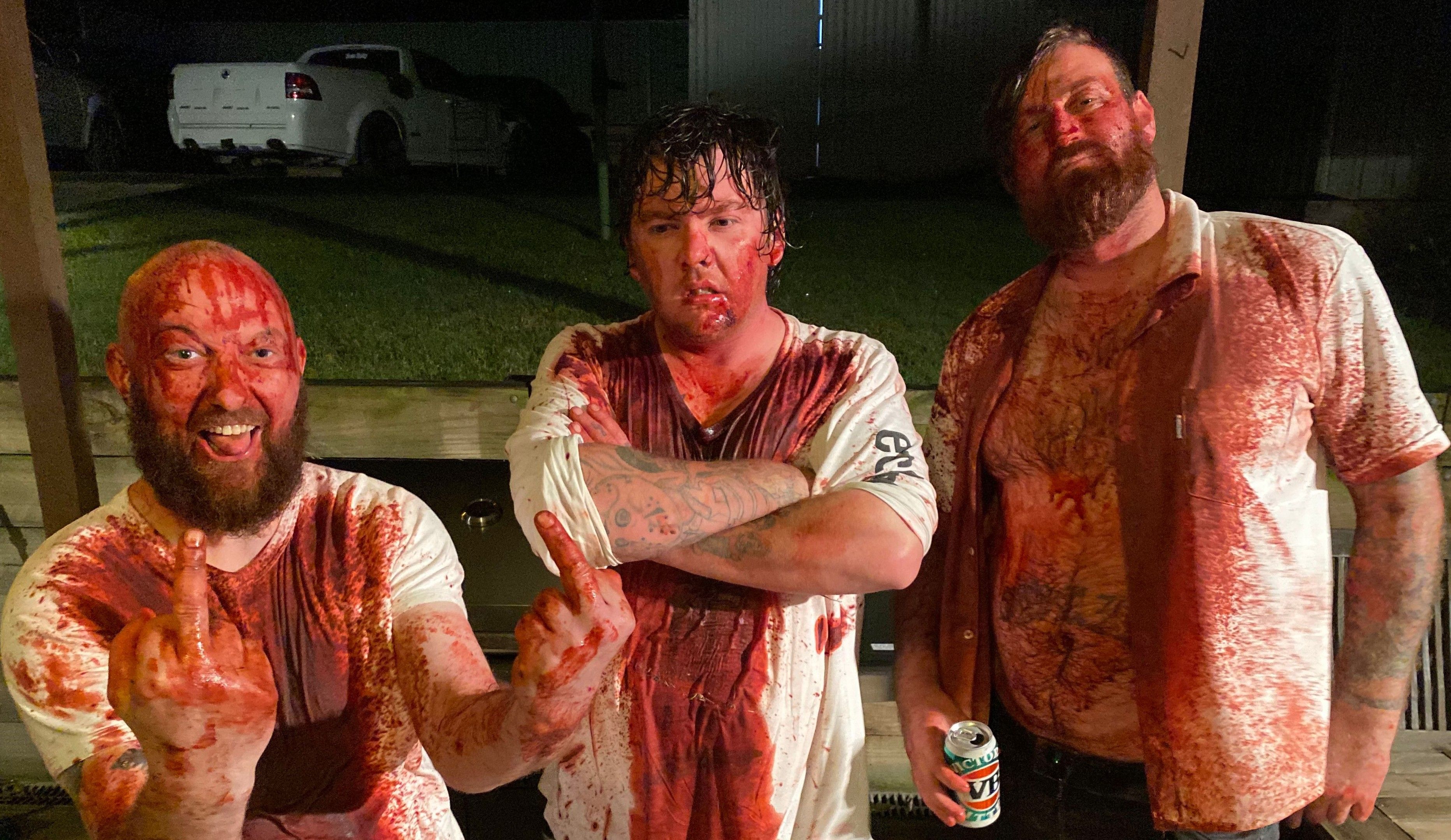 How did 12GAUGE RAMPAGE begin & who came up with the band name? 
Luke (drums) and Gwair (bass) started writing together in late 2017, back then we called ourselves Kvlt Of Dahmer. After our guitarist moved interstate we auditioned several potential replacements but we couldn't find the right fit for the band. After a few months off Gwair came up with the idea of splitting the bass signal and taking on the guitar/ bass role by himself. It took a few months to hone the sound but we've never looked back. 
We think it was Scotty, our vocalist that first blurted out the name 12Gauge Rampage after about 20 beers at a rehearsal one night. 
Labels & webzines often like to write at the end of a bio or review with the term 'for fans of' such & such bands. But really I think the band itself should be telling us this. So enlighten us if you would. 12GAUGE RAMPAGE is for fans of? 
That's a tricky question.. For fans of heavy fucking music, I guess. it'd be easier to list a few of our influences maybe.. Dying Fetus, Dead Kelly, Bloodduster, King Parrot, Psycroptic, Benighted, At The Gates and so many more. 
What are your ultimate goals for 12GAUGE RAMPAGE? 
We're just enjoying the ride ya know? There's no ultimate goals or limitations set at all. We collectively decided to give it our fucking everything and just see where it leads us. 
You guys have no guitarist! How the fuck does that work? 
We could tell you, but then I'd have to kill you...hahaha 
Nah, it is pretty complicated though.. and even now it's still a work in progress. Gwair just added a third amp to the mix this week. The sound is fucking massive man, and it's improving on the regular. 
Your debut album, 'Unleash The Rage', is due for release on August 5th through Grindhead Records. Judging by the title, I'm guessing it's an angry album. What would you say to a metal punter now to convince them to part with their paypal money or credit card & grab themselves a copy? 
Yeah dude, the album is fucking violent! 
We guess we could play the whole support the bands during this pandemic bullshit and buy a record, but to be honest.. we don't really care for selling albums man. If you're a collector and you want to buy a physical copy, then by all means grab yourself one. But we're literally giving this shit away on all streaming platforms. We're just happy if people are listening to our tunes and enjoying them ya know? 
If you really wanna support us, come to a fucking show and buy a T-shirt or a round of beers, lets have a chat 
Your first film clip '#killedmorecuntsthancovid' is quite the violent & bloody affair. Must have been a mess to film & put together? What's the story around the song & clip? 
Basically it follows our character Jason, who is already struggling to make ends meet. He loses his job because of covid, his misses leaves him and takes the kids, he's at home in isolation, hungry, bored and pissed off. Then he comes to the realization that its not his fault and takes out his frustrations on society. We just happen to be the victims that he targets. 
Anyone or anything you'd like to serve a 12GAUGE RAMPAGE to? 
Scott fucking Morisson and Gladys Thebinchicken. 
Seriously though, what Leader in their right mind would travel abroad while the whole fucking country burns? We wrote a lil track about that called Wouldn't Even Piss On Ya, you can check it out when the album drops. 
Life always presents itself with hilarious or crazy moments, that forever stick in your mind. Any moments like this stick out for you 12GAUGE RAMPAGE guys, or any fun fact you can share with us? 
We never kiss and tell mate, probably cause we can't remember tbh. 
A lot of metal bands seem to be busting out covers of popular 'non metal' songs of late. Any chance we might see you guys covering something cool like Daryl Braithwaite or Missy Higgins? 
Not a chance mate, we do have a couple of covers under our belt but its more of a homage to the bands that inspire us. 
Favourite musical format? Tape, vinyl, CD or digital and why? 
I think we would all disagree on this one. Personally, I prefer digital because its super convenient and you can take it with you anywhere with ease. 
What formats will your album be available on? 
Pretty much all formats. Digital, cassette, vinyl, CD there was even talk about releasing a limited run on VHS at one stage. 
Hypothetically, your next album is out, you've booked a massive national tour. What would be your ultimate Australian heavy music line-up that you would take with you to support you on it? 
All the god tier legends would be cool... but there is so many great unsigned bands out there that we love to party with.. Carnal Viscera, Terra Mortem, Death Plague and Celestial Oath to name a few... there is so so many more too 
Given the plague is here to stay for a while & I'm gonna need shit to check out, recommend us a stupendously good: Record Label: Grindhead Records 
Album: Revive The Throne, Stillbirth 
Artist (as in artwork): Triple Sies Design 
Beverage : VB mate
Restaurant: Frankies Pizza 
And lastly, finish off this sentence if you would. 
Manowar would have to be.... The only band that makes me question my own masculinity.