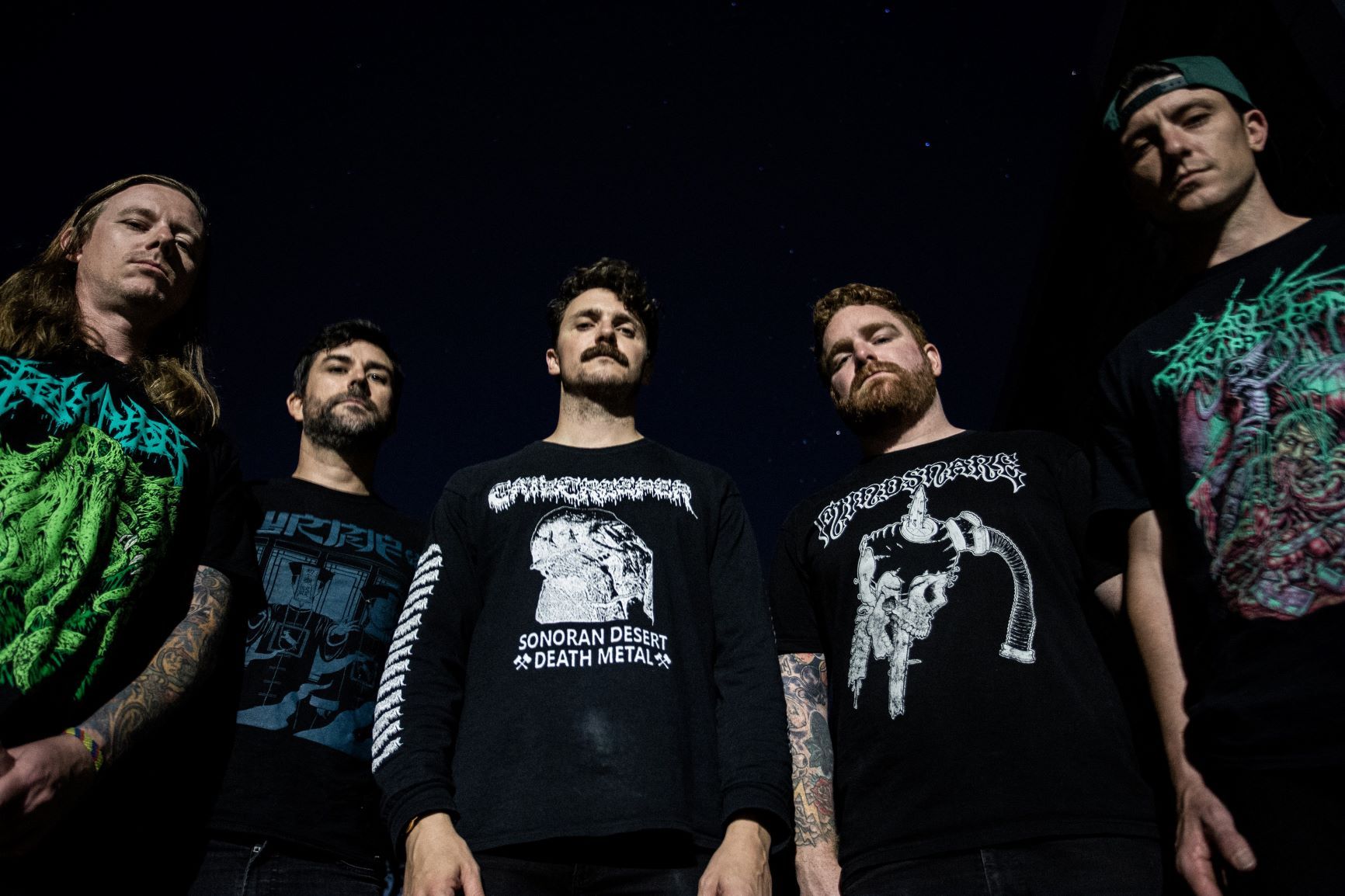 How did BURIAL PIT start & who came up with the band name? 
I'd recorded demos of the songs a while before the band got together and wasn't sure what to do with them. I met Matt in the park up the road from my house through a mutual friend and we got chatting about music and were into heaps of the same stuff. He mentioned he was going to see Dimmu Borgir the next night and let me tag along as I was going by myself. At that show I met Josh and Griff and mentioned I had a bunch of demos for a project, and they were all keen to check it out. I was playing in another band with Scotty at the time and he was keen to have a go at some heavier stuff and just like that we had a band. Our first jam everything came together easily and sounded massive. 
Burial Pit was probably the thousandth name I thought of, but it was the first that wasn't already a band so I went with that! I think it gives a pretty good indication of what you're in for when you listen. 
Labels & webzines often like to write at the end of a bio or review with the term 'for fans of' such & such bands. But really I think the band itself should be telling us this. So enlighten us if you would. BURIAL PIT is for fans of? 
The top 3 bands that inspired Burial Pit are Primitive Man, Gatecreeper and Bongripper. In particular the albums Caustic, Sonoran Depravation and Miserable from each respectively. I think fans of any of these bands will find something they enjoy in Burial Pit. 
What are your ultimate goals for BURIAL PIT? 
Try and be the heaviest band on the bill. 
Your debut album, 'Subhuman Scum', is out now on Blighttown Records. What is the meaning behind the album title? 
The actual title is something I've been wanted to use for years. It's a quote from the character Alan Partridge which we're all huge fans of. I liked the idea of taking something hilarious and using it totally out of context in something really heavy. 
The title does actually represent the lyrical theme of the record though, which is violent retribution of victims against perpetrators of abuse, the absolute scum of the earth. 
Anyone in particular you'd like to put in a Burial Pit? 
All the characters referenced on the record, rapists, domestic abusers, paedophile priests. All the scum. 
Who is responsible for the bleak looking album artwork for 'Subhuman Scum'? Did you guys give the artist a concept you had in mind or did you allow them to have complete artistic freedom? 
The artwork was done by RF Pangborn, an artist out of Tampa, Florida. I had an image in mind for the album. I wanted it to be a portrait but abstract and dark so you couldn't quite tell if it was a person or not, again to represent the 'subhuman' element of the scum referenced in the album. I was trawling through Instagram artists and came across RF Pangborn's work and it was perfect. The piece is an original that RF Pangborn had already created so it's all their complete artistic freedom. Just happened to be exactly what I had in mind! 
Life always presents itself with hilarious or crazy moments, that forever stick in your mind. Any moments like this stick out for you BURIAL PIT guys, or any fun fact you can share with us? 
We havn't been playing together for too long, so band wise not much to report. But fun fact about our drummer Griff, he was an extra in the Matrix in the nightclub scene. Wore leather pants for 14 hours and danced for 2 of those. He also played drums in 28 Days. Ripped it up. 
A lot of metal bands seem to be busting out covers of popular 'non metal' songs of late. Any chance we might see you guys covering something cool like Daryl Braithwaite or Missy Higgins? 
Haven't planned any Horses covers yet, but I actually listen to a lot of music that isn't heavy so wouldn't rule anything out. I've always thought the chord progression of California Dreaming by The Mamas & the Papas could sound heavy as fuck in A tuning. 
Favourite musical format? Tape, vinyl, CD or digital and why? 
Definitely Vinyl. The accessibility of digital music is awesome and a great way to find new artists, but Vinyl makes you really appreciate a full album. Holding your own record on vinyl for the first time is an awesome feeling as well. 
Hypothetically, your next album is out, you've booked a massive national tour. What would be your ultimate Australian heavy music line-up that you would take with you to support you on it? 
Man that's tough as there's so many awesome heavy bands shredding at the moment. If I could make it a mini festival I'd say: Resin Tomb, Shackles, Isua, Munt, Descent, Kvll, Mountain Wizard Death Cult…might need to make it a 2 day festival! 
Given the plague is here to stay for a while & I'm gonna need shit to check out, recommend us a stupendously good: 
Record Label: Blighttown Records & Brilliant Emperor 
Album: Resin Tomb - EP 2020 
Artist (as in artwork): RF Pangborn 
Beverage: Victoria Bitter 
Restaurant: Chinese Dumpling Master (Newtown) 
And lastly, finish off this sentence if you would. 
Manowar would have to be….cold