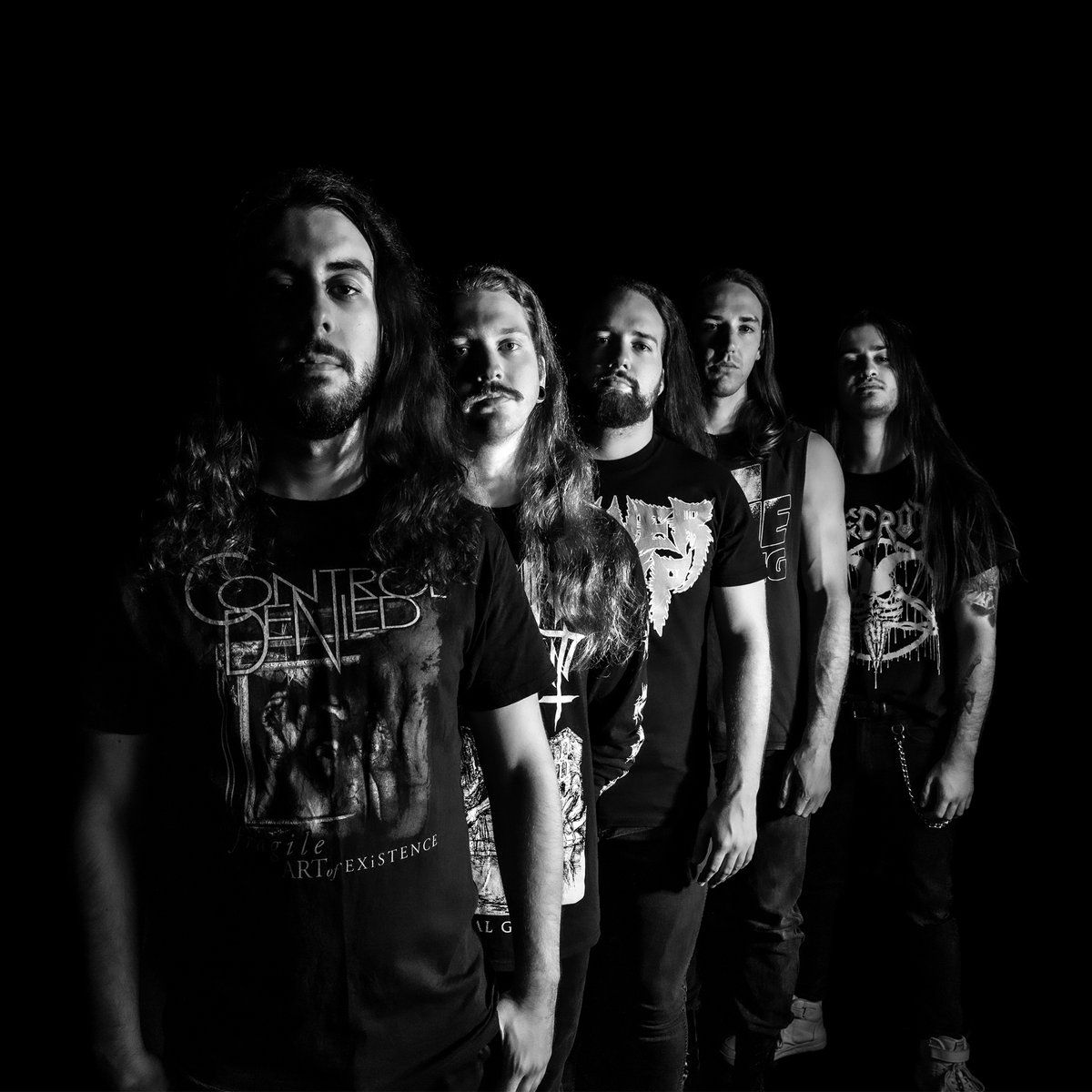 Who are the band members that make up CRYPT CRAWLER & what other bands have they played in previously or currently? 
Crypt Crawler is: 
Marco Ieritano – Vocals (Also in Fugue Tomb and previously in Dead Currency) 
Jordan Cappa - Lead Guitar 
Zach James - Rhythm Guitar (Also in Suneater) 
Cameron Gillam - Bass (Previously in Entropy) 
Lewis Oliver – Drums (Also in Remission) 
Labels & webzines often like to write at the end of a bio or review with the term 'for fans of' such & such bands. But really I think the band itself should be telling us this. So enlighten us if you would. CRYPT CRAWLER is for fans of? 
Crypt Crawler is for fans of Death, Obituary, Morbid Angel and Immolation. 
What is the motivation behind this band & it's music & what are you trying to achieve with it? 
Crypt Crawler aim to be a world renown Death Metal band, releasing high quality music for fans to enjoy, whilst also complimenting this with a high energy and neck breaking live show. 
You have a new album coming out on June 2nd called 'Future Usurper'. What is the meaning behind the album title? 
'Future Usurper' summarises the album as a whole, whilst also being the title track of the album's first single. A Usurper is someone who forcefully takes control of a position of power, and in the context of the album, we are talking about an individual or government that takes over the future as a whole. Using real world issues and reflecting on these and how easily this world could turn into a dystopian future of absolute control and oppression. 
Why are you guys crawling in crypts? 
You've never crawled in a crypt before? You're missing out, dude! Would recommend. 
Who is responsible for the sensational album artwork for Future Usurper? Did you guys give the artist a concept you had in mind or did you allow them to have complete artistic freedom? 
Juanjo Castellano Rosado is the amazing artist behind the artwork, and he completely nailed our vision. We gave him a couple of ideas, along with a few songs and lyrics, which he pieced together along with his creative and artistic vision to create this piece. The main idea we gave him as a basis was: 
"An overlord figure holding puppet strings with people attached below, in an apocalyptic graveyard setting." 
A lot of metal bands seem to be busting out covers of popular 'non metal' songs of late. Any chance we might see you guys covering something cool like Daryl Braithwaite or Missy Higgins? 
Haha yeah, unlikely. We have discussed the possibility of covering a particular 70's rock song, but that remains to be seen if it actually happens. 
Favourite musical format? Tape, vinyl, CD or digital and why? 
I primarily listen to music digitally, however I would definitely say vinyl is my favourite musical format, followed closely by tape. Vinyl allows the full depth of the artwork to be taken in, along with the exciting cracks and pops that play while listening. Tape is only really for aesthetics and its small size though, not for playability. 
Hypothetically, your next album is out, you've booked a massive national tour. What would be your ultimate Australian heavy music line-up that you would take with you to support you on it? 
Awesome question! There are so many bands killing it in Australia right now, but hypothetically: 
Crypt Crawler 
Depravity 
Freedom of Fear 
Christ Dismembered 
Faceless Burial 
Given the plague is here to stay for a while & I'm gonna need shit to check out, recommend us a stupendously good: 
Movie: The Platform (Spanish: El hoyo) 
Series: Stranger Things; rewatch it if you've already seen it, season 4 is coming! 
Podcast: Joe Rogan's podcast has some cool interviews with musicians, but other than that I don't really listen to any podcasts. 
Band: Blood Incantation 
Album: Crypt of Ice by Frozen Soul 
And lastly, finish off this sentence if you would. 
Manowar would have to be…. The biggest band that I've never checked out.