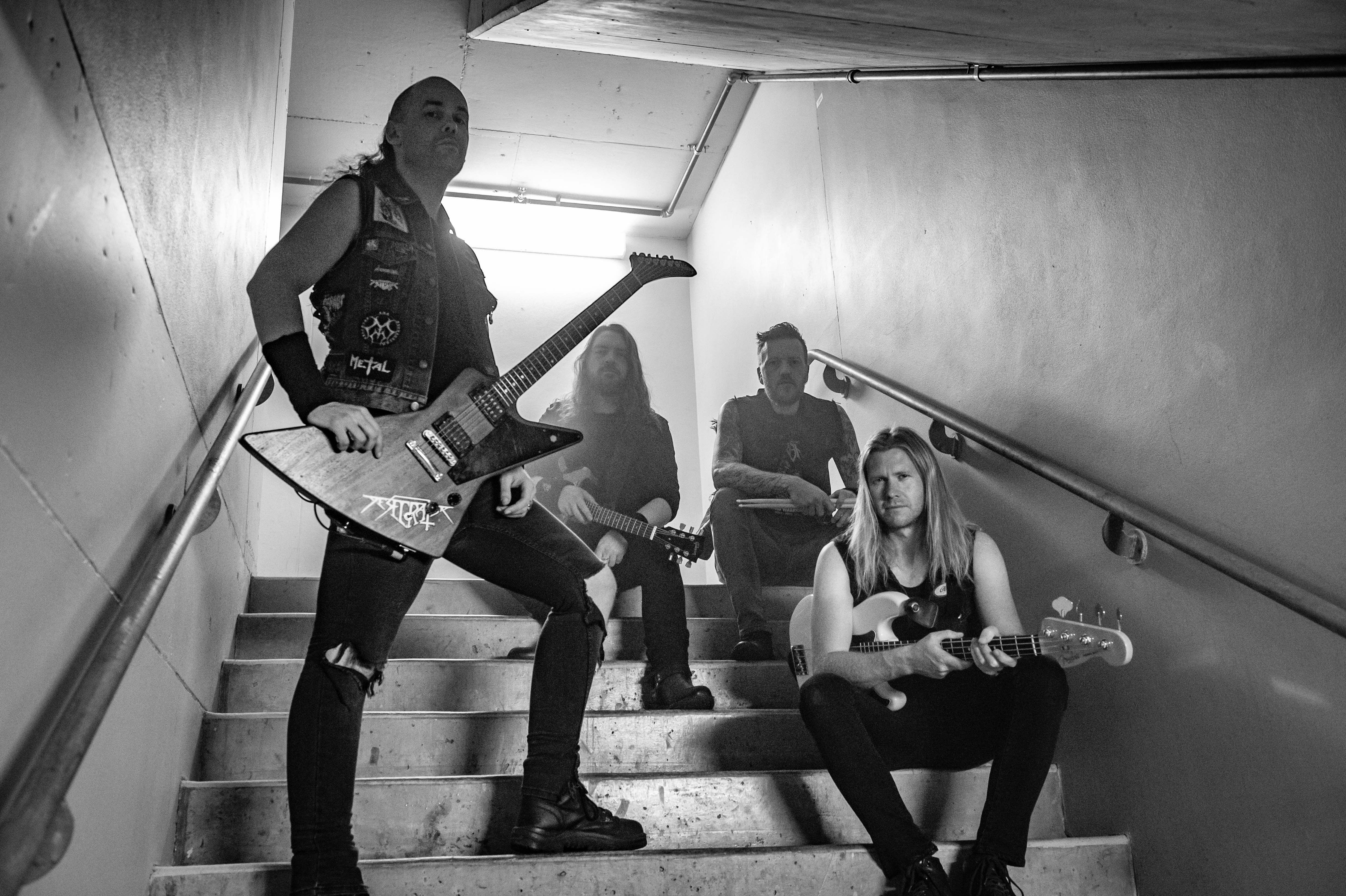 Give us a quick rundown of the DESECRATOR story so far! 
Thrash metal maturing into Heavy Metal over a 12 year period involving 3 lineups and countless national and countable international tours. 
Labels & webzines often like to write at the end of a bio or review with the term 'for fans of' such & such bands. But really I think the band itself should be telling us this. So enlighten us if you would. DESECRATOR is for fans of? 
The big 4, The Teutonic 4 and the underground scene of old and new bands. Seriously though, Metallica, Slayer, Kreator, Destruction, Sacred Reich and many more. 
DESECRATOR are one of the hardest working Australian metal bands out there & have achieved hell of a lot over the years for an underground thrash metal band. What has been the pinnacle so far & is there anything yet you are aching to conquer? 
There's been a lot of cool stuff over the years, separate tours with Overkill, Venom Inc and Hirax through Europe taught us a lot and had amazing moments. Supporting Airbourne in Europe gave us the biggest crowds we had ever seen which was a dream come true, there's some killer YouTube stuff that makes the hairs on the back of my neck stand up. Playing for 2 weeks through Russia was an experience we'll never forget, the same with Asia. So I guess lots. 
Given the hard work ethic & the willingness to play anywhere at anytime, is there any one show that stands out as being the whackiest, dirtiest, most ridiculous underground show of all time for you guys? 
Basements over sold in Russia were crazy, freezing temperatures upstairs but vodka fueled sweat boxes of crazy kids downstairs. 
Your new album, 'Summoning', is due for release on August 27th independently. How does it stack up to your previous releases & what would you say to a metal punter now to convince them to part with their bitcoin or credit card & grab themselves a copy 
This is the one, every band has it at some point and now we do to. This. Is. It.
What are you 'Summoning' on the new album? More scullets on band members or is it deeper than that? 
The album has been written to surmise all the experiences above so I guess if I was to 'summon' anything it'd be our collective experience so far.  
A lot of bands in the current climate are adapting & coming up with some interesting & out there ideas for merch. Anything you plan on doing differently? Or if not, what do you have on offer at the moment? 
No hoodies. Ever. Period. And trucker caps! We decided this stuff years ago, can't remember why but feel like we've stuck it out this far why not keep going. 
Life always presents itself with hilarious or crazy moments, that forever stick in your mind. Any moments like this stick out for you DESECRATOR guys, or any fun fact you can share with us? 
Desecrator we're interviewed for morning television on tour in South America by Brazilian hosts who couldn't speak English, all questions were answered so off script that apparently it was such a jumble no one could make sense of it to air it, I remember being sad about it coz I had to get up early. 
Favourite musical format? Tape, vinyl, CD or digital and why? 
Vinyl, the art and lyrics are bigger for my aging eyes 
What formats will your album be available on? 
All of them, every streaming platform, every physical. 
As mentioned your next album is out soon, you've booked a massive national tour with more dates to come & you have The Ascended & Harlott on board with you. Whose idea was it for the package & any reasons why you decided to they were the ones to smash a tour with? 
Well besides the obvious style link up between us and Harlott our lead guitarist Muggsy is their frontman and he was very vocal about not touring Aus twice this year to promote his and our album so we thought best we link it up. 
Given the plague is here to stay for a while & I'm gonna need shit to check out, recommend us a stupendously good: 
Record Label MegaForce 
Album Ride The Lightning 
Artist (as in artwork) Thrashwolf 
Beverage Red Steel 
And lastly, finish off this sentence if you would. 
Manowar would have to be…. 
The unwitting reason Desecrator exists after I attended their over priced joke of a festival in Germany called magic circle in 2008 and death Angel played an unannounced set at 2am on like the third night in a tiny hall on the sides of the festival grounds and compared to the overblown hailing and killing it was the most real and inspiring thing I'd ever witnessed, I knew it was time. Ask Dave Poodle, he was there.