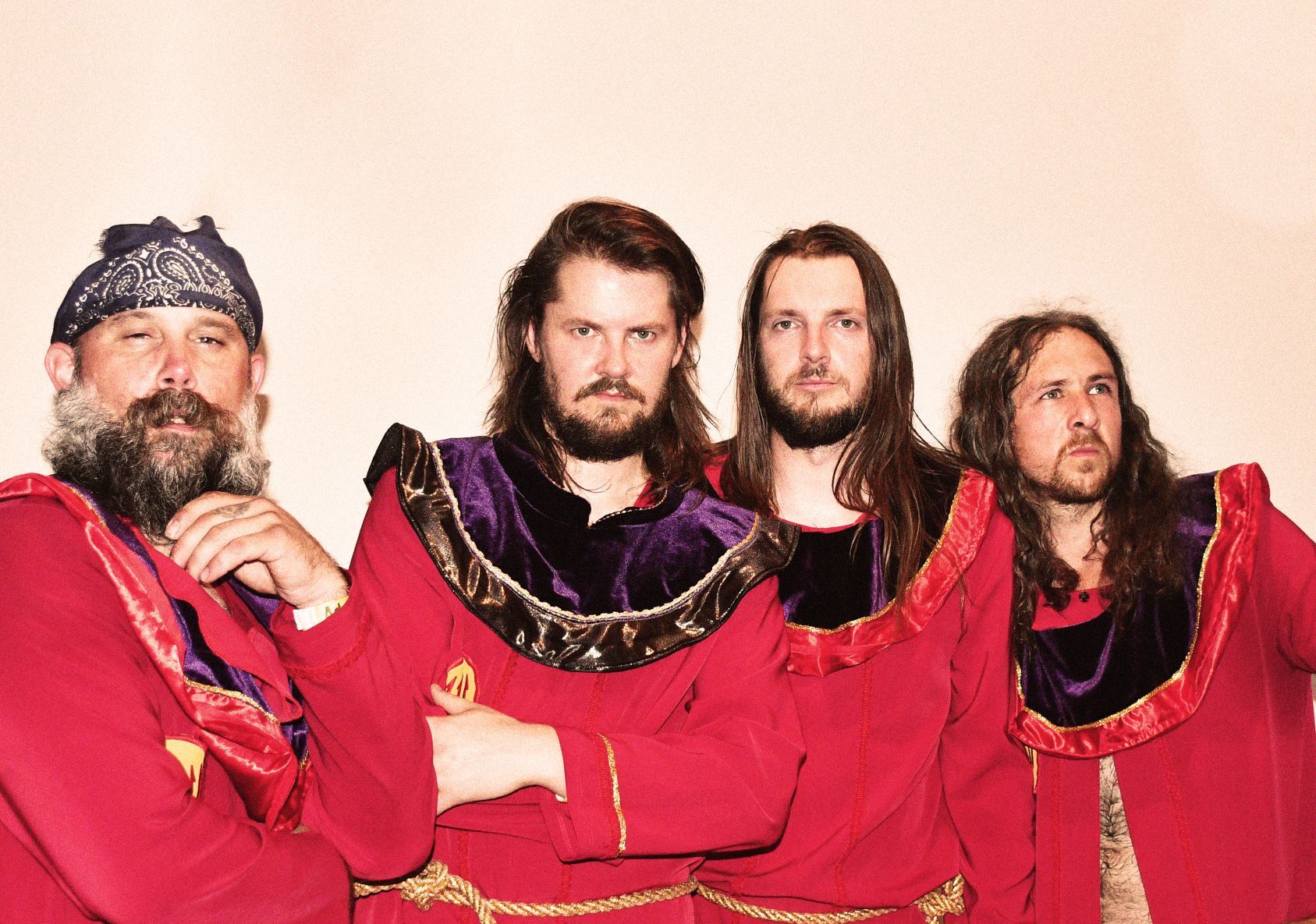 Who are the band members that make up DR COLOSSUS and what other bands have they played in previously or currently? 
Dr. Love: First of all, who is this and how did you get this number? 
Dr: Jon: Well there's Dr. Jon, he used to play down on third street, Dr. Love…he's on third…there's Dr. Skin…yep he played in a band on third street and Dr. Leg…all on third. Come to think of it we're all from the complex…it's the terrible band complex on third. 
Labels & webzines often like to write at the end of a bio or review with the term 'for fans of' such & such bands. But really I think the band itself should be telling us this. So enlighten us if you would. DR COLOSSUS is for fans of? 
Dr. Love: People who like…stuff. Also Those who love the wild shirtless lyrics of Mark Farmer and the bong rattling bass of Mel Schacher (please note neither of these people are in, like or have ever heard of Dr. Colossus) 
What is the motivation behind this band & it's music & what are you trying to achieve with it? 
Dr. Love: Sugar!!! Like anything in life, we do it all for sugar.... First you get the sugar...then you get the power...then you get the women. 
Who is responsible for writing the doomage DR COLOSSUS have churned out on the new album 'I'm A Stupid Moron With An Ugly Face And A Big Butt And My Butt Smells And I Like To Kiss My Own Butt'? Musically & lyrically? And whose idea was it for the album title? 
Dr. Love: All members have written a song or two or three for this record. Everyone reached deep down into the depths of their souls and creative bones and pulled out some of the finest pieces of audible heaven they've ever written... none of those songs are actually on the record, they're all for the other bands we play in. The songs on "I'm a stupid moron with an ugly face and a big butt and my butt smells and I like to kiss my own butt" are just the left overs that didn't quite make the cut for the other bands.... I guess they didn't like all the lyrics being about simpsons episodes/characters. Dr Jono and Dr Love clearly dropped the ball in the lyric department there. 
As far as naming the album "I'm a stupid moron with an ugly face and a big butt and my butt smells and I like to kiss my own butt"... we just wanted something simple, that easily rolls of the tongue. 
You guys have adopted a Simpsons theme to your music? Why so? 
Dr Jon: I'd go as far to say every band has adopted a theme. Most of them are just boring regular themes like getting rightfully dumped or worshipping Satan. 
If each of your band members was a Simpson character, who would they be? 
Dr. Love: Dr Skin would be the mix or love child of Otto and Bleeding Gums Murphy. Super soulful with a love of metal and who likes to party...and also has a crippling Faberge Egg addiction. 
Dr. Leg has the charm and smoothness of Jacque the bowler, the manliness of Burley the paper-towel lumberjack with the stride and confidence of Hans Moleman 
Dr. Love is Homer.....bald and completely useless . 
Dr. Jon would definitely be Troy Mclure... he's the super star, the eye candy you cannot take your eyes off him...so much so you're happy to overlook his "romantic abnormality"... one so unbelievable... that must be hidden from the public at all costs....wait what was the question again. 
Some people believe The Simpsons have a knack of predicting the future. What future predictions does Dr. Colossus have? 
Dr. Jon: The Simpsons will cease production in less that 5 years. 
How does Aussie doom metal stack up to the rest of the world? 
Dr. Jon: Great, except Australian's can't tour to the same degree as the rest of the world. We simply don't have enough (thank goodness) big cities to do it in. All our tours rotate anti-clockwise too and slowly go down the gurgler. 
Favourite musical format? Tape, vinyl, CD or digital and why? 
Dr. Jon: Vinyl actually is the best, but because it's the most annoying. Needing to get up off the couch and flip the side is a really healthy thing. Creating an impossibly hard medium to handle without creating micro damages and irreparable marks has it's charms. And entry into the club is expensive too… I like the barriers it creates. 
If a heavy music punter is reading this interview & is teetering on the edge of buying your album, what would you say to them now to convince them to part with their paypal money or credit card & grab themselves a copy? 
Dr. Love: I would definitely say "Hello, Mr....Kurns. I bad want....money now. Me sick" and so forth until the person bought it, listened to it once and then took it to Cash Converters 
Favourite Australian bands and / or releases? 
Dr. Love: Grindhouse, Lucifungus, Meatbeaters, Smoke Witch, Hits, Holy Serpent, Full Tone Generator, Stiff Richards, Harlott, C.O.F.F.I.N, Neptune Power Federation, Two Headed Dog, Dicklord, AstroDeath 
Dr. Jon: Private Function 
Given the plague is here to stay for a while & I'm gonna need shit to check out, recommend us a stupendously good: 
Movie - Dr. Jon: The Father 
Series - Dr. Love: Son of Zoran Tigtone, Tales From the Tour Bus 
Podcast - Dr. Love: Podcast - Cocaine and Rhinestones