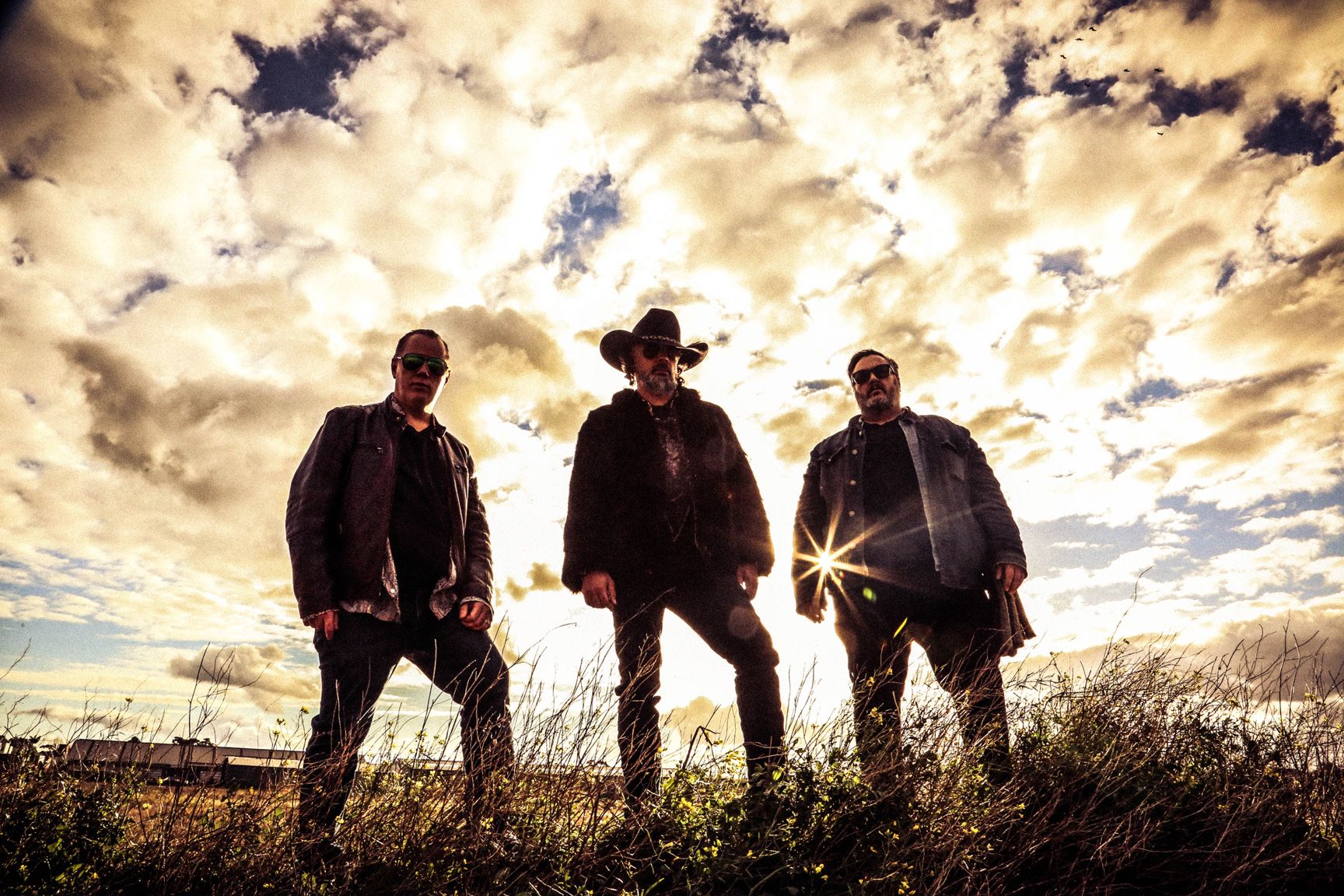 How did PLANET OF THE 8S begin & who came up with the band name?
Planet of the 8s was in a hat of possible band names for a previous outfit that JC and Sullo were a part of. Originally playing as Planet of the 8s for a few low key jam shows when the singer wasn't available but when that band came to its end, just as Pete was coming on board to replace the drummer, the remaining 3 members felt the chemistry was worth pursuing. We took up the name full time and the rest is still being written.
Labels & webzines often like to write at the end of a bio or review with the term 'for fans of' such & such bands. But really I think the band itself should be telling us this. So enlighten us if you would. PLANET OF THE 8S is for fans of?
Do you remember that band that you got lost in at that gig or festival or house party? The one that knocks you back with riffs and groove; that guides you on the journey; echoing with harmony and triumph. If you're into that band, you might be into "Planets"
What are your ultimate goals for PLANET OF THE 8S?
To continue this platform of creativity and connection. We'd love to do some international touring if/when the opportunity arises but as long as we keep writing and recording new material; pushing the boundaries of our creativity and performing with and for amazing people, we'll continue to find a place for Planet of the 8s. Any success that comes our way and helps us do that more and more easily are the goals we work on.
Your next release, 'Lagrange Point Vol I' EP, is due out on August 18th. What's the story behind the EP title & what would you say to a heavy music punter now to convince them to part with their bitcoin or credit card & grab themselves a copy?
In simple terms, lagrange points are positions in space where the gravitational forces of two co-orbiting bodies balance each other out, creating nodes of stability, if you will. Much like the interaction between two people making music together: the push and the pull of the creative process resolves itself at certain points. These are the meeting places of the mind. This is where nothing springs into being. This is the essence of the universe.
Volume I came into being when Sullo found himself unable to complete tracks for 2019s 'Tourist Season'.. the concept of finishing these tracks through collaborative effort seemed in line with the greater ideals of the band so they reached out to some of their favourite vocalists within the Aussie heavy music scene. What came out is a glorious tribute to riffs; groove; melody and harmony.
Speaking of bitcoin, if you were going to start your own cryptocurrency, what would you call it & why?
Cocoine - The universal currency.
You have a bunch of guest vocalists on the upcoming EP. Who are they & how did this all come about?
Planet of the 8s have been fortunate to share the road and stages with some of Australia's finest. It's hard to explain the magnitude of talent in this scene and it's criminal that a lot of it goes unnoticed outside of the stoner rock community.
King Carrot of Death By Carrot Diesel
Doleman of Duneeater
Georgie Cosson of Kitchen Witch
Jimi Coelli of A Gazillion Angry Mexicans
When working out how to finish off the tracks we'd started back in 2019, these four came instantly to mind. Not just because of their obvious talent but also the uniqueness of sound and songcraft. Each brought their own elements to the table and took the songs on their own journey.
If you guys broke up & reformed many years later, what would the chances be of calling the band RETURN TO THE PLANET OF THE 8S?
Probably more like Planet of the 80s or Planet of the no apostrophes. Although "Return To" is a great comeback album title.
Life always presents itself with hilarious or crazy moments, that forever stick in your mind. Any moments like this stick out for you PLANET OF THE 8S guys, or any fun fact you can share with us?
Sharing a 12 seater with A Gazillion Angry Mexicans for a tour leg up through Newcastle and Sydney… what could possibly go wrong? They're one of the only bands we know personally that party as hard as we do. Anyway, once we hit the Hume we worked out a place to pull up for the night and booked a motel off the freeway. When we arrived, there was nothing there. The site looked like it had been lasered from space. We eventually found the motel… eventually. It was directly across the road under a different name, fkn Google.
Favourite musical format? Tape, vinyl, CD or digital and why?
Vinyl is a great format for this scene. With epic covers and the tangible nature of a 12", there's nothing like lighting up and throwing on some LPs. That being said, you've left out the ultimate format for musical consumption - live.
What formats will your EP be available on?
Lagrange Point Vol I is available for digital download, streaming, CD and Vinyl (though closer to the end of 2021 with current production timelines).
Hypothetically, your next EP is out, you've booked a massive national tour. What would be your ultimate Australian heavy music line-up that you would take with you to support you on it?
Too
Many
Options
But with this EP featuring Death By Carrot, Duneeater, Kitchen Witch and A Gazzilion Angry Mexicans, it would be fitting and a whole bunch of fun to hit the road with them.
Given the plague is here to stay for a while & I'm gonna need shit to check out, recommend us a stupendously good:
Record Label - Ripple Music has enough quality releases to survive many plagues
Album - Refractions by Lowrider has probably been the biggest head turner for us in the past 12-18 months.
Artist (as in artwork) - Check out ArtOfMaquenda (insta: @artofmaquenda), the artist responsible for the Lagrange Point EP artwork. There is some amazing stuff in there.
Beverage: Pickleback (shot of Jammo with a pickle juice chaser)
Restaurant: Anywhere with edibles...
For you guys, who is the ultimate stoner, doom, rock etc band of all time & why?
Planet of the 8s… cause not only do we get to consume it, but we get to create and cultivate it. Our mantra of maintaining collaboration in all we do makes "Planets" a conglomerate of our collective influences brought about how we each approach what we do. Approaches that have been developed over years through influences drawn from our favourite artists. It makes it uniquely ours as it's based on our lived experiences and our personal preferences combined, all of which we draw on to create the tracks that we want to perform, share and listen to.