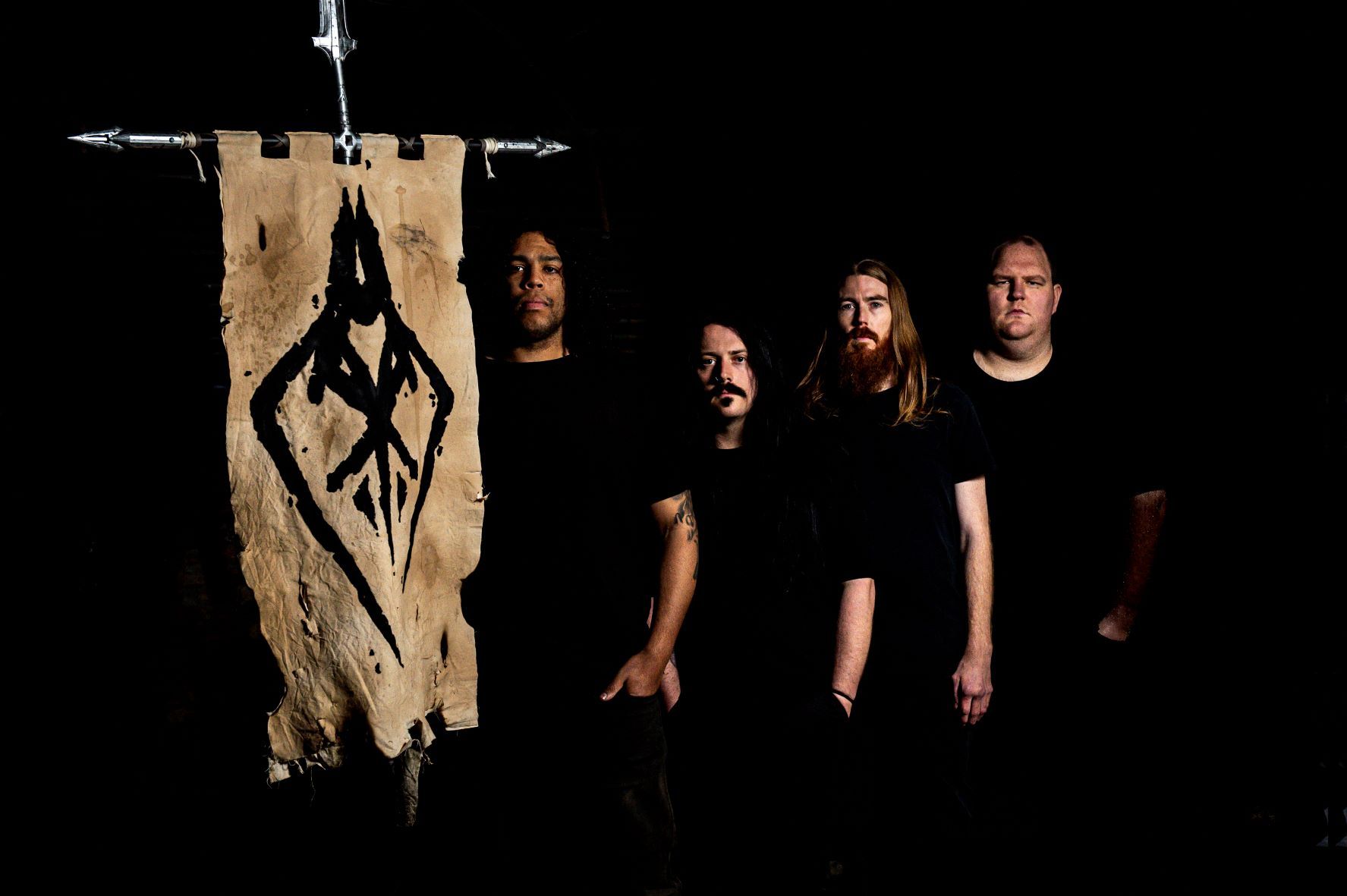 Give us a quick rundown of the THE ASCENDED story so far! 
Well, were 7 years into this crazy ride man, certainly doesn't feel like it, but with the wy the world is, these last 2 years have flown. We're just 4 good mates that love making music together, the music that we love, and being on the road. We've been lucky enough to tour the country, even tour Japan, and have released an album and 2 EP's and now on the eve of album 2. Were a traditional metalcore band that plays catchy, groovy tunes. 
Labels & webzines often like to write at the end of a bio or review with the term 'for fans of' such & such bands. But really I think the band itself should be telling us this. So enlighten us if you would. THE ASCENDEDis for fans of? 
2005-2008 era metalcore, simple as that. If you dig the likes of Trivium, As i Lay Dying, Killswitch, Unearth, Bullet for my Valentine, You'll dig us. 
Your new album, 'The Dark', is due for release on September17th independently. How does it stack up to your previous releases& what would you say to a metal punter now to convince them to part with their bitcoin or credit card & grab themselves a copy? 
I know every band says this, but to quote a cliché, it's our best work. Now this is only album two, but, we've managed to refine the best elements of the previous record, more melodic chorus's, the riffs are still groovy and technical, as well as being able to throw in new elements as well that will really surprise the listener. Its got groove, its easy to grab on to and just roll with! 
Speaking of bitcoin, if you were going to start your own cryptocurrency, what would you call it & why? 
Geez, great question, Jake our drummer and resident crypto expert would probably be best to answer but for the purpose of this, il say, Darkcoin, because you've got litecoin and where theres light, theres dark. 
Most metal bands tend to go for very detailed & complicated cover artworks, yet the artwork on 'The Dark' has a simplistic approach. What is the reason behind this? 
The reason is in the question, we wanted to do something most bands are not. Our last album art was very detailed, this album we wanted to go simple and have a single point of reference, being the rune, that represents the album and the band on this cycle. 
Are you or any other members of the band still afraid of the dark perhaps? 
Haha i mean, aren't we all to some extent? But no, 2 reasons, its the name of the lead single, and, it sums up the overall context, feel and where we are coming from for this album. 
A lot of bands in the current climate are adapting & coming up with some interesting &out there ideas for merch. Anything you plan on doing differently? Or if not, what do you have on offer at the moment? 
I wouldn't say were doing anything outrageously different no, only thing i can think of is with our "mega merch bundle" were including laminated copies of my original lyric brainstorm sessions for each song as well as the fully complete lyrics, something im pretty excited about to be honest as lyrics have always been very closed for me ans to have them out there for people to see, is kind of cool. As well as that, we've got your standard array of merch items, shirts and hoodies. 
A lot of metal bands seem to be busting out covers of popular 'non metal' songs of late. Any chance we might see you guys covering something cool like Daryl Braithwaite or Missy Higgins? 
I don't think so man, I don't think I could get everyone on board to do a cover of a metal song let alone something mainstream haha 
Life always presents itself with hilarious or crazy moments, that forever stick in your mind. Any moments like this stick out for you THE ASCENDEDguys, or any fun fact you can share with us? 
Man, there's always crazy moments on the road, every time we head out there's something, but of late something we always have a laugh about is Jakes video diaries he made over in Japan, man, seeing Japan through his eyes at 4am is hilarious! 
Favourite musical format? Tape, vinyl, CD or digital and why? 
I might cop some hate for this being a muso myself, but digital, because its easily accessible, and I'm totally ok with not selling a single CD if it means people can listen to our music on demand and for next to nothing. 
What formats will your album be available on? 
The Dark will initially launch digitally and on CD, and we have plans to do a vinyl release for the 12 month anniversary of it. 
Hypothetically, your next album is out, you've booked a massive national tour. What would be your ultimate Australian heavy music line-up that you would take with you to support you on it? 
I reckon this would differ member to member, but for me, Orpheus Omega, Triple Kill, The Motion Below, all just such good friends of ours and a tour like that, man, id happily retire after that. 
Given the plague is here to stay for a while & I'm gonna need shit to check out, recommend us a stupendously good: 
Record Label – Metal Blade Records 
Album – Shaped by Fire – As i Lay Dying 
Artist (as in artwork) – Tristan Tait 
Beverage – Great Northern is the only way 
Restaurant – Whatever your local pub is, support the locals 
And lastly, finish off this sentence if you would. 
Manowar would have to be…. A band driven by Money