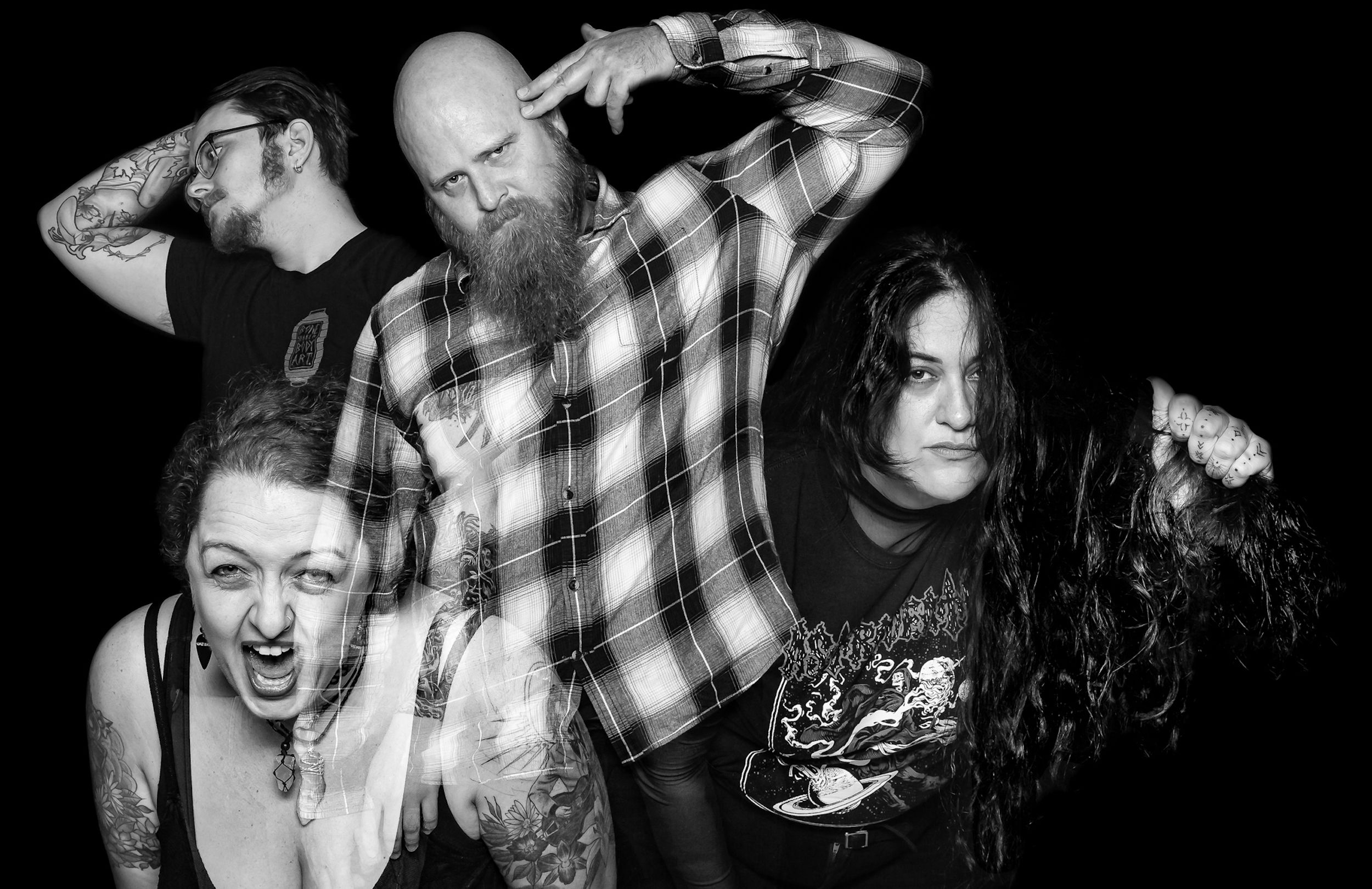 Give us a quick rundown of the THE AUTOMATON story so far!  
Fi, Pete and Deja started writing material before Jimmy joined on bass rounding out the sound. We officially formed in 2019 playing our first show at Wallapaloosa the same year. We started playing a stack of shows around Brissy, and GC before slipping into the studio to record our first single; "Receiver". We did this at Airlock Studio's (owned and run by Ian Huag (powderfinger)). Subsequently this is also where we recorded the next 10 tracks that would become our album. We toured a little off the back of our first single launch before the cruel grip of COVID struck us down. Alas back to the studio we went. Just before we hit go on the big red album button, we were lucky enough to be asked to fill a headline spot on the mighty 'Mitchell Creek Blues Fest'. Flash forward to now, we have just released our debut album 'The Exit' and are gearing up to unleash our live onslaught on the unsuspecting public (get ready kids). 
Labels & webzines often like to write at the end of a bio or review with the term 'for fans of' such & such bands. But really I think the band itself should be telling us this. So enlighten us if you would. THE AUTOMATON is for fans of?  
Authenticity, connection, love, passion, energy, reality. Lame answer? Don't care that's us haha.
Your debut album, 'The Exit', is due for release on October 21st independently. How does it stack up to your previous releases (if you have any) & what would you say to a heavy music punter now to convince them to part with their bitcoin or credit card & grab themselves a copy?  
The Exit is our first true serving of our art. I don't want you to buy it, I want you to experience it and share it with others. I want you to feel a connection to it and hopefully enjoy what we enjoy. This album is really an extension of ourselves and our experiences up until now and I hope at least you can connect with that. I'm not here to convince anyone to do anything.  
Speaking of bitcoin, if you were going to start your own cryptocurrency, what would you call it & why?  
Something that appeals to Elon Musk, people will buy anything that idiot talks about.  
A lot of bands in the current climate are adapting & coming up with some interesting & out there ideas for merch. Anything you plan on doing differently? Or if not, what do you have on offer at the moment?  
We've done earrings and shirts; not super original I suppose haha. We defiantly have outside of the box plans in our heads but for now we really want out artwork (created by the amazing Sam Dunn) to speak for itself.  
KISS vs IMMORTAL – what's your band preference here?  
KISS, like em or hate em you can't top that stage show. At least my preference haha.  
Life always presents itself with hilarious or crazy moments, that forever stick in your mind. Any moments like this stick out THE AUTOMATON, or any fun fact you can share with us?  
Probably spending 5 days straight in the studio working on our album. We lived and breathed music that week literally sleeping on the studio floor and creating together.  
Favourite musical format? Tape, vinyl, CD or digital and why?  
Vinyl. Nothing beats spinning a record man. 
What formats will your album be available on?  
Right now, all digital streaming platforms. We are hoping to get physical copy's rolling for when we can get back out on the road.  
Hypothetically, your next album is out, you've booked a massive national tour. What would be your ultimate Australian heavy music line-up that you would take with you to support you on it?  
Gutterfire, The Blackwater Fever, The Black Swamp and the Sunset Junkies.  
Given the plague is here to stay for a while & I'm gonna need shit to check out, recommend us a stupendously good:  
Record Label – Sargent House  
Album – Yellow album (Baroness)  
Artist (as in artwork) – Rob Borbas  
Beverage – Anything on tap at Hellbound Brisbane.  
Restaurant – as above  
And lastly, finish off this sentence if you would.  
Manowar would have to be….  
The best choice for talcum powder endorsements.