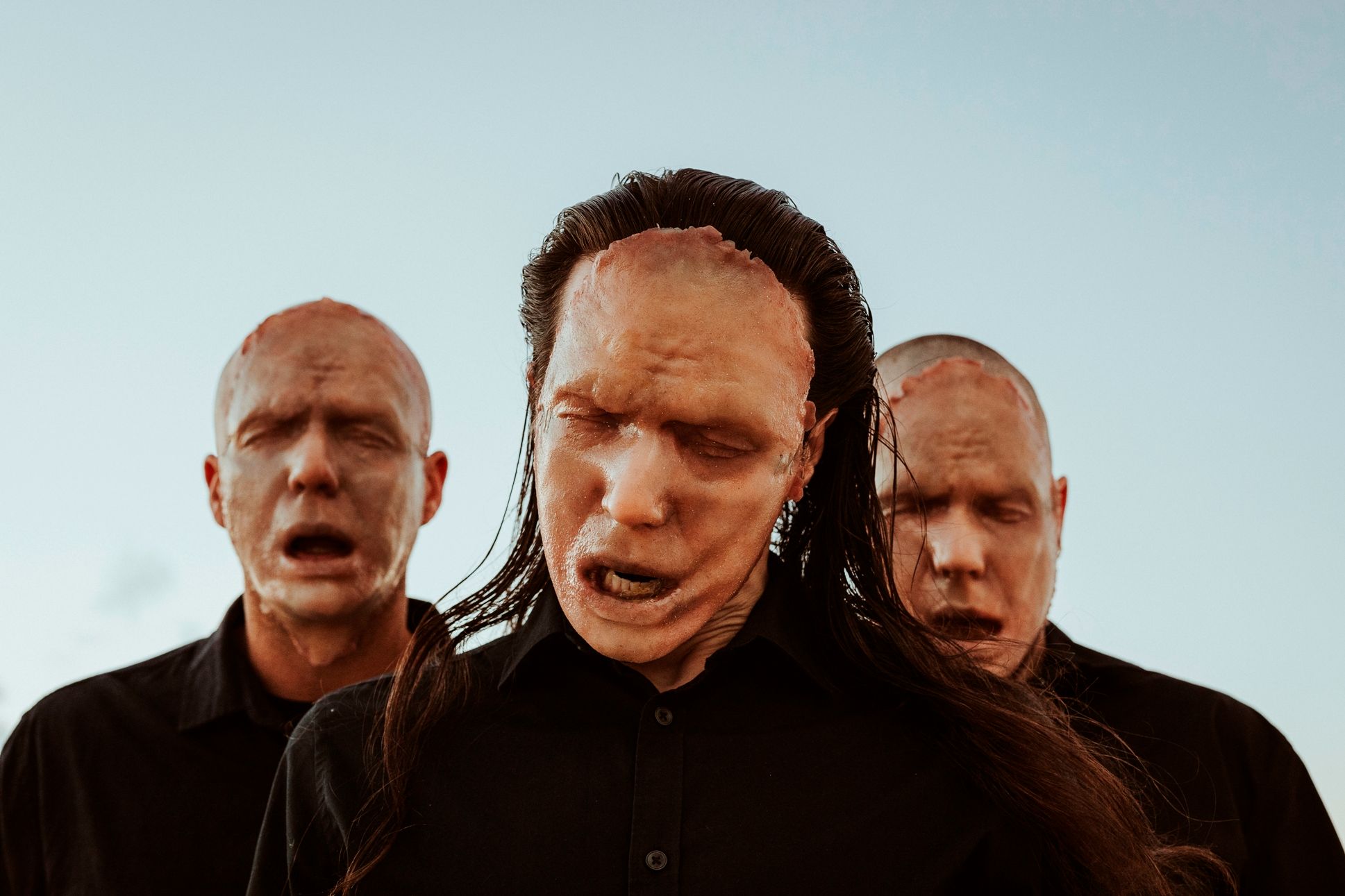 Who are the band members that make up THE AMENTA and what other bands have they played in previously or currently? 
Timothy: The band currently is Cain Cressall on vocals. He's been in MALIGNANT MONSTER, PATHOGEN, CENTAUR and possible others. On guitar we have Erik Miehs, who has pretty much been exclusively in The Amenta. I'm on keyboards, samples, noise and effects and I'm a one band man also. Our bass player is Dan Quinlan, who has been in PAIN DIVISION and then finally we have David Haley on drums who is in every single Australian band, but focusses currently on PSYCROPTIC, WEREWOLVES and RUINS. 
Labels & webzines often like to write at the end of a bio or review with the term 'for fans of' such & such bands. But really I think the band itself should be telling us this. So enlighten us if you would. THE AMENTA is for fans of? 
Timothy: THE AMENTA is for fans of ugly, disgusting music in all its forms. I don't know that I really know any bands to compare us too. We're getting the first reviews of the new album and the bands that reviewers are using as reference points are as confusing as they are varied. For some reason, people still think we are an industrial band, despite all the actual audio evidence to the contrary, so I guess Industrial Death Metal bands could be used as a reference point, but we think that's pretty lazy. Our music is very atmospheric and twisted. It has brutal extreme metal moments but also seasick ambient parts. If that sounds like something that would interest you than it is for fans of that sort of noise. 
What is the motivation behind this band & it's music & what are you trying to achieve with it? 
Timothy: We're motivated entirely by the desire to keep ourselves excited. I'm not speaking for the other guys here, but my aim for this music isn't to sell millions of copies and buy a yacht. I am more interested in creating the art that makes gives me joy and makes the hair stand up on the back of my neck. There is no better moment than when you stumble upon a great idea while working on a song. When you hit that moment that opens a vista of possibilities it is what I call a "savage joy". It's like finding out all your enemies have parasites. There is a viciousness about the happiness, it's something you want to hoard and to nurture like a hate. That's the moment I live for. Maybe the other guys want to play Wembley Stadium and fly private jets, but I am pretty sure that we're all doing it almost exclusively for the art of it. 
When we sit down to write music, we don't have a plan or a desired outcome. We just allow ourselves to be open to chance and then we start experimenting. When you hit on an idea that is new and exciting, you can tell. Everyone in the room perks up like they're on speed. Then it's a matter of trying to stay, for as long as possible, in that mode of savage joy until the song is done. 
Who is responsible for writing the heavily layered extreme textures that THE AMENTA have carefully crafted for the new album 'Revelator'? Musically & lyrically? 
Timothy: The creative core of this band is Erik, Cain and me. Erik and I have been writing music as THE AMENTA together since 1999 so we have a common language and we know exactly what we are after, or more correctly, we know when we find it. Cain joined us in 2009 and very quickly became an integral part of the process. While Erik and I generally write and demo the original musical ideas, Cain's input on the demos is invaluable and often he has excellent ideas that we can incorporate to lift the idea. The lyrics for "Revelator" were all written by me, but once again we are all very involved in the process of how they are applied. We demoed the vocals of this album extensively and there was a lot of chopping and changing, not only of the vocal parts but of whole song structures as the vocal lines suggested new ideas. We are all very involved in that process. Cain's vocal lines are, obviously, a very huge part of the musical aspect. He came up with some awe-inspiring ideas which motivated us to rework and revisit certain parts of the instrumental side. 
Our songs go through so many different demoing stages that it is very hard to separate out who did what and at which time. An idea may start with a guitar riff that Erik has written, we program some drums ideas but then cut the riff up and rearrange it until it is something completely different. A couple of times on this album, whole guitar parts were replaced with noise and sample-based ideas. Sometimes the reverse happens, and a noisy loop is translated to guitar. We're all so involved in that process that the ideas go through an alchemical change which can only happen when all three of us work on it. It comes out completely different and "correct". Speaking for myself personally, when I come up with an idea, on guitar or keyboards or whatever, and bring it to the band, it doesn't feel like an idea for THE AMENTA until we have stretched it and pulled it apart and put it back together through that alchemical process. 
You have released two visually stimulating & somewhat creepy & disturbing videos thus far for the new album in 'Sere Money' and 'An Epoch Ellipsis'. Who are the creative twisted souls behind these videos & in particular, what is the story behind the silicon masks that have been made & worn by everyone? 
Timothy: The key man behind these clips is a gentleman called Garth Hurley (www.crtfilms.com.au) who is an old mate of Cain's. Cain worked with Garth on the 'Sere Money' film clip, along with a huge cast and crew of ballerinas and babies. Garth directed, filmed, edited, and create VFX for the 'Sere Money' clip, with assistance from Cain. Cain's part of the 'An Epoch Ellipsis' clip was also filmed by Garth, and then other band members shot material locally with the help of some incredible people. Shout out to Sarah Black, Shane Thomson, Don Thomson, James McInnes and Andrea Daniel. Garth again stepped in, took all that footage, edited and added the VFX which took a shit load of disparate footage and made a killer clip from it. We can't recommend Garth highly enough for any band looking to make a killer clip. Check out his work on his website! 
The silicon masks were Cain's idea. As always, Cain tells us about an idea he has, which we think is excellent but a pipe dream, then he goes away and gets it done and presents us with something awesome. It was originally discussed as a potential cover art image, but we ended up using the heart image that you now see on the album and decided to use the masks for other imagery. Once again, Cain worked with some incredibly talented people, Rich Hatwell, Kasia Mazurkiewics and Laura Glitsos, who helped him make the silicon masks of his own face. From what I understand, it was a pretty intensive process. First, they took a cast of his face with some disgusting looking goop, then made a fibreglass mold from that and then they used that mold to make the silicon masks. The masks where then painted to look like the diseased, jaundiced flesh that you currently see dripping off our faces in promo shots. What I like most about the image, is that it seems to work on a subconscious level. You don't necessarily know that it's all Cain's face but there is a insectoid uncomfortability about seeing all three faces leering at you from an image. 
Would you say Cain Cressall is a much more handsome man than the rest of you? Is that why you all wear the masks to look like him? 
Timothy: In the land of the blind, the one-eyed man is king. So if Cain can be considered the best of a bad bunch, have at it. Wearing Cain's face means that I don't have to invest so much of my money in shitty sticks, that previously I had had to carry around to keep interested parties off my person. His face seems to do the trick. 
Our intention is to mass produce these masks (in a Covid-safe variant) so that there can be a great levelling. There will no longer be such a concept as handsome or ugly, only Cain. "You are looking Cain today" will be our greeting. 
Do you think Cain will ever put on weight? 
Timothy: With his diet of human hair and rat souls, unlikely. But perhaps his metabolism will come to a screeching halt at 40, like us all, and he will begin the unstoppable transformation into the Michelin Man. 
The artwork for the album is a very interesting & intriguing piece. Who do we have to thank for this striking work? Have you given the artist a concept of what you are after as an album cover or have you given the artist free reign? 
Timothy: The artwork was created by the legendary Metastazis, who has done awesome work for so many bands, PSYCROPTIC, BLUT AUS NORD, BEHEMOTH, ULVER etc. We actually approached him to do some work for us on "Flesh is Heir" but we were not very good at collaborating back then, so he eventually told us to fuck off. But this time it was a really rewarding collaboration. Learning our lesson, this time we have him a lot freer rein to work with. We gave him a stream of the album and some lyrics to draw ideas from. He sent us several sketched ideas based on his interpretation of the lyrics and it was the heart icon that really stuck out to us. There was a little bit of back and forth on some of the detail on the heart but really it was all his work. Whereas in the past we have kept a tight control over these aspects, this time it was important to allow other people to interpret the album, as that is one of the main themes and ideas behind the lyrics and lyrical style. We're really happy with the way it turned out 
If a metal punter is reading this interview & is teetering on the edge of buying your album, what would you say to them now to convince them to part with their paypal money or credit card & grab themselves a copy? 
Timothy: Fuck, if people are too cheap to put down a few bucks for the best album they'll ever hear in their life then I don't know what to tell them. But in the spirit of being humble, I'll give it a go. 
If you know THE AMENTA, you may think you know what to expect. Take that, make it uglier. Take the biggest hooks you've heard in a death metal album and add more distortion. Do you like the atmosphere of black metal? Imagine that made by grownups. All joking aside, I believe "Revelator" is the nastiest album people will hear this year. It is genuinely malevolent. It's not for the faint of heart. Buy it, terrorise you neighbours. 
Favourite Australian bands and / or releases? 
Timothy: There have been so many great ones so I'll just name a couple. Nazxul's "Demo / Totem / Black Seed" run is unimpeachable. Armoured Angel's "Mysterium" EP. Departe's "Failure, Subside" 
Given the plague is here to stay for a while & I'm gonna need shit to check out, recommend us a stupendously good: 
Movie: Because I have been recently watching and thinking about it: Stalker by Andrei Tarkovsky 
Series: Recently I watched the Netflix mini-series, Night Stalker, which is nasty as fuck. 
Podcast: For a change of pace, Joan & Jericha. 
Band: WHITE WARD. Ukrainian Black Metal with a jazz edge. 
Album: "It's Never Going To Happen And This Is Why" by Spectres 
Apart from Jon Schaffer, if you could pick 5 musicians to storm our capitals parliament house with, who would they be? 
Timothy: Considering I am 95% certain that Jon Schaffer is actually Dan Quinlan circa 2007, I will have to look a bit further afield. I would take, as my marauding party, all the members of PSYCROPTIC and supplement them with Robin Stone to make the full five. They could then dazzle the security guards with their instrumental prowess, while I snuck around the side and did caveman shit.